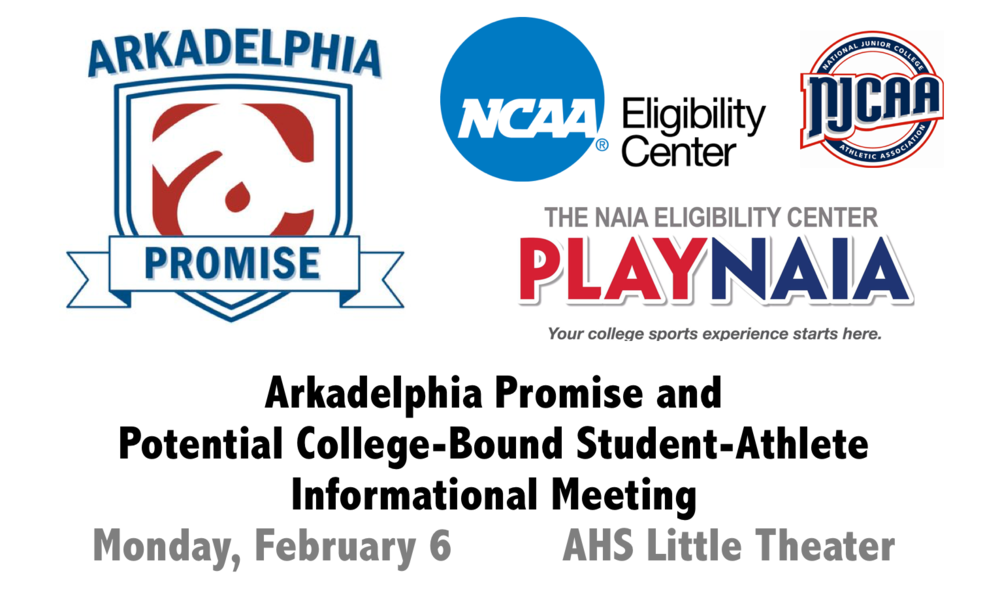 Arkadelphia Promise/College-Bound Student-Athlete Info. Mtg Feb. 6
Chris Babb
Wednesday, February 01, 2017
Parents of Arkadelphia High School students are invited to attend an Arkadelphia Promise informational meeting followed by a session for potential college-bound student-athletes and their parents, Monday, February 6, at 6:00 p.m. in the AHS Little Theater.
At 6:00 Arkadelphia Promise Director Jason Jones will walk parents and students through the college-going process and how the Arkadelphia Promise fits into the overall picture.
Upon completion of the Arkadelphia Promise meeting around 6:45, Jones will be joined by members of the APSD Athletic Department staff to go over information for students who are thinking about participating in a sport in college at any level.
Information covered in the session will include general information on:
- the different levels of collegiate participation
- scholarships that are awarded for various sports at the different levels
- initial collegiate eligibility requirements, and
- timelines and steps to help facilitate a smooth initial eligibility process
With the ninth grade year being the first year grades count on the high school transcript toward initial eligibility, ninth through 12th grade parents are encouraged to attend. Contact the Arkadelphia Promise at 870-210-1271 or APSD Athletic Director Chris Babb at chris.babb@arkadelphiaschools.org for more information on either meeting or with any questions you may have.