Tickets on Sale for Badger Football September 1 Season Opener
Arkadelphia Athletics
Thursday, August 21, 2014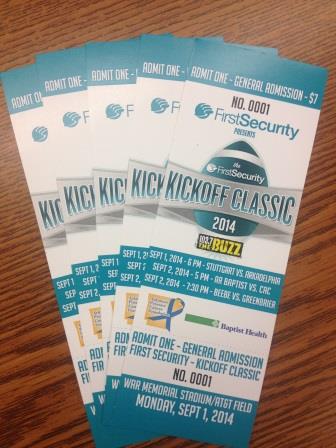 Tickets are on sale for the Arkadelphia Badger football team's season opener vs. the Stuttgart Ricebirds which is set for Monday, September 1, at 6:00 p.m. as a part of the 1st Security Arkansas High School Kickoff Classic at War Memorial Stadium in Little Rock.
As the home team, Arkadelphia fans can purchase advance tickets for the game for $7 with 100% of the proceeds returning to the Arkadelphia Athletic Department. Fans who pay at the gate on the night of the game will still pay $7, but only 25% of those proceeds will return to the district.
"This would have been our season and home opener for the 2014 season, so obviously that would have resulted in a large gate for us, which is very important to the athletic department," said Arkadelphia Athletic Director Chris Babb. "103.7 The Buzz (the organizers of the game) knows this and offers the schools the ability to keep 100% of the money received from advance ticket purchases. We want to spread the word and let fans take advantage of this advance purchase ability to help support our programs.
"Admission to athletic events is the biggest fundraiser we have throughout the year," Babb continued. "I know a lot of people don't view games as fundraisers, but every dollar we receive through gate admission for regular season games helps the students and programs with various needs throughout the year."
Tickets for the 1st Security Arkansas High School Kickoff classic are $7 for students and adults. As the event is not hosted by Arkadelphia, local and district passes will not be able to be used. 2014-15 AAA passes will be accepted with picture ID. Advance ticket sales will be offered from Friday, August 22, throughout next week at the following times and locations:
Friday, August 22: Booth at BadgerFest from 5:30-6:30
Friday, August 22: Inside the gates of AllCare Field at Badger Stadium during Meet the Badgers from 7:00 until the event is over
Monday, August 25 - Friday, August 29: 11:30 a.m. - 1:30 p.m. in the main ticket window of AllCare Field at Badger Stadium.
Checks can be made out to Arkadelphia Public Schools. For more information, contact the Arkadelphia Athletic Department at 870-246-7373 ext. 606.