'Tis the Season for Badger/Lady Badger Holiday Hoops
Arkadelphia Athletics
Sunday, December 27, 2015
The second week of the Christmas break traditionally means the unofficial kickoff to the second semester of basketball for Arkadelphia teams and this December is no different, although there's a slight difference from years past.
Both the junior and senior high girls and boys will be in action this week as they prepare for the first week of January which means a return to conference play and the beginning of a two-month stretch that features the meat of the 2015-16 basketball schedule.
The schedule is as follows:
Dec. 28-30 -- 9G and 9B at Kameron Hale Invitational at Lake Hamilton
Dec. 28-30 -- Varsity Boys at Coke Classic at the Stubblefield Center on the UA-Ft. Smith campus.
Dec. 29 -- JV and Varsity Girls home vs. Hope at AHS -- 5:00 tip for JV; girls approx. 6:00
Brackets for each tournament can be found at the bottom of this page.
This will be the first season in several years that the Lady Badgers will not be in the field at the Herb Russell Invitation at Ouachita High School. Because the Lady Badgers aren't in the field, it opened up the date to be able to field a single game vs. Hope.
JR HIGH GIRLS AND BOYS at KAMERON HALE INVITATIONAL at Lake Hamilton
- Both teams are guaranteed to play Monday and Tuesday
- Monday's 1st rd: 9G vs. Lake Hamilton at 5:30; 9B vs. Lake Hamilton at 6:45
- If teams win one of their two guaranteed games, they will play again Wednesday; if teams lose both Monday and Tuesday, they will not play Wednesday.
- All Monday and Tuesday games are at the high school gym at Lake Hamilton High School; only the championship games will be played in Lake Hamilton's new arena
- Brackets pictured: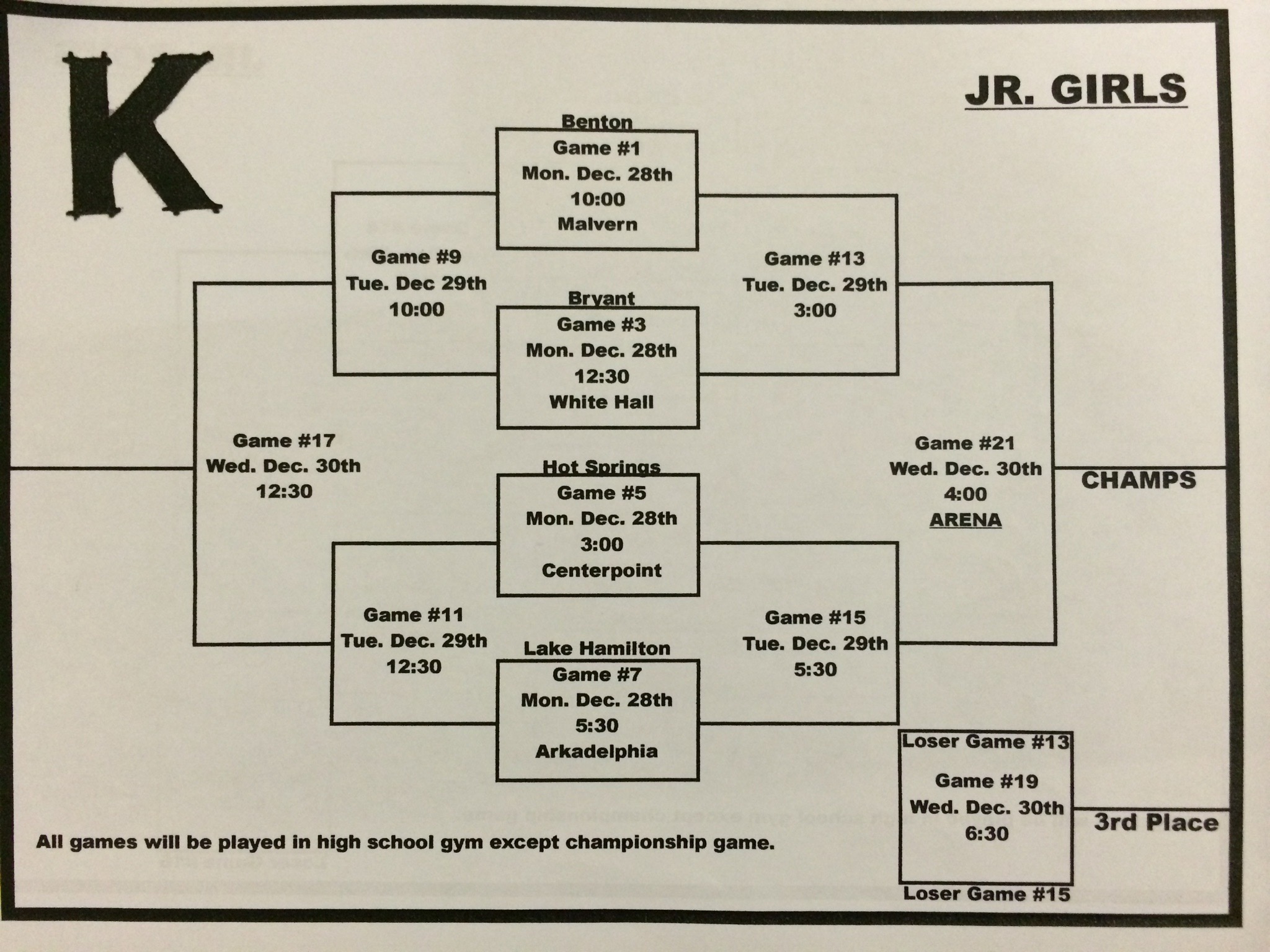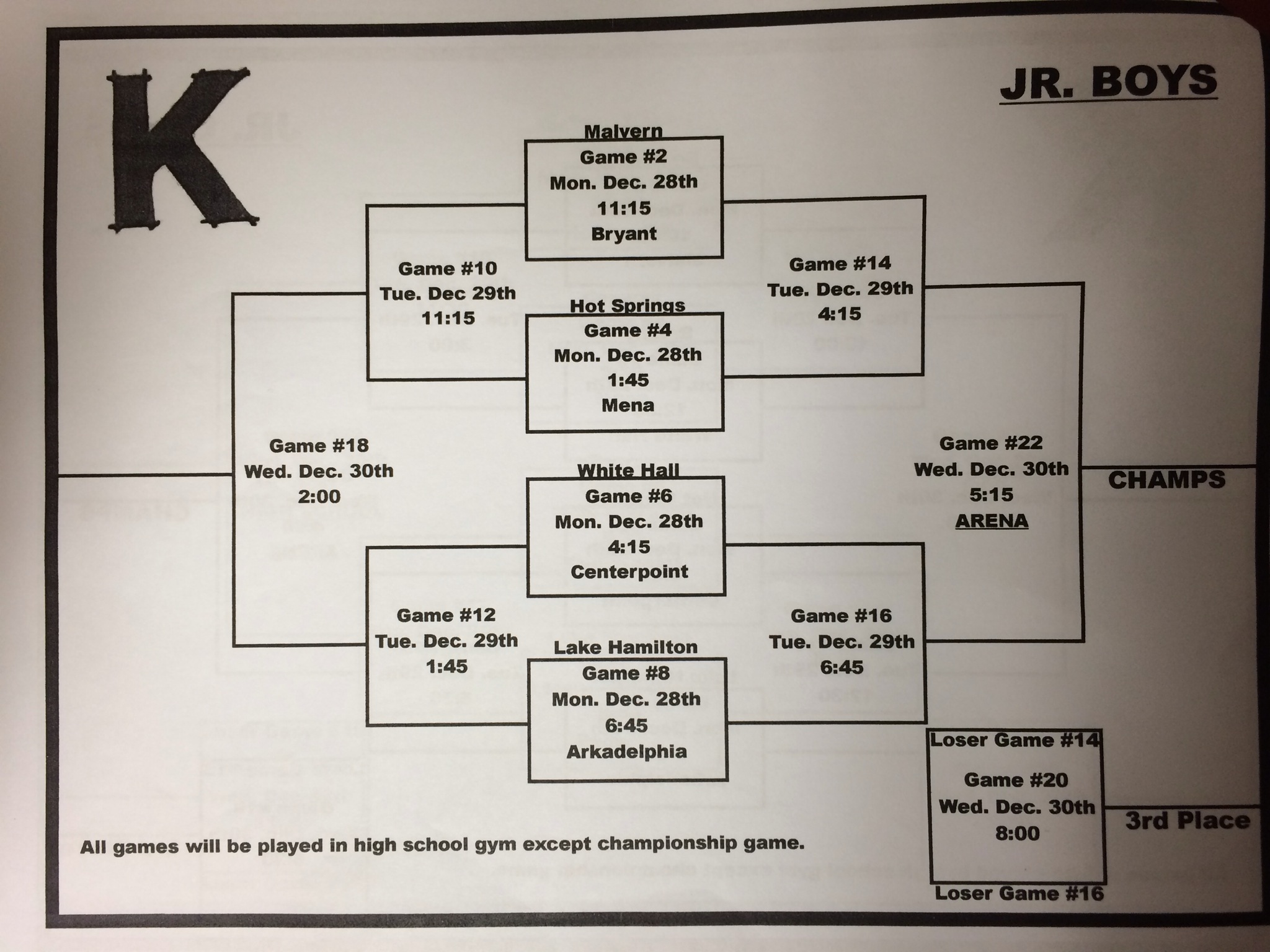 VARSITY BOYS AT COKE CLASSIC at UA-FORT SMITH STUBBLEFIELD CENTER
Another year, another tough field at the Coke Classic for the Badger boys' varsity team. To read a preview of the tourney from Siftings Herald Sports Editor Martin Couch, click here: Holiday Tournaments Feature Local Teams

To read about the tournament from Kevin Taylor of the Times Record, click here: Times Record Coca-Cola Classic Preview
The Badgers will open the tournament Monday, December 28 at 5:50 against FS Northside and are guaranteed to play Tuesday and Wednesday. The entire tournament bracket follows.
Coca-Cola Classic At UAFS
Monday, December 28
Game 1: Charleston vs. LR Hall, 2:30 p.m.
Game 2: North Little Rock vs. Bryant, 4:30 p.m.
Game 3: Northside vs. Arkadelphia, 5:50 p.m.
Game 4: Southside vs. Howe, Okla., 7:30 p.m.

Tuesday, December 29
Game 5: loser game 3 vs. loser game 1, 2:30 p.m.
Game 6: loser game 2 vs. loser game 4, 4:10 p.m.
Game 7: winner game 2 vs. winner game 4, 5:50 p.m.
Game 8: winner game 3 vs. winner game 1, 7:30 p.m.

Wednesday, Dec. 30
Game 9: loser game 5 vs. loser game 6, 1 p.m.
Game 10: Consolation game, 2:40 p.m.
Game 11: Third place game, 4:10 p.m.
Game 12: Boys championship, 6 p.m.
For results and updated schedules for Tuesday and Wednesday, follow @APSD_Athletics on Twitter or by visiting the "Badger Athletics" page on Facebook.