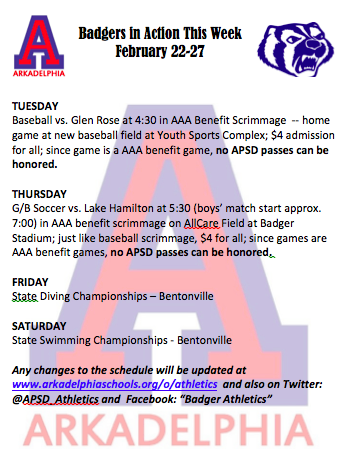 This Week in Badger Athletics Feb. 22-27; Swim/Dive, Wrestling, Bkb, Baseball & Soccer
Arkadelphia Athletics
Monday, February 22, 2016
This week brings us the end of the winter sports season and the beginning of the spring sports season -- say it with me -- "weather permitting."
See the graphic below for this week's schedule of games.
OUR FINAL WINTER SPORT, swimming and diving, will conclude this Friday and Saturday at the AAA State Swimming and Diving Championships in Bentonville. Best of luck to those who have qualified for this week's meet: Divers Taylor Savage and Nick Gerber along with swimmer David Lloyd in the 100 back and 100 fly. Additional competitors from AHS could be added this week depending on how the field shakes out.
THE BADGER AND LADY BADGER BASKETBALL TEAMS ended their respective 2015-16 seasons at the 4A-7 District Tournament in Ashdown. Both teams won their opening round games, but fell in the quarterfinals, finishing just shy of qualifying for this week's Regional tournaments.
The Lady Badgers defeated Mena in round one before being eliminated by Bauxite. The Badgers defeated Fountain Lake in their opening game before losing in the quarterfinals to Waldron.
THE INAUGURAL SEASON OF BADGER WRESTLING ended Saturday as freshman Rhett Womack became the first Badger in the program's young history to medal as he finished third in the 1A-5A 113 weight class. Sophomore Patrick Dobbins became the answer to a future trivia contest as he was the first Badger to win a math at the state meet. Also taking individual wins for the Badgers were Kyle Whittle, Keaton Goodrum and Griffen Smith.
THIS WEEK MARKS THE BEGINNING OF WINTER SPORTS as baseball and soccer are scheduled to host AAA benefit scrimmage games. Tuesday at 4:30, the Badger baseball team will host Glen Rose at the new Badger Baseball Field at the Youth Sports Complex. Thursday at 5:30, the AHS soccer teams will host Lake Hamilton on AllCare Field at Badger Stadium.
As spring sports are more dependent upon the ever-changing weather than fall and winter sports are, make sure to check this site, the "Badger Athletics" Facebook page or "@APSD_Athletics" Twitter account for last-minute changes to spring sports schedules.