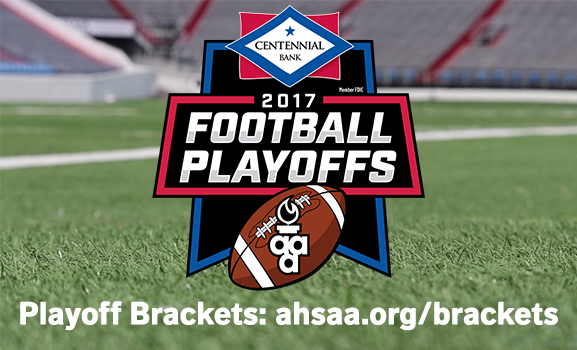 Badger Football Hosts HWH Central High in 1st Rd Friday Night
Arkadelphia Athletics
Thursday, November 09, 2017
The Arkadelphia Badgers will host the Helena-West Helena Central Cougars Friday night at 7:00 on AllCare Field at Badger Stadium in the first round of the Arkansas Activities Association 4A State Football Playoffs.
Please see below for information regarding game information:
THE MATCHUP: Arkadelphia is the 2-seed from the 4A-7 while the Cougars are the 5-seed from the 4A-2. This is the second first-round matchup in the last three seasons between Arkadelphia and Central. The Badgers won the previous meeting in 2015 at Cad Polk Stadium in Helena.
WHAT'S AT STAKE: The winner will face the winner of the first round game between Batesville Southside Southerners and the Gentry Pioneers. Southside is the 1-seed from the 4A-2 while Gentry is the 5-seed from the 4A-1. As long as Southside wins, they will have home field advantage through the semifinals.
TICKETS: This game is officially an Arkansas Activities Association event, and not an APSD event. ONLY AAA passes will gain free admittance into this playoff game. Therefore, no local passes can be accepted.
This includes the following:
APSD Athletic season passes
APSD Lifetime passes
APSD Employee ID pass
Arkadelphia Badger Foundation pass
4A-7 Pass
APSD Jr. Badger Pass
All tickets for school-aged students and above are $6.
NOTE THE DIFFERENCE FROM THE NORMAL $5 ADMISSION FEE OF REGULAR SEASON GAMES.
Tickets will be available for purchase Friday, November 10, from 11:00 – 1:30 at the main entrance to Badger Stadium. Ticket windows and gates will open again Friday evening at 5:00.
COVERAGE: Fans who are not able to attend the game can listen to the game on the radio on Fox Sports Arkansas 106.9 FM in Arkadelphia and Southwest Arkansas. Fans outside of the listening area can hear the broadcast on www.foxsportsarkansas.com and look for the LISTEN LIVE link for Arkadelphia on the right side of the page.
Periodic game updates will be given via social media on the APSD Athletics Twitter page "@BadgerAthletics" and on the APSD Athletics Facebook page "Badger Athletics."
LINKS: click the following links related to the Badger playoff game:
AAA 4A State Playoff Bracket
MaxPreps Game Preview
2017 Centennial Bank State Football Playoffs 2017 4A Football State Bracket