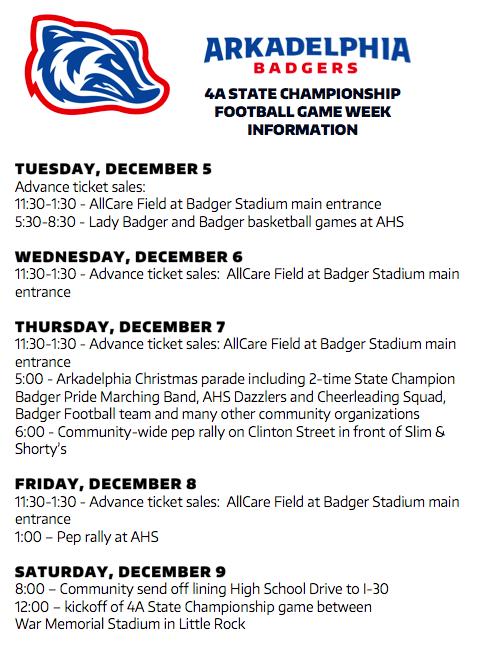 4A State Championship Football Game Details
Arkadelphia Athletics
Monday, December 04, 2017
4A State Championship Football Game
Arkadelphia Badgers vs. Warren Lumberjacks
Saturday, Dec. 9 – 12:00 p.m. – War Memorial Stadium – Little Rock, Arkansas

See information below regarding ticket information, Game Week details and Game Day instructions for Badger fans attending the game.
TICKETS
The Arkansas Activities Association encourages fans to purchase their tickets from their respective schools the week of the game. One reason is that it helps fans avoid lines at the stadium on game day, but also because each school gets to keep 80% of the proceeds from advance ticket sales the week of the game. There is a limited number of tickets allotted to each school so take advantage of one of the times listed in the accompanying graphic with the week's schedule to purchase your tickets.
TICKET DETAILS
- Prices for advance sale tickets are $7 for adults and $6 for students.
- The price at the gate is $7 general admission.
- Children ages 5 and up are required to have a ticket.
- ONLY CASH WILL BE ACCEPTED FOR ADVANCE SALE TICKET PURCHASES. NO PERSONAL CHECKS WILL BE ACCEPTED
GAME WEEK
See the attached picture for a schedule of the week's events. There will be a community-wide pep rally Thursday evening downtown after the Arkadelphia Christmas Parade. There will also be a pep rally at AHS on Friday during the school day. We appreciate the support fro our community and hope that these two activities will allow the community to show their Badger pride while also keeping game preparation as normal as it can be in a week like this.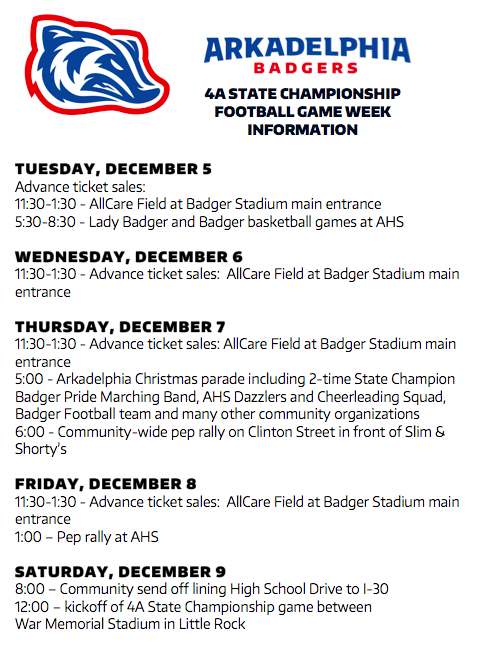 GAME DAY
- Kickoff is set for 12:00 p.m. for the state championship game between Arkadelphia and Warren.
- The Badgers will leave the AHS campus at 8:00 and the community is invited to line High School Drive from AHS to Pine Street/Hwy 8 to send the team north to Little Rock.
- A fan bus will be available for Badger fans who wish to attend the game. The cost will be $5 per person. AHS students 9th grade and up may ride alone, but any students 8th grade and below must be with an adult. Fans may sign up in the Arkadelphia High School office from 8:00 am through 3:00 pm Tuesday through Friday.
- Parking will be $5 per vehicle and the east parking lot will be the best lot for Badger fans to park with the Badgers being the visiting team.
- Tailgating is allowed in the WMS parking lot. Join the Badger fans who are planning to start the day early with pregame tailgating at WMS.
- Gates will open at 10:30
- Arkadelphia will be the visiting team in the game and Badger fans will sit on the East side of War Memorial Stadium opposite the press box.
- Badger fans will enter War Memorial Stadium through Gate 1 also on the East Side of WMS.
- Badger fans who cannot purchase ticket in advance and need to purchase tickets on game day may do so from the East Side ticket Windows which will open at 10:00.
- For general information on War Memorial Stadium (items allowed and not allowed in the stadium, ticket windows, etc.) see the below picture: