Science fair deadlines announced
Staff news
Thursday, April 02, 2015
Peake's Science Fair is scheduled for April 20 and 21. This year we will have two new categories in addition to individual projects: team projects and class projects. We will select a first, second, and third place winner from each grade in each category. Teams may consist of two students only and can be mixed grades (4th and 5th grades). A team member cannot do both team and individual projects. The first and second place winners will attend the Dawson Coop Science Fair held at HSU on May 18.
Students will need to turn in their project title and hypothesis by April 15. Science teachers will have a form to put this information on. There are several items that cannot be displayed: water, human tissues, plants, soil, animals, chemical noxious gases, open flames, alcoholic beverages, food and liquids, mold, bacterial cultures, explosives, and toxic or flammable liquids. Photographs will need to be used of any projects using the afore-mentioned items.
We will host a science fair work night Monday, April 13, in the school library from 5:30 to 7:30 p.m. Anyone interested is welcome to attend. This is a great opportunity to use the library resources, including tri-fold display boards.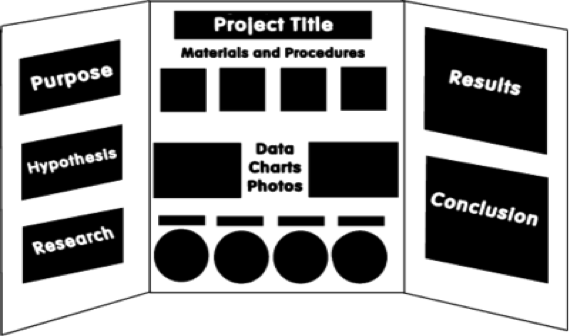 An example layout of the project's presentation on a trifold board is shown above.