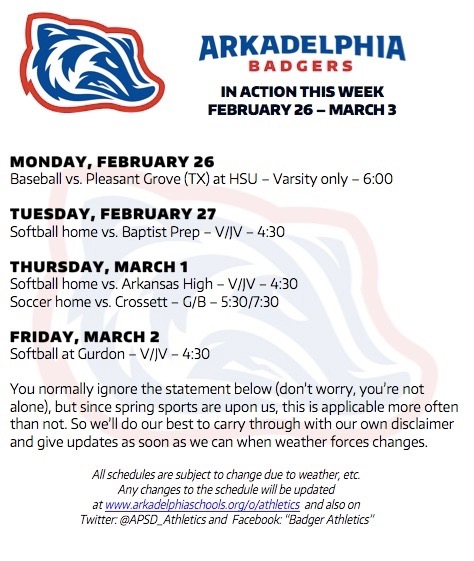 Spring Sports Start Up This Week; BB, SB, Soccer Coaches Become Amateur Meteorologists
Arkadelphia Athletics
Sunday, February 25, 2018

Week one of the spring sports season is upon and the Arkadelphia baseball, softball and soccer teams are scheduled to begin their respective seasons this week. Arkadelphia's junior high and senior high track and field teams will begin action next week.
Each week we post an image to our Badger Athletics Facebook page and @APSD_Athletics Twitter page entitled "This Week in Badger Athletics" with the week's events as they are scheduled.
At the bottom of the schedule each week we mention that the schedule is subject to change due to weather, other schedule adjustments, yada, yada, yada -- we know that's normally a part you skip.
But with spring sports upon us, that may be the most important portion of the schedule each week. Without a doubt, we'll have weather affect our scheduled games. Unfortunately sometimes those changes come on the day of the event -- sometimes the afternoon of the event.
We know that travel plans are made in advance and family schedules are already hectic. We'll do our best to let you know as soon as we can each time there is a change.
With that being said, we post our first "This Week in APSD Athletics" schedule, spring sports style....if we could post it in pencil, we would. Instead we'll just make updates on social media sites as we know plans.
Thanks for your understanding.