$10,000 Toss Highlights Events Surrounding '16 FB Season Opener
Arkadelphia Athletics
Tuesday, August 30, 2016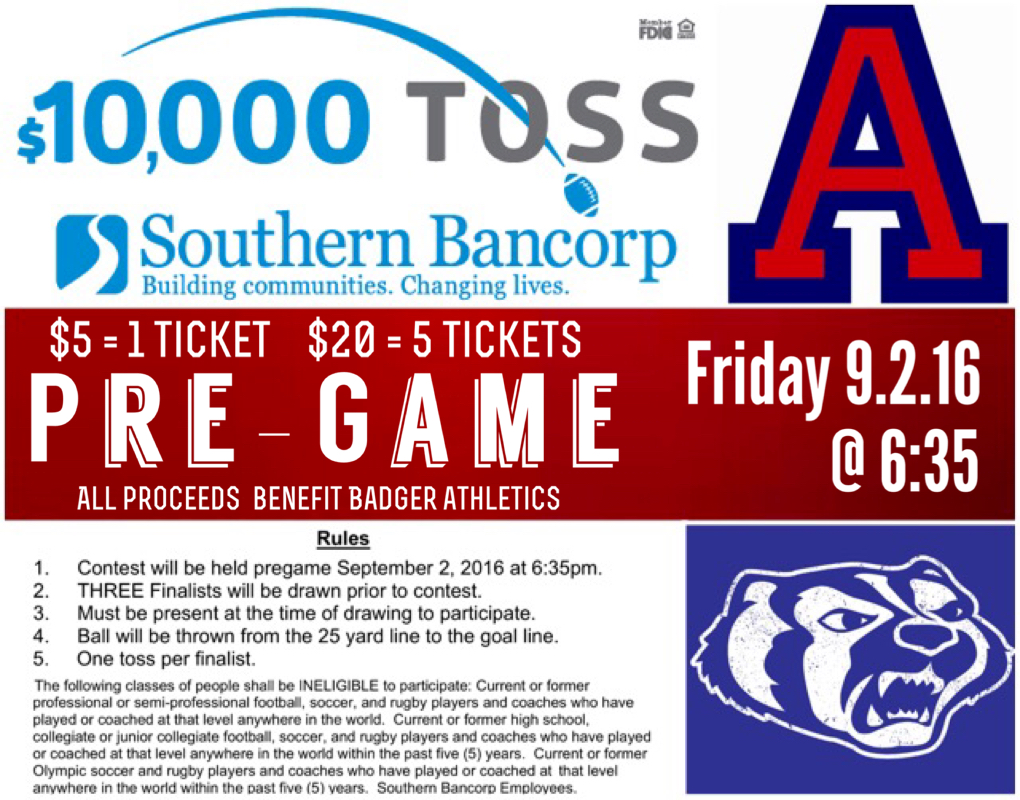 The possibility for one lucky fan to win $10,000 in the Southern Bancorp $10,000 Toss highlights some exciting events surrounding the Arkadelphia Badger varsity football 2016 season opener this Friday night at AllCare Field at Badger Stadium.
The Badgers will take on the Stuttgart Ricebirds at 7:00 in the first game for both teams, but fans are invited to take part of pre-game festivities in the AHS parking lot prior to the game as Badgerfest presented by Southern Bancorp will set the stage for the night from 5:30 - 6:30.
One exciting portion of the evening will be a $10,000 Toss in which three names will be drawn for a chance to win $10,000 by throwing a football through a designated stationary target. Tickets can be purchased for $5 each or five tickets can be purchased for $20. Tickets are available for purchase at Southern Bancorp locations in Arkadelphia during regular business hours as well as the Arkadelphia High School main office from 8:00 a.m. – 3:30 p.m. Tickets will also be available for purchase at Badgerfest Friday evening. All proceeds from the fundraiser will go to APSD Athletics. See contest rules in the picture for eligibility considerations.
Names will be drawn from all entries immediately prior to the contest which will take place inside the stadium at approximately 6:35 before the 7:00 kickoff.
Before the contest, Badgerfest presented by Southern Bancorp will take place from 5:30 – 6:30 in the AHS parking lot. The event, postponed from August 19th's rained out date, will feature local businesses and school groups setting up booths with a variety of items for sale as fundraisers for the individual groups.
Bounce houses will be available for all of the future Badgers (children) to play on as well at no cost. A dunking booth will be on hand, the AHS Dazzlers will be selling tickets for a drawing of a Badger paw door hanger, and other groups will have other items for sale.
Various local businesses will have booths to showcase their businesses to those in attendance as well. Any businesses interested in a booth can email sechols@banksouthern.com or call Shari Echols at Southern Bancorp in Arkadelphia at 870-246-5811.