This Week in APSD Athletics
Arkadelphia Athletics
Monday, September 26, 2016
SOME FALL SPORTS ARE GEARING UP while others are heading down the stretch run. Golf is one of those that is wrapping up and best of luck Tuesday to Lady Badger golfers Macey Green and Faith Ochello in Tuesday's 4A State Golf Tournament in Maumelle. Green and Ochello qualified for the state tournament at last weeks 4A-7 District Tournament at DeGray. The Badgers will not have any participants in the boys' tournament next week, but Tucker Freeman and Will Herron narrowly missed making the field, missing by just one stroke. Also preparing for post-season play are the AHS tennis teams, which will play in their final regular season matches of the season in preparation for next Monday's 4A-7 Tennis tournament at OBU and HSU.
BEST OF LUCK TO OUT DAZZLER DANCE TEAM as they begin the competition season this Saturday at the Sheridan Competition. The Dazzlers will compete in various events in advance of their state competition in November. The AHS cheer team is also preparing for competitions later this fall with their state competition being held in December right before Christmas break.
THURSDAY, FRIDAY and SATURDAY WILL HAVE CHANCES TO SEE HOME GAMES as the Lady Badger volleyball team hosts Bauxite Thursday afternoon at home at AHS, the varsity Badger football team hosts Robinson Friday at AllCare Field and the 7th grade Badger football team will host its annual 7th grade jamboree this Saturday morning at 9:00.
SATURDAY EVENING IN BENTON will feature a showing of "OUTLAW: Life, Death and Texas Football", a documentary on former Badger head football coach John Outlaw, at 5:00 p.m. at Tinseltown theater. Tickets are $5 and are available this week at Southwest Sporting Goods in Arkadelphia. All proceeds from the event go to the AHS football program.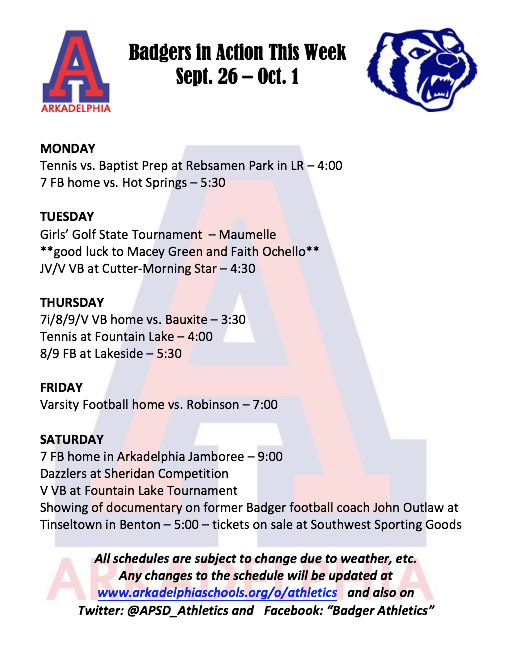 MONDAY
Tennis vs. Baptist Prep at Rebsamen Park in LR – 4:00
7 FB home vs. Hot Springs – 5:30
TUESDAY
Girls' Golf State Tournament – Maumelle
**good luck to Macey Green and Faith Ochello**
JV/V VB at Cutter-Morning Star – 4:30
THURSDAY
7i/8/9/V VB home vs. Bauxite – 3:30
Tennis at Fountain Lake – 4:00
8/9 FB at Lakeside – 5:30
FRIDAY
Varsity Football home vs. Robinson – 7:00
SATURDAY
7 FB home in Arkadelphia Jamboree – 9:00
Dazzlers at Sheridan Competition
V VB at Fountain Lake Tournament
Showing of documentary on former Badger football coach John Outlaw at Tinseltown in Benton – 5:00 – tickets on sale at Southwest Sporting Goods