APSD's Parents as Teachers program serves prenatal to age three
Arkadelphia Public Schools
Monday, October 31, 2016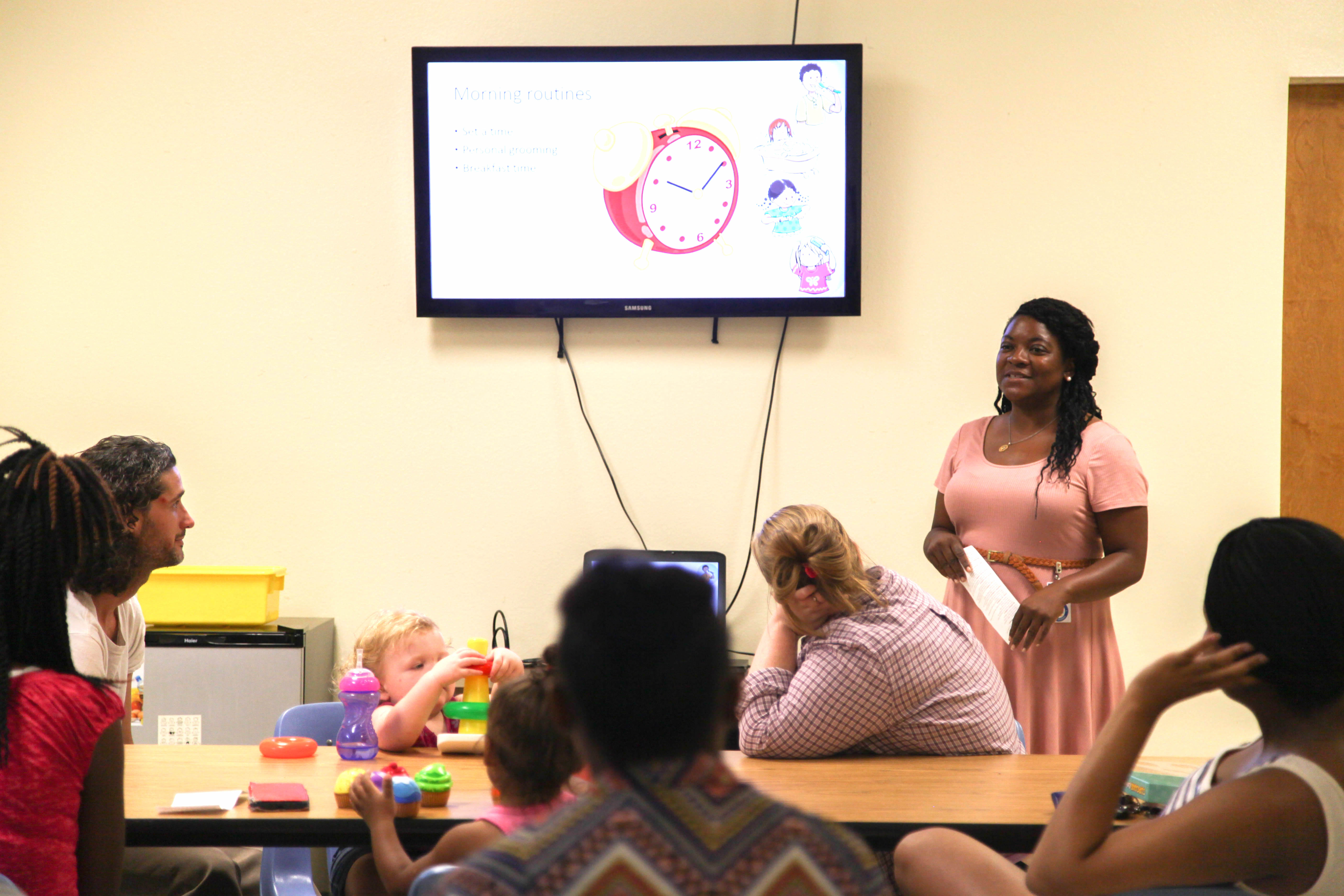 The Arkadelphia Public School District offers several programs designed to optimize child development from cradle to college and career. Hosted by Schools of the 21st Century, Parents as Teachers offers child development information and parenting support to families. The target age of the Parents as Teachers program is prenatal to age 3.
As a recruitment tool, Parents as Teachers hosts a Baby Safety Shower for pregnant mothers in the Arkadelphia area on the first Thursday of every month from 5:30 to 7 p.m. The Baby Safety Shower, sponsored by the OLDS Foundation and the University of Arkansas Children's Hospital, is an injury prevention program that teaches expecting mothers about childhood safety. Each participant receives a complimentary car seat, along with electrical outlet covers, medicine cases, a thermostat for bath water, a fire alarm and several other safety items.
Once a family enrolls in the Parents as Teachers program, they are able to participate in one-on-one home visits with a Parent Educator.
"We go into the homes, and we partner with the parents, because they are their child's first teacher" Parents as Teachers Educator Erica Bailey said. "We try to help them make sure their child is developmentally ready for school. The learning starts at home."
Prior to the home visits, each family is given an assessment called the "Family Map". This assessment helps the Parent Educator and family establish goals by identifying the strengths and weaknesses of the child, what areas the child needs improvement in, and what areas the child is performing well in.
The goals of home visits are to "assess child and family needs", "teach and guide the family", "help families find support" and "refer families to resources".
Parents as Teachers also hosts Group Connection on the third Thursday of every month from 12 to 1 p.m. This meeting gives all the Parents as Teachers' families an opportunity to come together, increase their knowledge on child development, share experiences and create a support system. Parents as Teachers Educators start each session with a lesson on a specific topic and provide a forum for families to openly ask questions and encourage one another. Our Parent Educators provide lunch for the families and encourage parent-child interaction through various activities.
The Parents as Teachers Educators serve as a resource network for the families. Parent Educators monitor the child's developmental screenings to ensure that their needs are being met.
"We try to get a well child check up form that shows if their vision is in tact and if their hearing is in tact," Parent Educator JoAnne Buckley said. "We are looking to see if there is a need, and if there is, we are trying to get that need met prior to the child going to school, so they could be successful."
Parent Educators also refer families to other miscellaneous services such as job opportunities, food pantries and tutoring for parents who are college students or pursuing their GED.
"We love kids, and we love families," Buckley said. "To have in Arkadelphia, families that can put their child in Parents as Teachers, then from Parents as Teachers to a HIPPY program, then from a HIPPY program to Peake Rosenwald or somewhere like that, and just connect the dots all up to the child's 18th year to college, it's amazing. And those are the services that Arkadelphia has available for families."
For more information regarding Parents as Teachers, contact Erica Bailey at Erica.Bailey@arkadelphiaschools.org, or Jo Anne Thomas-Buckley at JoAnne.Buckley@arkadelphiaschools.org.
---
Arkadelphia Public Schools serves more than 2,000 students in Clark County, Arkansas, ranging from 6-weeks-old through college- and career-readiness - and is home of the Arkadelphia Promise.
APS News hanna.dean@arkadelphiaschools.org