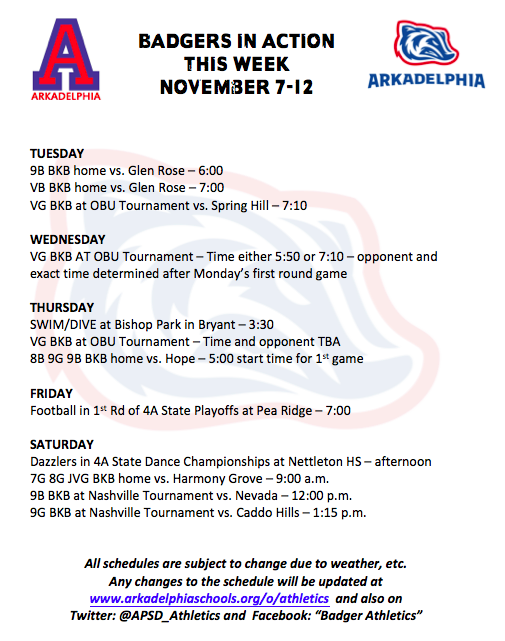 This Week in APSD Athletics: Nov. 7-12
Arkadelphia Athletics
Monday, November 07, 2016
Welcome to crossover season in the athletic world as we enter postseason and championship action for some sports while other sports begin their seasons this week. Regardless of where they are in the season, we thank you for your continued support of our students!
Let's take a look at this week beginning with Tuesday and finishing with Saturday's full day.
THE LADY BADGER VARSITY BASKETBALL TEAM begins its season this week as it plays in the annual OBU Lady Tiger Tipoff Tournament in Bill Vining Arena on the OBU campus. Arkadelphia opens the tournament on Tuesday night at 7:10 vs. Spring Hill. Arkadelphia will also play on Wednesday and Thursday in the three-game guarantee tournament, but the time and opponents will be determined after the first round game vs. Spring Hill.
BOYS' BASKETBALL ALSO TIPS OFF TUESDAY as the 9th grade boys and varsity boys will face Glen Rose at Arkadelphia High School. The 9th grade game will tip off at 6:00 -- different from the original posted start time of 5:30. The varsity Badgers should tip off around 7:00.
THE AHS SWIMMING AND DIVING TEAM begins the 2016-17 season Thursday in the Bryant November Invitational at Bishop Park in Bryant. The swim teams will have two meets in Arkadelphia this season -- one on December 9th at HSU and then the District Swim Meet in February also at HSU.
THE BADGER FOOTBALL TEAM HITS THE LONG ROAD TO PEA RIDGE this Friday for the first round of the 4A State Football Playoffs. The Badgers earned the 5th seed from the 4A-7 conference thanks to its 63-20 win over Malvern and Ashdown's win over Fountain Lake. Arkadelphia will make its second straight road trip to Northwest Arkansas -- extreme NW Arkansas -- to face the Blackhawks of Pea Ridge, the second seed from the 4A-1 conference. More details about this game will be posted later in the week.
BEST OF LUCK TO OUR DAZZLER DANCE TEAM AS THEY COMPETE SATURDAY in the State Dance Championships at Nettleton High School. The Dazzlers are the two-time defending state runners-up and are looking to win a 4A State Dance Championship this weekend. Results will be posted Saturday as announcements are made. Best of luck to these ladies who support our athletic teams throughout the year as they compete for a title of their own.
Throw in the beginning of junior high basketball for our teams on Thursday and Saturday and you've got another week full of Badger and Lady Badger athletics. Go Big Blue!