Arkadelphia Hosts 4A-7 Junior High District Basketball Tourney Beginning Saturday
APSD Communications
Friday, February 01, 2019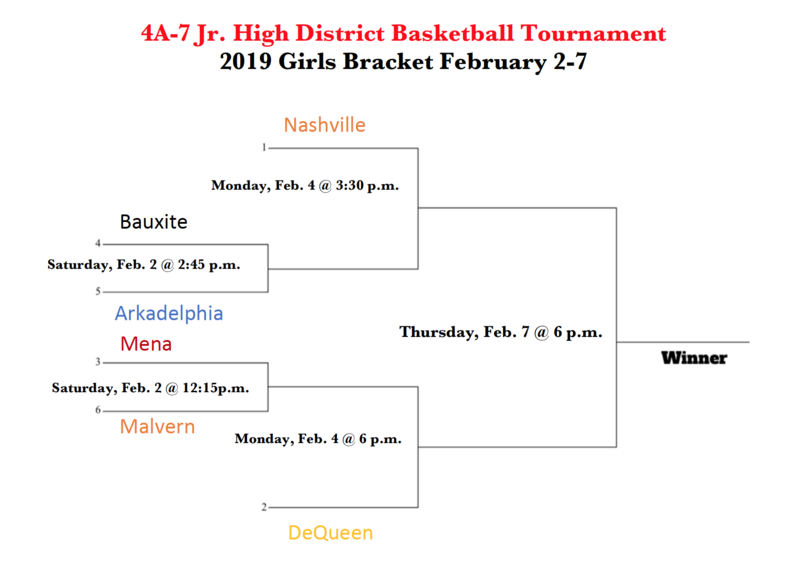 2019 4A-7 Junior High District Basketball Tournament
February 2nd, 4thand 7th
Arkadelphia High School
SATURDAY:
11:00 G1 BOYS 3) Malvern vs. 6) De Queen
12:15 G2 GIRLS 3) Mena vs. 6) Malvern
1:30 G3 BOYS 4) Bauxite vs. 5) Mena
2:45 G4 GIRLS 4) Bauxite vs. 5) Arkadelphia
MONDAY:
3:30 G5 GIRLS 1) Nashville vs. Winner G4
4:45 G6 BOYS 1) Nashville vs. Winner G3
6:00 G7 GIRLS 2) De Queen vs. Winner G2
7:15 G8 BOYS 2) Arkadelphia vs. Winner G1
THURSDAY:
6:00 Girls' Championship
7:15 Boys' Championship
ADMISSION:
$5 for students and adults; admission good for all games that day
4A-7 Winter passes and AAA passes will be accepted
BUS PARKING:
We'll have different parking instructions for buses for Saturday and Monday, since Monday's games will have teams arriving at the end of the school day.
SATURDAY BUS PARKING:
Buses need to drop off teams at front entrance to AHS (where "Basketball Entrance" sign is placed on steps) and park along the curb between the main football stadium entrance toward the construction of the new middle school at the other end of the parking lot. This will keep buses from taking up multiple parking spots in the main parking lot.
MONDAY BUS PARKING:
For 3:30 and 4:45 games, we're asking teams to be dropped off at the same spot, but then pull around to the back of the high school and park to the back of the large parking lot behind the school. Our car pick-up line at the end of school each day will be utilizing the space that we are using for bus parking Saturday, so it won't be available.
Bus parking for 6:00 and 7:15 game can be in main parking, lining up along the curb just outside the football stadium as daily school traffic will already be gone for the day.

THURSDAY BUS PARKING:
Same as Saturday