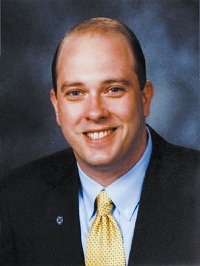 Donnie Whitten, Ed.D.
---
Dr. Donnie Whitten is the superintendent of the Arkadelphia School District in Clark County, Arkansas. Prior to his selection in 2008, he served as director of curriculum & instruction, principal, university adjunct faculty, and classroom teacher in Arkadelphia. He holds a doctorate degree in educational leadership from the University of Arkansas, and undergraduate and graduate degrees from Henderson State University. Dr. Whitten was born and raised in Dallas, TX, and has served as a public school educator in Arkansas for 21 years.
Under his leadership in Arkadelphia, Dr. Whitten has worked collaboratively to facilitate the development of the Arkadelphia Promise Scholarship, Southwest Arkansas College Preparatory Academy, Boys and Girls Club of Clark County, Arkadelphia Early Childhood Center, Peake Rosenwald PreK Center, Arkadelphia New Tech, and the first aviation-pilot training program for students in Arkansas. In 2015, the Arkadelphia community passed a 5.75 millage increase for the construction of two new schools.
In 2014, Dr. Whitten was selected by the U.S. Department of Education to participate in the Future Ready Superintendent's Summit held at the White House, as part of President Obama's ConnectEd Initiative. In addition, he is currently serving a four-year term as a gubernatorial appointee to the Southern Regional Education Board (SREB). Dr. Whitten is an active member of multiple national educational organizations, including AASA - the School Superintendents Association, the Association for Supervision and Curriculum Development (ASCD) and their state affiliates.
Dr. Whitten was inducted into the Henderson State University Academy of Scholars, and selected as an Arkansas Business "40 under 40" honoree in 2011. From 2009-2011, he served as president of the Arkadelphia Area Chamber of Commerce Board, and as president of the Henderson State University Alumni Association Board in 2008. He currently serves as a board member of the Arkadelphia Promise Foundation and Dawson Educational Cooperative.
Dr. Whitten and his family reside in Arkadelphia, Arkansas.