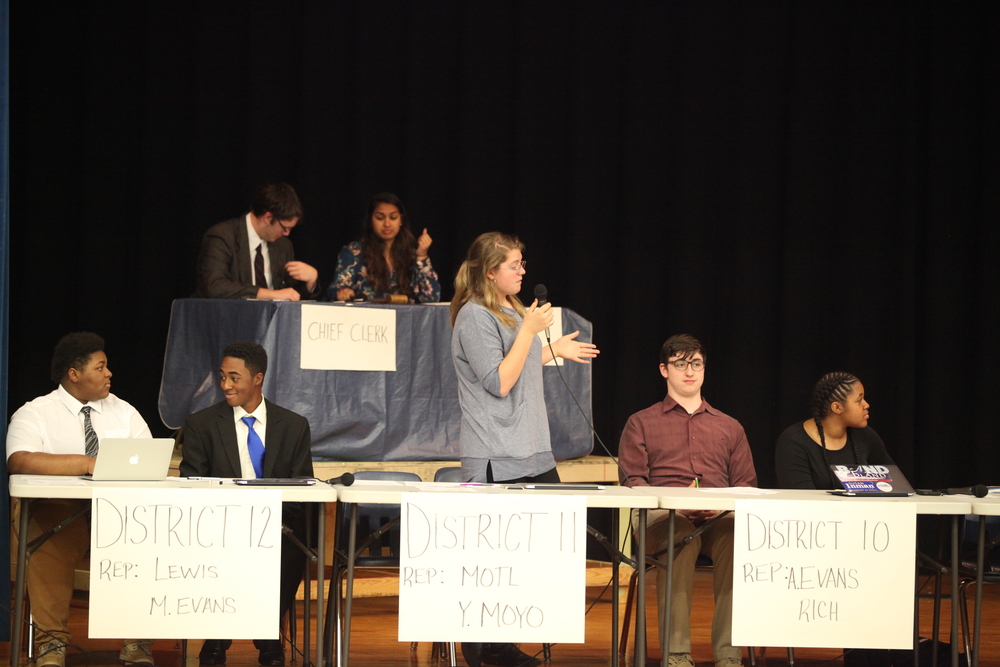 AHS Debate Team Holds Badger Congress
APSD Communications
Tuesday, April 30, 2019
The Arkadelphia High School debate team recently participated in the annual "Badger Congress" event in the AHS Little Theater, with team members simulating a legislative session by representing congressional districts, presenting bills, debating the bills and ultimately voting on the bills.
To prepare for the event, students looked at examples of proposed bills and resolutions from the Arkansas General Assembly. Students noted the correct way to format proposals and the correct process for bring their bills before the "Congress". Students were tasked with writing proposed bills or resolutions which were reviewed by the team prior to their presentation at the Badger Congress. The goal of the Debate team is to prepare students for presenting in a variety of real world public speaking environments.
AHS Debate Team sponsor and history teacher Linda Archer believes that participation in a debate team can prepare students for the future, whether it be college or their career.
"The goal of the Debate team is to prepare students for presenting in a variety of real world public speaking environments," said Archer.
AHS senior Michael Evans was instrumental in establishing the AHS debate team in 2016 and believes the skills has learned through the discipline will help him in the future in a variety of ways.
"Badger Congress requires students to utilize skills such as public speaking, critical thinking and the development of written thoughts," said Evans. "It requires giving a speech, comprehending legislation and developing your own statements.
This year, the students brought issues such as mandatory voting, elimination of the death penalty and other hot-topic items to the floor to be introduced, debated and voted upon.
"Since joining the debate team, I have made lasting relationships, become a substantial leader and learned and improved on skills I never would have without being involved in debate," said Evans. 'This makes me a more diverse and well-rounded individual who can be proficient in many ways."
The AHS Debate team plans to expand the scope of its work to include Goza Middle School students and eventually extend the program to other schools in the area.
The AHS debate teams also participates in events such as a mock trial and other events including National Speech & Debate Education Day, Presidential Cabinet Imitation and the annual Dr. Martin Luther King, Jr., Dream Speech Contest.
Arkadelphia High School Debate Team senior and District 12 Representative Michael Evans presents a bill at the recent Badger Congress event.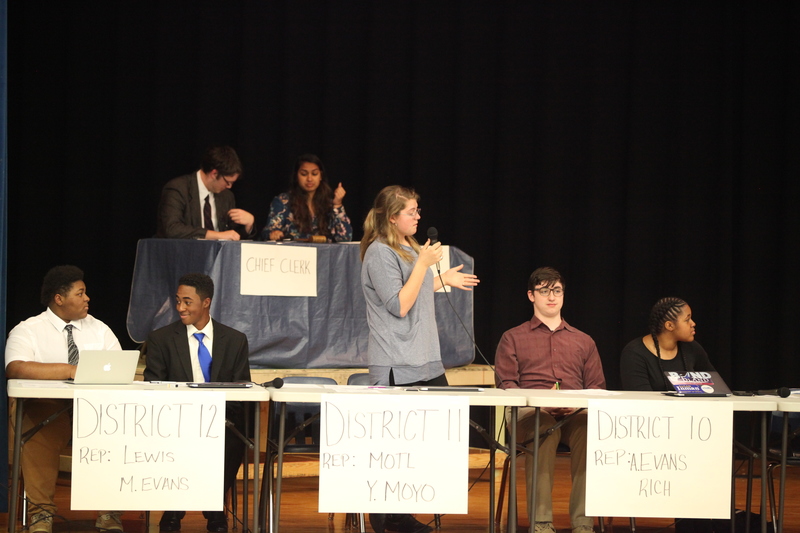 Arkadelphia High School debate team junior and District 11 Representative Sydney Motl questions fellow District 11 Representative Yebo Moyo on a bill he introduced to make voting mandatory for US citizens.