Five APSD Proposals Receive Grants from 2015-2016 Ross Foundation Mini-Grant Project
Arkadelphia Public Schools
Friday, November 20, 2015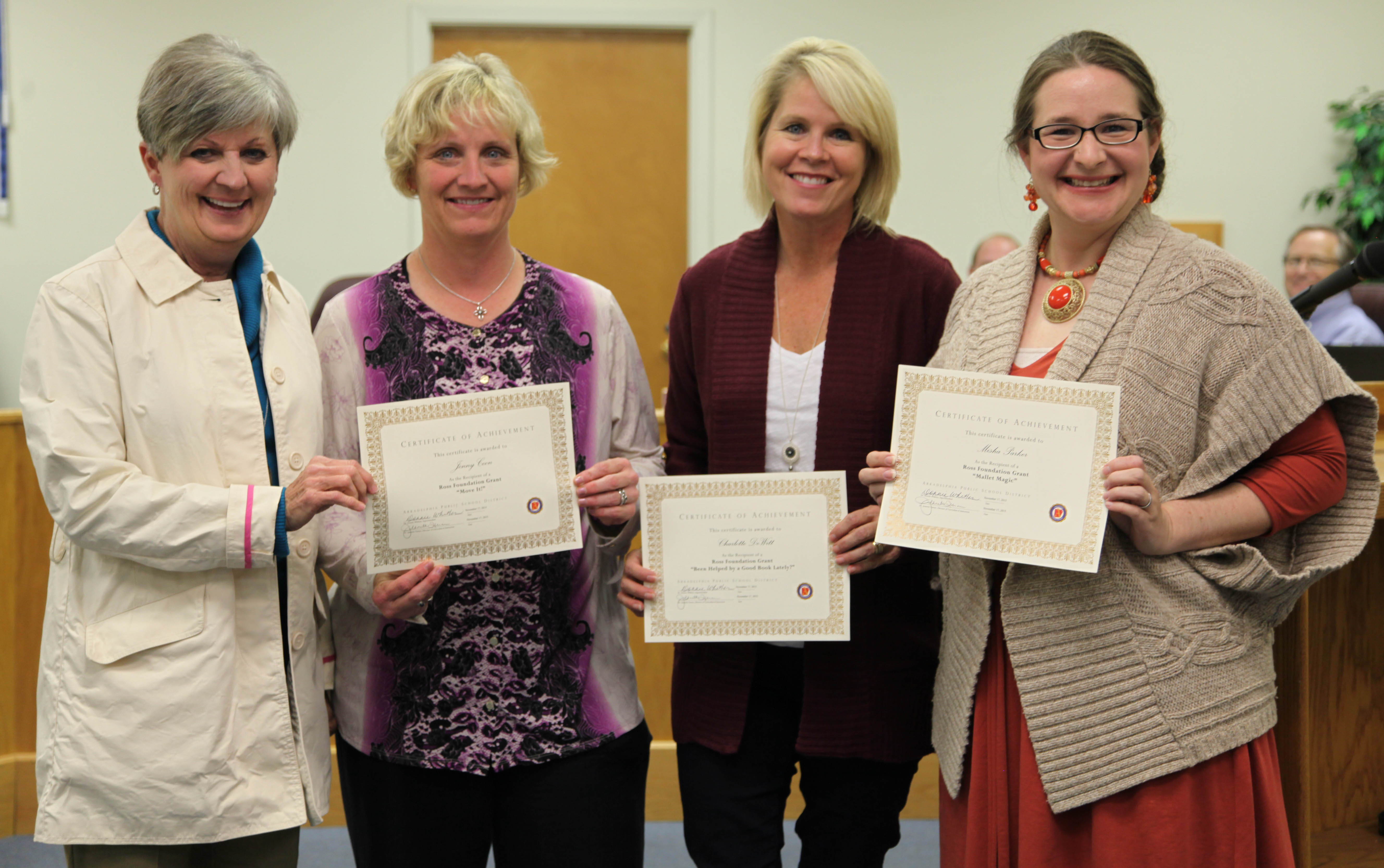 Dawson Education Cooperative announced the recipients of the 2015-2016 Ross Foundation Mini-Grant project on Nov. 2. Five projects from the Arkadelphia School District were chosen to receive the grant.
Dr. Jeanette Turner, Director of Curriculum and Instruction, introduced the recipients, along with their proposals and grant amount, at the Board of Education meeting on Nov. 18.
Misha Parker, the music teacher at Perritt Primary, received $3,327.96 to fund her "Mallet Magic" project. The grant will be used to purchase melodic Orff instruments for Perritt students, such as xylophones, metallophones, and glockenspiels. The new instruments will build the students' creativity and musical skills through improvisation and composition.
Central Primary Counselor Charlotte DeWitt received $507.59 to fund her project, "Been Helped By a Good Book Lately?" DeWitt will use the grant to further the benefits of bibliocounseling. Through carefully selected novels, she is able to enhance a student's knowledge on a specific issue by focusing on the behaviors, feelings, thoughts, relationships and consequences of a book character. Ideally, the student will apply the story to his or her life and benefit from the lessons in the book. DeWitt will purchase multiple copies of the books and allow the student to receive their own copy to take home and share thoughts with important people in the student's life.
Jenny Coon, a coach and physical education teacher at Goza Middle School, was awarded $399 for "Move It". Coon will be implementing the SPARK physical education curriculum. SPARK is a nationally used curriculum and is aimed at enhancing physical education programs. Coon will use the curriculum for sixth grade through eighth grade.
The Goza STAR Committee received $450 for "My Star-bot Tells You Who I Am". The STAR Committee includes Dr. Virginia Anderson, Principal Angela Garner, Ms. Sharon Clark, Ms. LaKesha Berry, Ms. Vanilla Hannah and Ms. Dana Tuggle. The committee plans to purchase materials to make zipper pulls within their STAR groups with the help of Arkadelphia High School students. The project is designed to be a team building activity, and each grade will have a specific color to identify with.
Bud McMillion was awarded $2,036.40 for the Badger Idea Lab. The Badger Idea Lab will be the first maker space of Clark County. It will provide a place for the community and students to use high-quality materials and equipment under the supervision of an engineering lab manager in order to produce their ideas. McMillion will use the funds to purchase supplies, equipment, and train the project and student managers to provide a quality maker space.
All those who have received the Ross Foundation grant must complete their projects before May 13, 2016. They will write a final report once their projects are completed, which will include a summary of the activity and all purchases made.
The Arkadelphia Public School District looks forward to seeing these five projects develop over the 2015-2016 school year and appreciates the Ross Foundation's commitment to our community and our students.
---
Arkadelphia Public Schools serves more than 2,000 students in Clark County, Arkansas, ranging from 6-weeks-old through college- and career-readiness - and is home of the Arkadelphia Promise.
APS News hanna.dean@arkadelphiaschools.org