Badgers on the Run prepares for Little Rockers Kids Marathon
Hanna Dean
Wednesday, February 08, 2017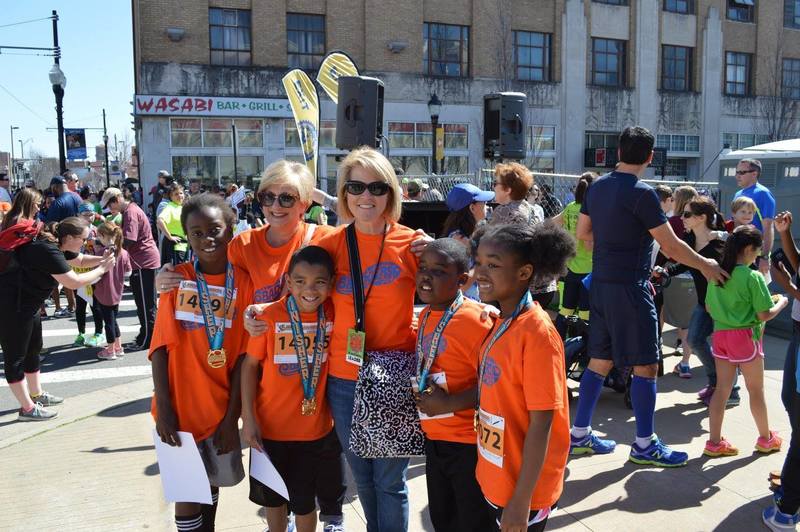 Students participating in the Badgers on the Run program at Central Primary School and Peake Elementary School will complete a full marathon on March 4 at the Little Rockers Kids Marathon in Little Rock, Ark.
The goal of Badgers on the Run is for students to run 25.2 miles before completing their final mile at the Little Rockers Kids Marathon. Beginning in December, students stay after school two days a week with adult volunteers to log miles before the race in March.
"It's really amazing to see where these kids start physically in December and then at the end February where they are," Central Primary Counselor Charlotte DeWitt said. "And how good they feel about the fact that they've set a goal, and they've reached their goal. I just like to see kids grow not only physically but in confidence and pride for having started something and finish it."
Students will run and walk their final mile on the official Little Rock Marathon course, starting on Main Street and ending on Scott Street. As each child completes the 26.2 miles, they receive a finisher's medal.
"All the parents get to come to Little Rock on that Saturday, and I'm telling you, I have seen tears when those parents see their kids cross that finish line," DeWitt said. "To see those babies finish and get that huge medal is just unbelievable."
During the first year, DeWitt and Central Primary Physical Education Teacher Ryan Ellison began Badgers on the Run for Central's second and third grade students. The year following, Peake Teachers Laquita Jones and Lea Myers helped to extend the program to include fourth and fifth grade students at Peake Elementary by offering to serve as sponsors.
"It was not a very hard decision for me to make," Myers said. "I immediately said yes when Mrs. Jones asked me to team up with her here at Peake Elementary. I am a big advocate for physical activity for students. It is a great way to start a healthy lifestyle at a young age."
In order for students to fully accomplish their goals, parent support is imperative. Parents have to be willing to pick their child up an hour after school twice a week and encourage them along the way.
"I think my favorite part is the parent support for these students who want to live a healthy lifestyle," Myers said. "This is an afterschool program that the students are involved in, and the parents make it work for their child. We talk to parents who run with their child and invite others on the weekends or after church. We have parents that take the time to volunteer with us, and that is very helpful because just at Peake alone we have over 60 runners in the program."
With 105 students participating this year, the program has almost tripled in participation size since its inauguration.
"My hope for the program is that it continues to grow, and more and more students become involved," Ellison said. "It is also my hope that more teachers and more parents become involved as well! It really is a great program, and I'm lucky to be a small part of it."
According to their website, the mission of the Little Rockers Kids Marathon is to give children the opportunity to enhance their physical activity while focusing on reaching a goal. For more information, please visit http://littlerockmarathon.com/little-rockers-kids-marathon/.
---
Arkadelphia Public Schools serves more than 2,000 students in Clark County, Arkansas, ranging from 6-weeks-old through college- and career-readiness - and is home of the Arkadelphia Promise.
APS News hanna.dean@arkadelphiaschools.org