Central Primary raises money for Relay for Life in honor of current student
Arkadelphia Public Schools
Tuesday, March 07, 2017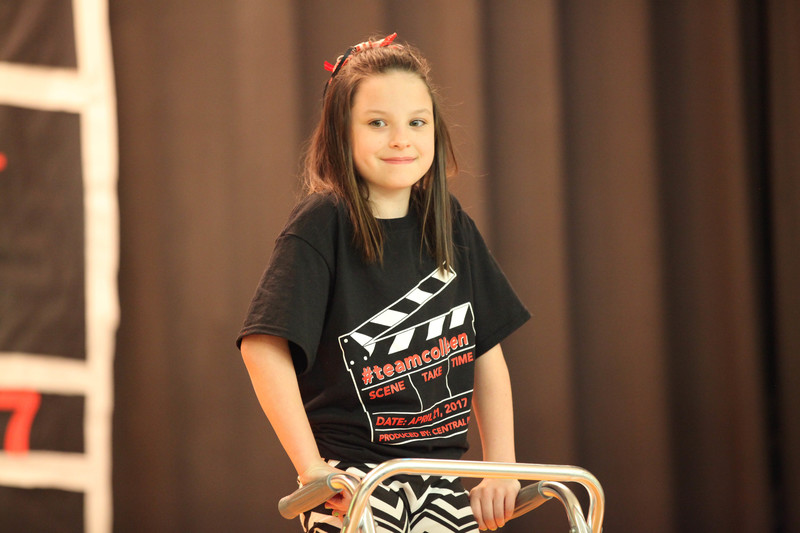 Central Primary School held their Relay for Life Kick Off Rally on Friday, March 3. During the assembly, Central's students and faculty honored their own hero, Colleen Herron, a 2nd grade student at Central Primary and cancer survivor.
"The moment she wheeled into my classroom for the first time, I was prepared for a sad little girl but instead she was totally the opposite," Debbie Robertson, Herron's 2nd grade teacher at Central, said. "Her smile was as big as her bow on her head!"
Herron's mother, Kelly Haddox, prepared a video for the Relay for Life Rally describing Herron's journey through her fight with cancer.
According to Haddox, Herron was diagnosed with a rare cancer, Adamantinoma, located in the left tibia in 2015. Herron underwent surgery to remove the area of the bone and marrow affected by the tumor. In 2017, the cancer had returned, and Herron underwent a specialized surgery to remove the entire tibia, which was later replaced with a donor femur and injected with her own DNA. She has been in a wheelchair since July 2016.
"Throughout this whole ordeal, she has remained extremely resilient and very optimistic," Haddox said in the clip. "She's our family's hero. She inspires us all. Colleen still has more healing to do, but her future looks hopeful."
To end the assembly, Herron left her wheelchair behind and used a walker to walk across the stage, as students and faculty cheered her on and chanted "Team Colleen!"
"Colleen finds humor, laughter and happiness in everything she does despite what she has gone through," Robertson said. "Her positive attitude rubs off on me and the things I thought were big, now have become small!"
Central Primary School's participation in Relay for Life gives students and faculty the chance to recognize and celebrate those who have battled and are battling cancer, like Herron. Central will provide several opportunities to help raise money to fight cancer. Fundraisers include:
March 6 – "Silver Saves Lives!" - Classes will compete in a dime war. Students can bring dimes to compete with each class to see who can fill up a bottle the fastest. The first 2nd and 3rd grade class to fill its bottle will receive a popcorn party.
March 6-17 – "Life is Sweeter Cancer-Free!" - Students can bring $1 to buy a paper cupcake to display with their name on it. Students may purchase as many cupcakes as they wish, and the class with the most sales will receive a cupcake party.
April 3-14 – "Cancer Survivors are 'Eggstraspecial'" - Students may purchase Easter eggs filled with a surprise for $1 each.
April 17-21 – #TeamColleen Buttons - Students may purchase #TeamColleen buttons for $1 in honor of Central's hero, Colleen.
To see photos from the Relay for Life Kickoff Rally, click HERE. For more information, please contact Kimberly Ellison at Kimberly.ellison@arkadelphiaschools.org.
Relay for Life Rally from Arkadelphia Public Schools on Vimeo.
Relay for Life Rally from Arkadelphia Public Schools on Vimeo.