Goza inducts 35 National Junior Honor Society members
Arkadelphia Public Schools
Thursday, May 04, 2017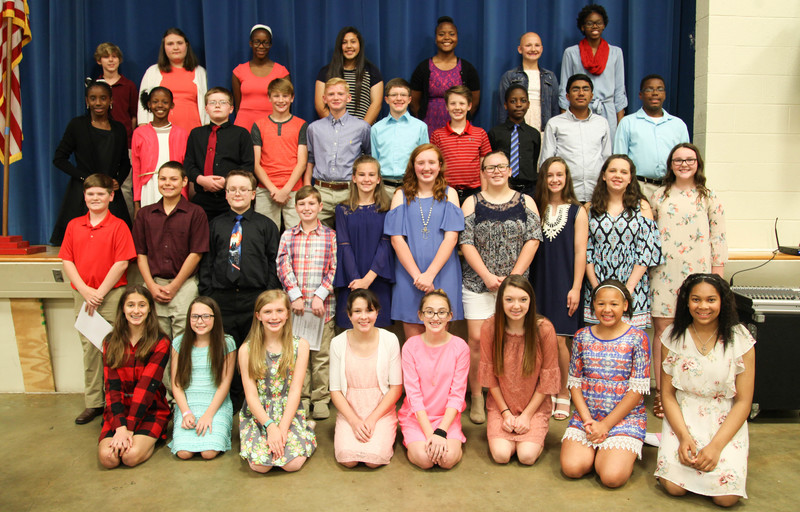 Goza Middle School inducted 35 new members into National Junior Honor Society on Tuesday, May 2.
National Junior Honor Society is the leader among organizations and societies that promote appropriate recognition for students who reflect outstanding accomplishments in the areas of scholarship, character, leadership, citizenship, and service. Students who have attended Goza Middle School for at least one semester and have a cumulative grade point average of at least 3.85 are eligible for membership.
Academically qualified candidates are evaluated in areas of character, service, leadership and citizenship. All candidates submitted a Student Activity Information form, including an essay. Final selection of the members is made by the Faculty Council, which is made up of at least five appointed teachers at Goza Middle School.
New members include:
6th Grade: Carter Babb, Blaise Batson, Brooklynn Boyette, Bailey Boyles, Seth Campbell, Calvin Clardy, Judsen Coon, Anna Derby, Laila Dickerson, Brandon Dickey, Olivia Fennochi, Avery Garner, Makayla Gentry, Kirsten Hall, Cameron Jones, Raley Jones, Gray Manning, Caitlyn McGough, Mason McKinney, Mtende Mayo, Madelyn Neel, Liyah Smith and Donovan Whitten.
7th Grade: Audrey Cordero, Kyle Matocha, Nancy Miller, John Schaefer and Huzaifa Shahid.
8th Grade: Caroline Bennington, Rachel Bosley, Meagan Cooper, Aniyah Gulley, Haylee McClain, Elizabeth Rodriguez and Ashari Whitaker.
Congratulations to all of the Goza NJHS members! We are so proud of you!