Badger Pride Marching Band steals show at War Memorial
Sean Ruggles
Thursday, November 06, 2014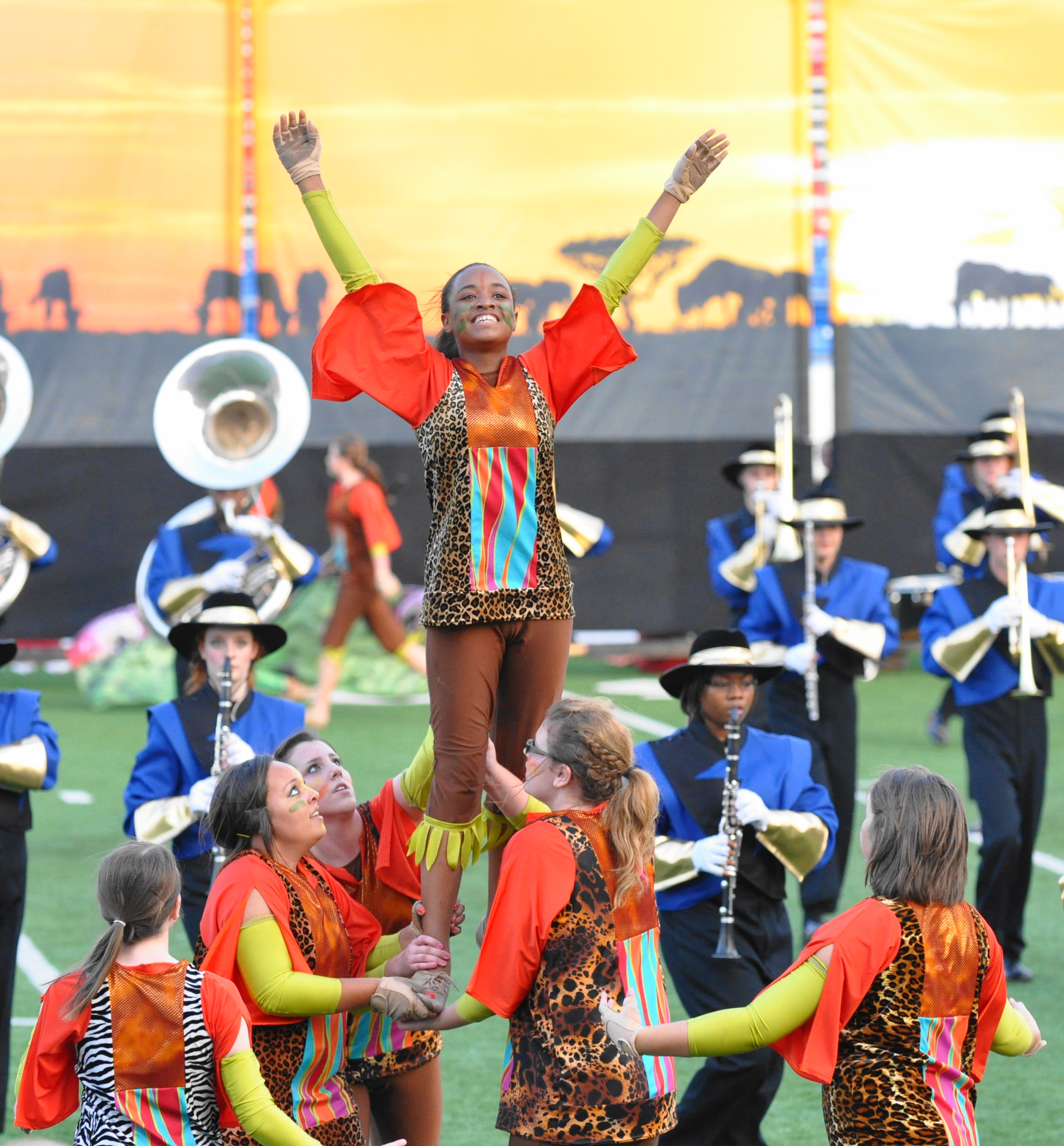 Arkadelphia High School's Badger Pride Marching Band recently took 11 top honors, including Arkansas's most prestigious marching band award, the "Brandon Award," at the Showcase of Bands, Arkansas's largest marching competition. The event was held at Little Rock's War Memorial Stadium on October 13.
Based on the Arkansas School Band and Orchestra Association's classification system, Arkadelphia is a class 3A size program which should have 50-60 members in its marching program; however, with 131 members and four class 3A titles since 2005, Arkadelphia now enters as a class 5A band, which is the largest classification in Arkansas and puts them up against programs including Conway, Bryant, Benton, El Dorado, Cabot and Little Rock Central.
"Our band is twice the size of other 3A schools," Director Jim Lloyd said. "But for us to go up against the big 5A programs in the state is a real David and Goliath situation."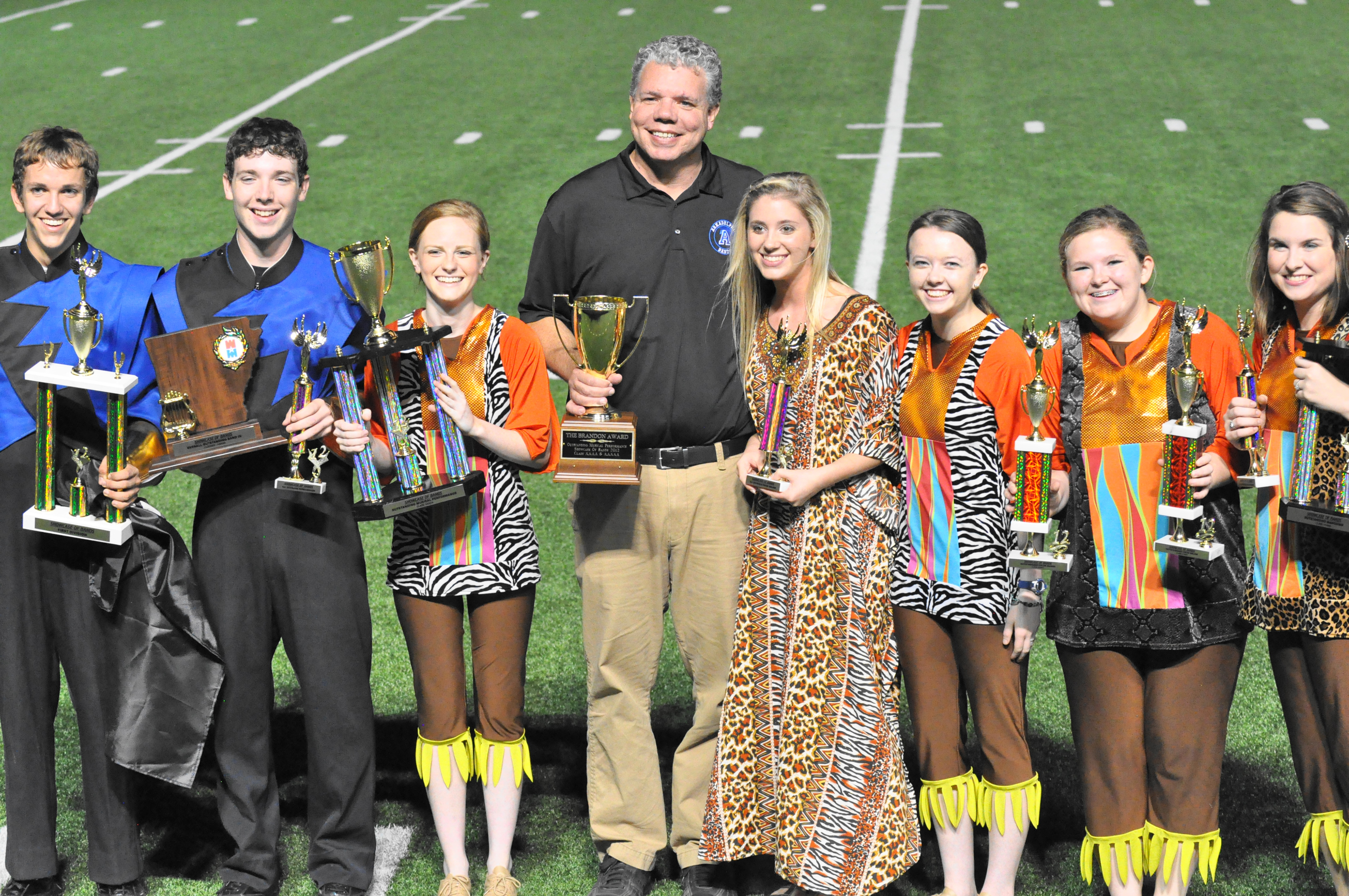 At the end of the day, Arkadelphia emerged with 11 of 13 available awards. In addition to earning the highest rating of "superior" in every category including drum major, percussion, color guard and band, Arkadelphia also won awards for Outstanding Band in class 5A, Outstanding Percussion, Outstanding Color Guard, Outstanding Drum Major, Outstanding Marching Performance, Outstanding Musical Performance. Theoretically, since the ratings are based on standards, every band at the show could receive a superior rating, but only one band comes away with the "outstanding" awards.
"We continue to raise our own bar. Every decision we make is centered on what is best for our kids."
-Jim Lloyd, AHS Band Director
The most coveted award earned at the competition for Arkadelphia was the prestigious "Brandon Award," which is named for long-time president and executive secretary of the ASBOA, the late Raymond Brandon, and is given to the top performance of the day.
The 5A section of the competition also draws a crowd of more than 6,000 spectators to War Memorial Stadium, providing a rare opportunity for the students performing to be seen by a large crowd.
"The home side of the bleachers, 25 yard line to 25 yard line, was packed," Assistant Director Aaron Seel said. "How many opportunities do these kids have to receive a standing ovation from a crowd that size?"
Though many in the crowd were present to support other schools, competitiveness was put aside for the sake of showing appreciation of Arkadelphia's performance.
"Seeing the audience reaction was moving for all of us," Lloyd said.
Arkadelphia's show, Serengeti Sketches, is built upon African folk rhythms and is comprised of four movements: Serengeti sunrise, wildlife, cool shade, and brush fire and rain. Andrew Yozviak originally composed all of the music.
"It is fitting for emphasizing our large percussion section we have this year," Lloyd said.
When the Badgers visit the Ashdown Panthers on October 19, the 2012 Brandon Award winner for class 1, 2, and 3A, Ashdown, will face off with the 4 and 5A Brandon Award winner, Arkadelphia, during the halftime performances. Arkadelphia will travel to Lakeside High School on October 23 for the regional competition before facing their biggest challenge of the marching season, the Memphis Bandmasters Championship, at the Liberty Bowl on October 27.
Participation in the band program in Arkadelphia continues to grow. This year, 86 students are in the beginner band, up from 47 last year. In 2002, 72 students were in the high school band, which now includes 131 students. Overall, more than 300 students, 6-12th grade, participate in the band program.
Lloyd, Seel and Whitney Smith, color guard coordinator and beginner band director, make up the team of band leaders. They attribute the success and growth of the program to an uncompromising drive for excellence and instilling that pride in all of the students.
"We set our own standards," Seel said. "Our goal for every performance is that it be better then our last."
"We continue to raise our own bar," Lloyd added. "Every decision we make is centered on what is best for our kids."
Arkadelphia Public Schools serves more than 2,000 students in Clark County, Arkansas, ranging from 6-weeks-old through college- and career-readiness - and is home of the Arkadelphia Promise.
APS News
sean.ruggles@arkadelphiaschools.org
Photos courtesy Gary Gerber.
(originally published Oct, 2012)