AHS New Tech finds strong beginning
Sean Ruggles
Wednesday, November 05, 2014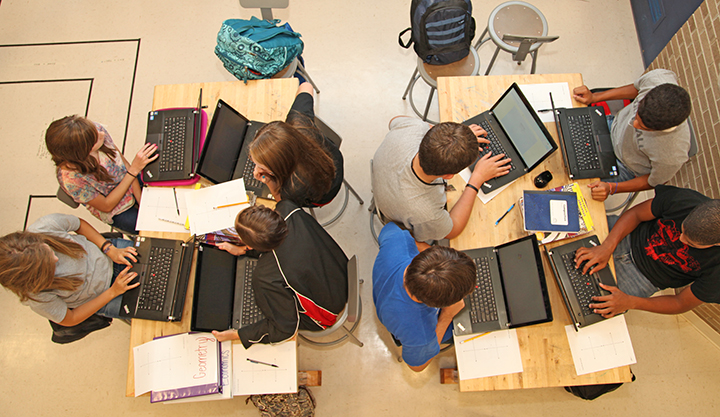 Above, AHS New Tech students work on projects in teams, collaborating through the use of online resources such as Echo and Google Docs which allow them to continue their work regardless of if they are on campus or not. Individual grades are given based on each student's work and responsibilities.
AHS student presenters give a demonstration on a smartboard during New Tech tour which was part of September's Report to the Public.
The approach to education at Arkadelphia High School is evolving, making technology and teamwork central focuses.
During September's annual report to the public, a tour of AHS's New Tech facility was led by Assistant Principal and AHS New Tech Director Cheryl Merk. AHS freshmen and teachers involved in the New Tech program guided participants through the areas of AHS, remodeled to accommodate the paired classes and teamwork and technology-oriented structure. Large class spaces, with circular tables with Smart Boards and laptops form the progressive learning environment designed to simulate the fast paced environments of modern college campuses and the workplace.
The program in its inaugural year at AHS, and was startedwith this year's freshmen class. By 2016, the program will be integrated from freshmen to senior levels at the high school.
"It is extraordinary to see the idea of New Tech become a reality for our district in less than one year. Our staff has done a tremendous job of preparing for this innovative initiative."
-Donnie Whitten, APS Superintendent
"It is extraordinary to see the idea of New Tech become a reality for our district in less than one year," Whitten said. "Our staff has done a tremendous job of preparing for this innovative initiative."
AHS students lead attendees on a tour of the New Tech facilities, including the GeoDesign lab pictured above and Humanities class shown below.
The first presentation of the tour was delivered by students from Bud McMillion and James Williams's GeoDesign class, which is a "paired"class of engineering and geometry. The group's design project was a smartphone case with an integrated ID card holder. Students explained how their group took an open ended assignment and then progressed as a team toward a physical, final product and what challenges they faced along the way.

Students elaborated on the advantages of having school-issued laptops to utilize on campus and at home; the most commonly cited advantage being that their text books are now replaced with e-book versions accessed through their computers, eliminating the need to tote heavy backpacksback and forth to classes and home. The groups can also collaborate on projects via the internet while working from home after the school day has ended. If a student was not able to be on campus during the day, due to illness or an activity that took them elsewhere, as long as there is access to the internet, they are still able to receive their assignments and continue work with their group in real time.
Other stops on the tour included explanations from students and teachers on key elements of the New Tech program including student norms, school-wide learning outcomes, and Echo.
The Student Norms were presented by students from Sean Queen and Ben Barras's Humanities class, which pairs English and Civics/Economics. All 156 members of the freshmen class contributed to the creation of the norms which, in conjunction with the AHS handbook, defines the expectations of the students. The norms serve as the guidelines for day-to-day operation of the classrooms and include items such as students beginning work as soon as class starts without needing to be asked to do so, movement around the classroom being limited to only what is necessary and discipline matters being handled individually instead of blanket punishments being issued to entire groups.
"Every freshman had input on what the norms would be," Merk said. "After the norms were prepared, they presented them to a board of faculty and parents for approval."
Following the student norms presentation, Kelly Foshee and Katherine Sykes explained the school-wide learning outcomes. Foshee and Sykesco teach Phylgebra, which is a pairing of Physical Science and Algebra. The school-wide learning outcomes establish a rubric which determines how students in the New Tech program will be graded in every subject, and provides a footing for students to better understand how the material they are learning in the classroom is relevant to life after high school.
60% - Content mastery: AHS NewTech students will learn the state approved contentfor each class.
10% - Critical thinking: AHS NewTech Students will be able to approach problem solving by considering a variety of viewpoints and will use organizedand rational methods for developing solutions.
10% - Communication: AHS NewTech Students will be able to effectively share ideas and knowledge through various modes including: Formal and informal writing, speaking, listening, and the use of visual aids.
5% - Collaboration: AHS NewTech Students will be able to develop a positive vocabulary and show an understanding of group dynamics by working together effectively in a professional environment.
5% - Global and community awareness: AHS NewTech Students will actively engage and participate in making connections with their community and beyond while demonstrating an understanding of global issues.
5% - Technology: AHS NewTech Students will be able to use available technological resources and demonstrate professional etiquette when using formal and informal communications.
5% - Work ethic: AHS NewTech Students will show the ability to be ontime, on task, and contribute positively to school culture.
Since the learning outcomes are school-wide, the principles apply to every New Tech class. For instance, students in Algebra are also being graded on their ability to communicate using proper grammar.
Teachers Rebecca Alexander and Amy Hornsby ended the tour with a presentation on Echo, the online platform used to post assignments, provide the materials necessary to complete assignments, host discussion forums for classes and groups and give students their grades.
"We owe the success of the tour to the teachers that were involved," Merk said. "They were the ones who recruited the student presenters and really orchestrated the event."
As for the New Tech program overall, Merk is pleased to see how well the freshmen are adapting the new environment.
"It takes an entire district to make this program work, and the students coming up from the middle school are very well prepared to take on this endeavor."
-Cheryl Merk, AHS New Tech Director
"It takes an entire district to make this program work,"Merk said, "and the students coming up from the middle school are very well prepared to take on this endeavor."
Arkadelphia Public Schools serves more than 2,000 students in Clark County, Arkansas, ranging from 6-weeks-old through college- and career-readiness - and is home of the Arkadelphia Promise.
APS News
sean.ruggles@arkadelphiaschools.org
(originally published Oct, 2012)