Promise: More than $$$
Sean Ruggles
Friday, November 07, 2014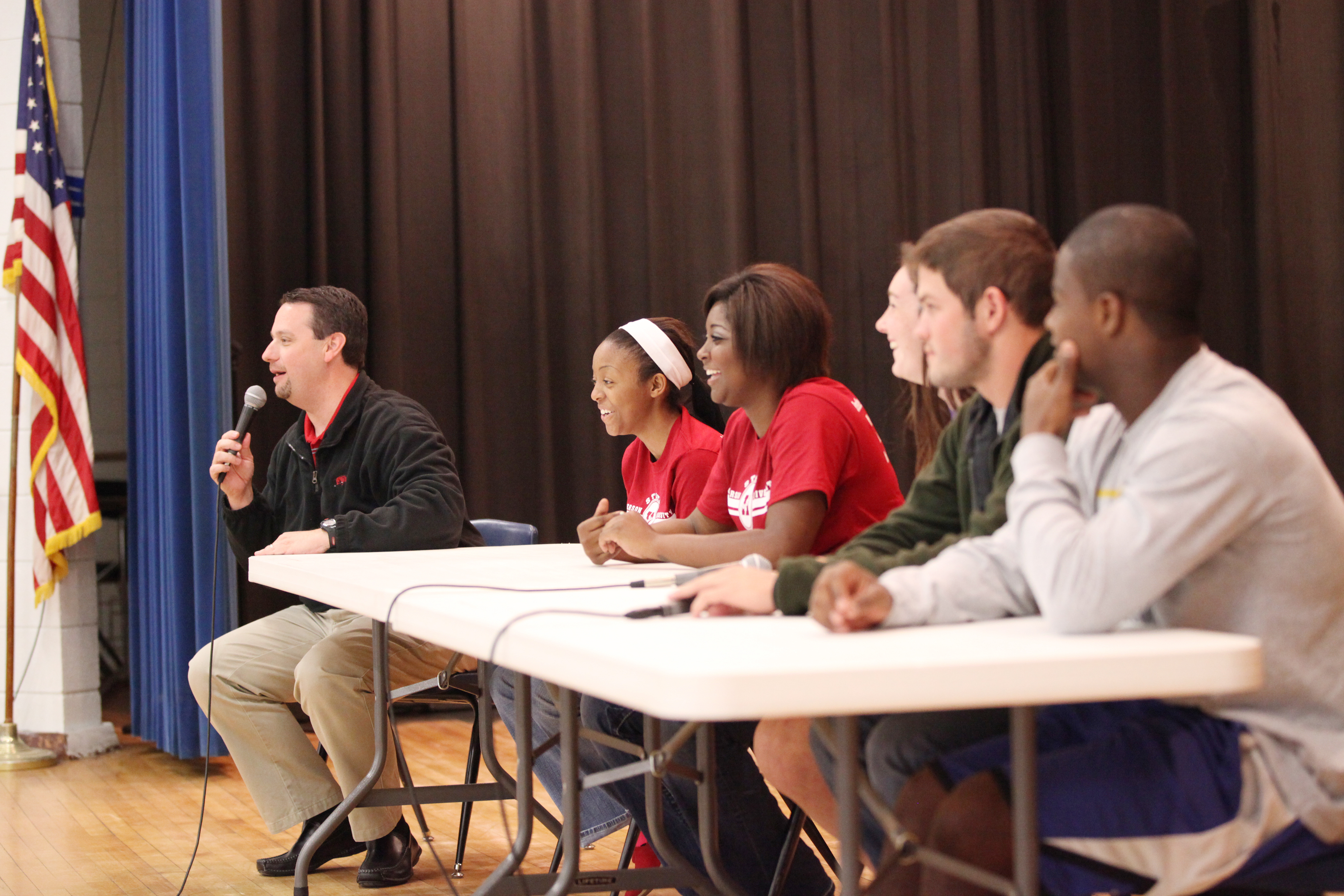 Above, Arkadelphia Promise Executive Director Jason Jones, joined by a panel of HSU and OBU students, visits with Peake Elementary students to give insight into life as a college student. Throughout the fall, Jones counsels every senior individually on financial planning for college (below), and then meets with groups of juniors in the spring.
Promise: More than money
In November, college freshman to sophomore retention rates were reported for the Arkadelphia High School class of 2011 graduates. In the fall of 2012, 63 of the original 90 college students from the AHS class of 2011 returned for their sophomore year, which equals a retention rate of 70 percent. According to the Arkansas Department of Higher Education, the retention rate for all Arkansas freshmen to sophomore students is 61.4 percent. Jason Jones, Executive Director of the Arkadelphia Promise, noted that the national retention rate is 67.4 percent.
"It is great to see that our students are staying in college at a rate more than eight percent higher than the state average," Jones said. "We know that those who make it back to college for their sophomore year are much more likely to finish, so this is a big step to a degree for these students."
The AHS class of 2011 graduates were the first to be eligible for the Arkadelphia Promise scholarship, which Jones largely credits for the high retention percentage. In addition to the scholarship, the Arkadelphia Promise program provides assistance through college advising and financial counseling for AHS students.
"We are excited to know that the work we are doing to help advise and assist our graduates is really making a difference," Jones said. "We will continue to help Arkadelphia students find the best college fit for them, their family and their situation."
Arkadelphia Superintendent Donnie Whitten also linked the Arkadelphia Promise and an increase in academic rigor at AHS to students being able to stay in college.
"Our goal is to produce students who have every tool, and are prepared in every way possible, to be successful in life after high school," Whitten said. "For those graduates who pursue a college degree, the things they need most are academic fortitude to make the grades and financial assistance to pay the bills. We are one of very few districts that do both."
Forty of the 63 students who returned to college this fall are living in Arkadelphia and attending colleges close to home, including Henderson State University, Ouachita Baptist University, UACC-Hope and COTO in Malvern.
The Ross Foundation and Southern Bancorp fund the Arkadelphia Promise. The goal of the Arkadelphia Promise is to increase the college-going rate for local students, reduce the number of students dropping out of college for financial reasons and provide for a more educated workforce.
---
Arkadelphia Public Schools serves more than 2,000 students in Clark County, Arkansas, ranging from 6-weeks-old through college- and career-readiness - and is home of the Arkadelphia Promise.
APS News sean.ruggles@arkadelphiaschools.org
(originally published Jan, 2013)