AHS DECA Chapter holds annual Officer Induction Ceremony
Arkadelphia Public Schools
Tuesday, October 17, 2017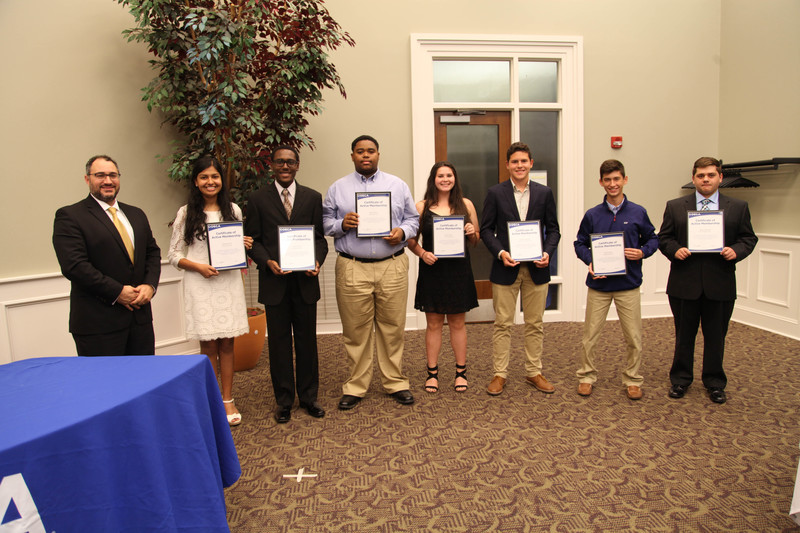 Arkadelphia High School's DECA chapter held its annual Officer Induction Ceremony on Thursday, Oct. 12, at Ouachita Baptist University. The new officers include: Fateemah Faiq, CEO; Javonte Brown, COO; JaJuan Gentry, CFO; Sarah Pollock, CHO; Harrison Shuffield, CCDO; Henry Hunley, CMO and James Fitzgerald, CLO.
Mr. David Gustaveson, AHS marketing teacher and DECA advisor, welcomed the new officers and their families, and Faiq gave the invocation before all guests were treated to dinner, catered by Sodexo. Gustaveson then led the induction of the new officers, awarding them each with a DECA pin and plaque.
"This years newly inducted officers are comprised of outstanding individuals," Gustaveson said. "Each member exhibits strong character and integrity. Their leadership skills will benefit DECA as their planning, dedication, and energy continues to inspire other members to be involved."
The AHS DECA chapter currently has 94 active members, showing tremendous growth from last year's membership of 61 students. All students enrolled in the AHS marketing program or interested in marketing, management, entrepreneurship, and hospitality are encouraged to join DECA.
DECA has several events lined up for the 2017-18 school year. The group plans to attend Memphis Grizzlies' Career Day, DECA's State Career Development Conference (students who place at the State conference will advance to the International Career Development Conference), and a tour at Dallas Cowboys Stadium in the spring. In addition, DECA members will hear from guest speakers, perform in an on-site role-play event judged by local professionals, and celebrate with an end-of-the-year awards banquet.
Gustaveson hopes that this year DECA "will provide an engaging platform for students to learn, practice and share the skills they will need to be successful as they prepare for their future."
Founded in 1946, DECA is a non-profit organization dedicated to preparing high school and college students for careers in marketing, finance, hospitality and management. According to DECA's website, there are over 215,000 DECA members within 3,500 high school chapters and 275 collegiate chapters.
For more information on DECA and how to get involved, please contact Mr. David Gustaveson at david.gustaveson@arkadelphiaschools.org.
To see more photos from this event, click HERE.
---
Arkadelphia Public Schools serves more than 2,000 students in Clark County, Arkansas, ranging from 6-weeks-old through college- and career-readiness - and is home of the Arkadelphia Promise.
APS News hanna.dean@arkadelphiaschools.org