4A South Regional Postponed to Thursday Start
Arkadelphia Athletics
Wednesday, February 25, 2015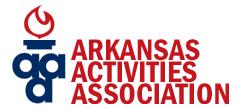 Due to the winter weather across the southern part of Arkansas Wednesday, the Arkansas Activities Association has postponed the start of the 4A South basketball regional tournament in Monticello to Thursday.
The schedule will remain the same as far as start times, but the days will be pushed back one day. The Badgers will play their first round game now on Thursday at 5:30 p.m. vs. the Warren Lumberjacks at Monticello High School.
For more information on the tournament that was posted on our website yesterday, click the link below.