Arkadelphia Public Schools announce groundbreaking ceremony for new Goza Middle School
Arkadelphia Public Schools
Monday, December 11, 2017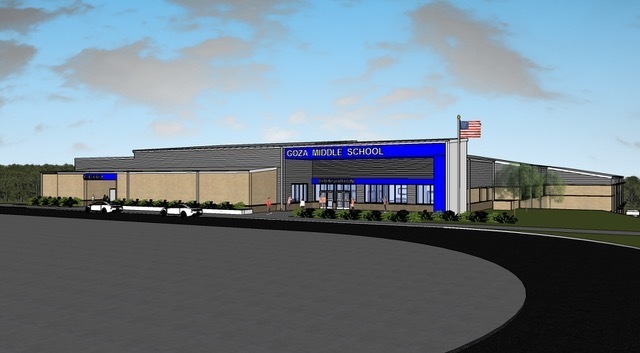 The Arkadelphia Public School District has announced the date and time for the Groundbreaking Ceremony that will celebrate the start of construction of the new Goza Middle School.
The ceremony is scheduled to take place on Thursday, Dec. 14, at 10 a.m. on the current campus of Arkadelphia High School at 401 High School Drive.
"This is a historic and wonderful day for Arkadelphia Public Schools," Superintendent Dr. Donnie Whitten said. "We have worked diligently to get to this point, and we are excited to start the construction process."
The Arkadelphia Board of Education approved the final construction bids during the November Board meeting. The guaranteed maximum price for the new Goza Middle School building is set at $15.3 million, and the construction of the 83,793 square foot school building is projected to take 17 months until completion.
"Nabholz Construction Services is excited to serve as the construction manager and general contractor for Arkadelphia Public Schools on the new Goza Middle School," Senior Project Manager Mark Seiter said. "This is our first project for Arkadelphia Schools, and we look forward to a successful project."
Some of the features of the new facility include ground and basement-level classrooms, stairwells and an elevator, administration area, health center, media center, computer labs, art center, work force career center, science labs, a complete kitchen, serving and dining area, a gymnasium with locker rooms, a band instrument room, and a development lab.
"The current Goza Middle School was erected in 1956," Whitten said. "The new school will be essential in providing our students with a modernized environment that will enhance their learning opportunity as we push for excellence in the classroom. We hope the community will come out on Thursday and celebrate with us."
---
Arkadelphia Public Schools serves more than 2,000 students in Clark County, Arkansas, ranging from 6-weeks-old through college- and career-readiness - and is home of the Arkadelphia Promise.
APS News hanna.dean@arkadelphiaschools.org