State Championship T-shirt Order
Caroline Reed
Tuesday, January 09, 2018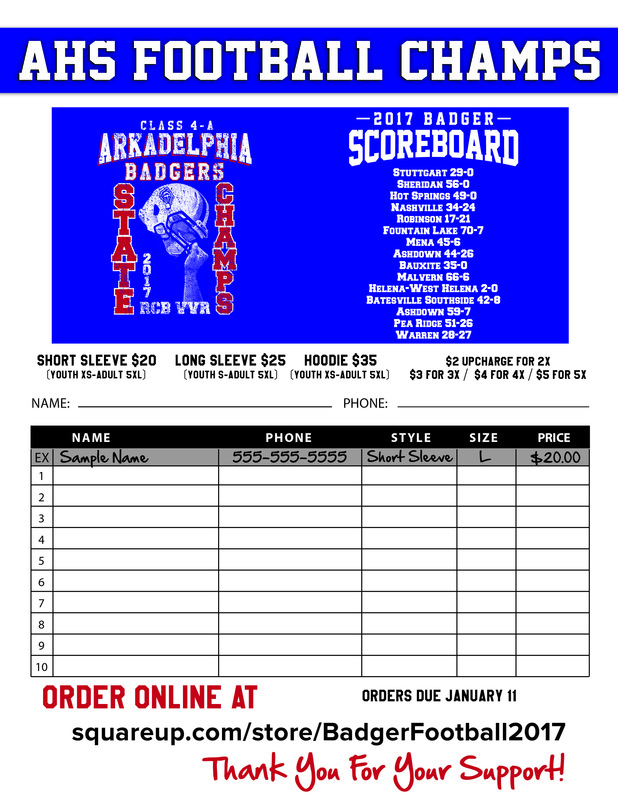 Order your 2017 Badger Football State Championship t-shirt today!
There will be a second order placed for those who did not get an opportunity to order in December.
You can order your shirt online or you can order and pay in person by contacting Caroline Reed ( caroline.reed@arkadelphiaschools.org or 870-246-7373 ) at AHS.
Orders MUST be received before NOON Thursday, January 11. This is the last chance to order!
Prices (Please note, there is an upcharge for extended sizes):
Short Sleeve
Youth XS - Adult XL-- $20
2X--$22; 3X--$23; 4X--$24; 5X--$25
Long Sleeve
Youth S - Adult XL--$25
2X--$27; 3X--$28; 4X--$29; 5X--$30
Hoodie
Youth XS - Adult XL--$35
2X--$37; 3X--$38; 4X--$39; 5X--$40
To order online, visit the link below: