APSD holds 9th Annual Career Completer Luncheon
Arkadelphia Public Schools
Thursday, May 03, 2018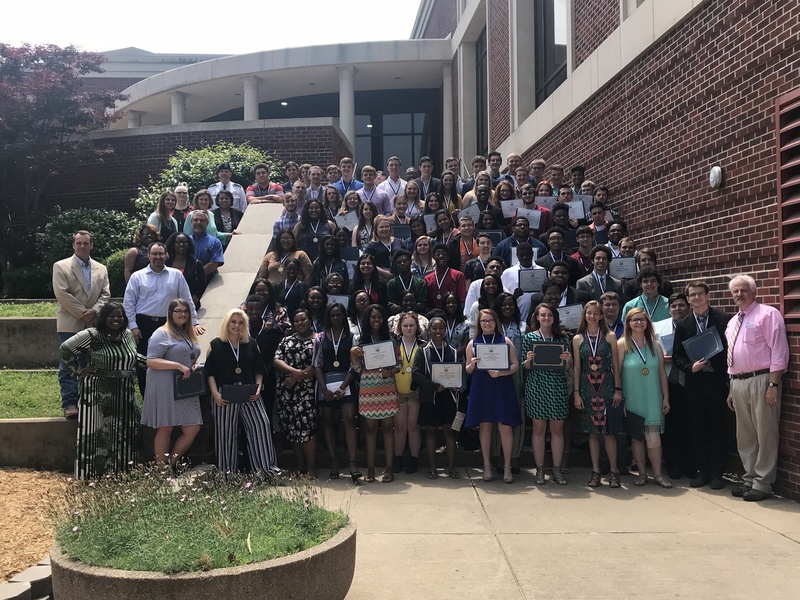 On Wednesday, May 2, the Arkadelphia Public School Career Education Department recognized the Career Education Career of Study Completers from the graduating class of 2018. The Arkansas Career Education Department recognizes students who have completed at least three classes in a Program of Study. Students were recognized at the APSD Career Completer Luncheon that was held for the students at the Walker Conference Center on the campus of Ouachita Baptist University. Dr. Virginia Anderson, who serves as the Arkadelphia Public School Director of Federal Programs, hosted the students along with the Career Education faculty that consists of:
Ms. Lakesha Berry, Business Education Instructor (Goza Middle School)
Ms. Jequetta Berry, Career Development Instructor (Goza Middle School)
Mr. David Gustaveson, Marketing Instructor
Mrs. Robin Jones, Family and Consumer Science Instructor
Mrs. Clair Mays, Technology Instructor
Mr. Bud McMillion, Engineering Instructor
Mrs. Jordan Phillips, Family and Consumer Science Instructor
Colonel Michael Shepherd and First Sgt. Steven Wages, JROTC Instructors
Mrs. Nancy Smith, Distance Learning Facilitator
Mr. Chris Stovall, Industrial Equipment Maintenance Technology Instructor
Mrs. Ashley Wesley, Business Education Instructor
The students that were recognized received a Career Education Completer medal that will be worn at graduation and a Completer Certificate from the Arkansas Career Education Department. The following is a list of students who were recognized in their program of study:
CHILDCARE GUIDANCE MANAGEMENT AND SERVICES: Alisha Bivens, Kaleigh Bradley, Alexis Buckley, Jajuan Gentry, Dekota Jones, Jasmine Jones, Angel Marciano, Makenzie Rhea, Jerrkiya Russey, Katelynn Sibert, September Ware
CONSUMER SERVICES: Devin Davis, Haley Francis
DIGITAL COMMUNICATIONS: Kaleigh Bradley, Jamiah Brumfield, Kyle Canale, Katelyn Foreman, Keaton Goodrum, Jasmyn Gordon, Scott Holbrook
EDUCATION AND TRAINING: Aaron Andrews, Alisha Bivens, Kaleigh Bradley, Olivia Harford, Jasmine Jones, Logan Lucas, Jerrkiya Russey, Katelyn Sibert
FINANCE ACCOUNTING: Jamiah Brumfield
FINANCE BANKING: Fateemah Faiq, Symoney Jones, Janatika Williams
PRE-ENGINEERING: Carson Almond, Niya Box, Jack Burnham, Josh Burnham, Waylon Cargile, Jimmy Castro Jr, William Cervantes, Lemarkus Hearn, Scott Holbrook, Landen Irby, Jordan Jarboe, Leslie Loe, Blanton Matthews, Sallie Matthews, William Matthews, River Melugin, Clayton Robbins, Joe Rocole, Harrison Shuffield, Carson Smith, Kyle Taggard, Foxx Ward
SOCIAL MEDIA AND COMMUNICATION: Alexis Buckley, Keaton Goodrum, Kyla Goshen, Max Harris, Edward Lee, Logan Lucas, Javon Nash, Ka'Brelle Stulgate
HEALTH SERVICES: Niya Box, Jeylyn Grenada, Kathleen Helms, Emesha Larry, Angel Marciano, Redreka Perry, Lyndi Porter, Alana Prince, Jenna Purifoy, Clayton Robbins, Gabriela San Pedro, Taylor Savage, Kacie Thomas, Haley Zeiler
INDUSTRIAL MAINTENANCE: Patrick Dobbins, Jajuan Gentry, Ladarius Govan, Malik Jones, William Jones, River Melugin, Colton Panasenko, Tanner Smith, Jacob Smithpeters, Braydon Todd, Foxx Ward, Tyler Whittle, Seth Willmon
MARKETING: Baylee Bethell, Maddox Breashears, Fateemah Faiq, Haley Francis, Jajuan Gentry, Evan Giuliano, Alisah Golden, Kyla Goshen, Olivia Hartford, Max Harris, Lemarkus Hearn, Symone Jones, Jasmine Jones, Hanna Jones, Edward Lee, Leslie Loe, John Michael McCollett, Conner Nantz, Javon Nash, Sarah Pollock, September Ware
WEB DESIGN: Ashlyn Bopp, William Cervantes, Katelyn Foreman, Haille Gentry, Jasmyn Gordon, Kyla Goshen, William Jones, Janatika Williams, Sara Wilson
FAMILY AND CONSUMER SCIENCES: Aaron Andrews, Baylee Bethell, Alisha Bivens, Kaleigh Bradley, Alexis Buckley, Cynthia Castro, Haley Francis, Evan Giuliano, Jasmyn Gordon, Kyla Goshen, Jasmine Jones, Malik Jones, Logan Lucas, Jaren McGhee, Javon Nash, Redreka Perry,Sarah Pollock, Alana Prince, Jerrkiya Russey, Gabriela San Pedro, Ka'brelle Stulgate, Shakibrah Todd, September Ware, Janatika Williams
JROTC: De'Marco Britton, Tyriek Cooks, Parker Davis, Collin Davis, Patrick Dobbins, Kristopher Hall, Max Harris, Samuel Harvey, Kathleen Helms, Ethan Lafont, Leslie Loe
FLIGHT TRAINING: Parker Davis
---
Arkadelphia Public Schools serves more than 2,000 students in Clark County, Arkansas, ranging from 6-weeks-old through college- and career-readiness - and is home of the Arkadelphia Promise.
APS News hanna.dean@arkadelphiaschools.org