AHS receives Computer Science Grant from Arkansas Department of Education
Arkadelphia Public Schools
Thursday, August 20, 2015
Arkadelphia High School is pleased to offer AP Computer Science to students for the 2015-2016 school year. On April 21, the Arkansas Department of Education announced that a Computer Science Grant of up to $20,000 would be offered to all schools that applied by the June 12 deadline.
"This stems from Governor Hutchinson's initiative and his push for Computer Science within the state," Computer Science Coordinator Anthony Owen said. "He set aside $5 million for us to use to help spearhead this initiative across the state."
In order to receive the grant, applying schools must agree to offer face-to-face teaching of one of the following four courses: Essentials of Computer Programming, Computer Science and Mathematics, IB Computer Science or AP Computer Science. One of these courses must be instated within the 2015-2016 or 2016-2017 school year to remain eligible. The grant may be used to fund Professional Development for teachers, class curriculum, competitions or events, stipends for teachers that attend Professional Development or obtain proper certification, and incentives for students.
Arkadelphia Public Schools applied for the Computer Science Grant at the end of May, setting their sites on making AP Computer Science an option for students. In response to the submission, Superintendent Donnie Whitten, Grant Coordinator Nancy Mortensen and AP Computer Science Instructor Clair Mays received a confirmation email that Arkadelphia High School had been approved.
The Arkansas Department of Education will award a total of $15,376.96 to Arkadelphia High School in order to fund books and resources, equipment for classrooms, the proper technology and supplies, and transportation and hotel rooms for camps and competitions.
"Arkadelphia Public Schools is pleased to be one of the initial grant recipients of the Computer Science initiative in Arkansas," said Dr. Donnie Whitten, Arkadelphia superintendent. "We look forward to continuing this partnership with the state and providing a high-quality experience to our students."
Mays attended the AP Summer Institute at UALR for AP Computer Science training in the summer and began to get the course materials ready for the 2015-2016 school year.
"I have high expectations for the students," Mays said. "And I have high expectations that there are students that are going to pass and preform well on the AP exam."
There are currently around ten students enrolled in the course for the 2015-2016 school year. Since AP Computer Science is a course that any student can take and, with practice, develop the ability to code, Mays and Mortensen expect growth in the upcoming years for the AP Computer Science course.
"It's practice and time on the computer," Mortensen said. "And really, the logic needs to be taught, and it can be taught. Students can learn to be logically sound, and this [course] will help do that."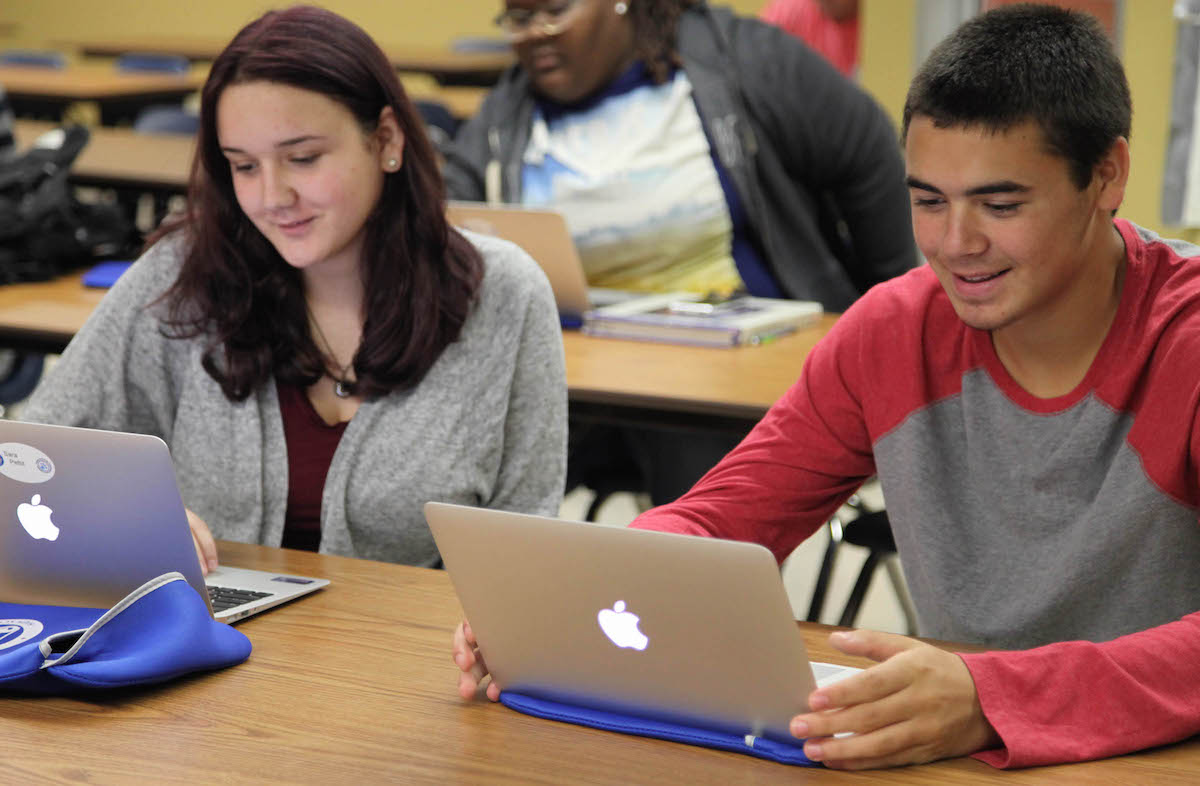 ---
Arkadelphia Public Schools serves more than 2,000 students in Clark County, Arkansas, ranging from 6-weeks-old through college- and career-readiness - and is home of the Arkadelphia Promise.
APS News hanna.dean@arkadelphiaschools.org