APSD Transportation Department Named One of Arkansas' Safest Bus Fleets
APSD Communications
Tuesday, August 07, 2018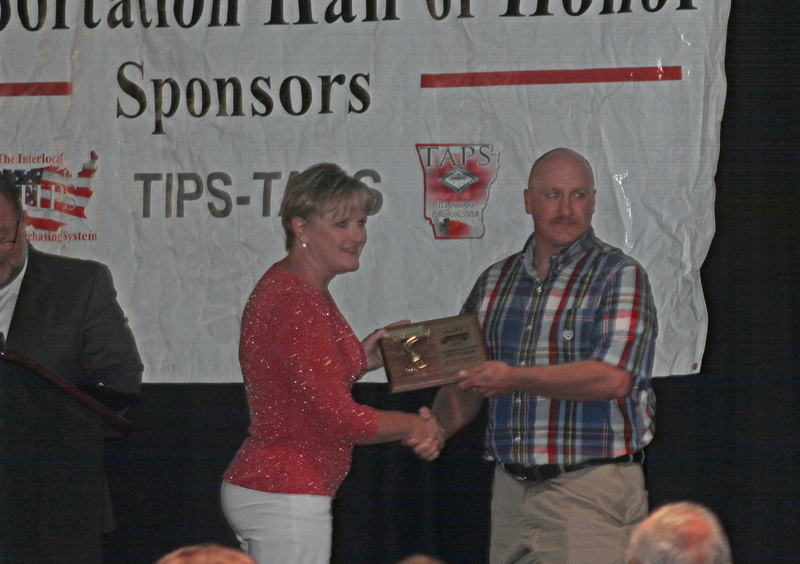 Shane McBride of the APSD Transportation Department receives the School Bus Safety Award on behalf of the District at this summer's AAPT banquet in Hot Springs.
The Arkadelphia Public School District was selected as one of six districts in the state to be awarded the Arkansas Association of Pupil Transportation (AAPT) School Bus Safety Award for the 2017-18 school year at the organization's annual Hall of Honor Banquet in July.
Annual school bus inspections are conducted by state school by inspectors from the Arkansas Division of Public School Academic Facilities and Transportation (DPSAFT) according to specific safety criteria and are intended to ensure that all school buses in operation are maintained at the highest level.
The AAPT asks inspectors to nominate school bus fleets in their areas based on four criteria: quality of the school bus inspections, quality of the school bus maintenance records, cleanliness of the school bus fleet and quality of the preventive maintenance program. Based on those criteria, the AAPT named bus fleets from Arkadelphia and five other districts as the safest fleets in the state of Arkansas for the 2017-18 school year.
"We are proud of our transportation department for this statewide recognition, said Dr. Donnie Whitten, APSD Superintendent. "It takes everyone in the district to make our schools a success, and we are grateful for our bus drivers and transportation staff."
Representing APSD at the banquet to receive the award on the District's behalf was Shane McBride of the APSD Transportation Department.
"We had been in the running for this award the last couple of years so it was nice for our staff to win this award for our district this year," said McBride. "We take great pride in what we do in providing transportation for our students and we know what kind of responsibility it is."
Arkadelphia's school buses will be back in action next week as the first day of school for APSD students, faculty and staff in Monday, August 13.