PFCU/Danfoss Back to School Food Drive Nets Over 12,000 Items for APS Students
APSD Communications
Thursday, August 30, 2018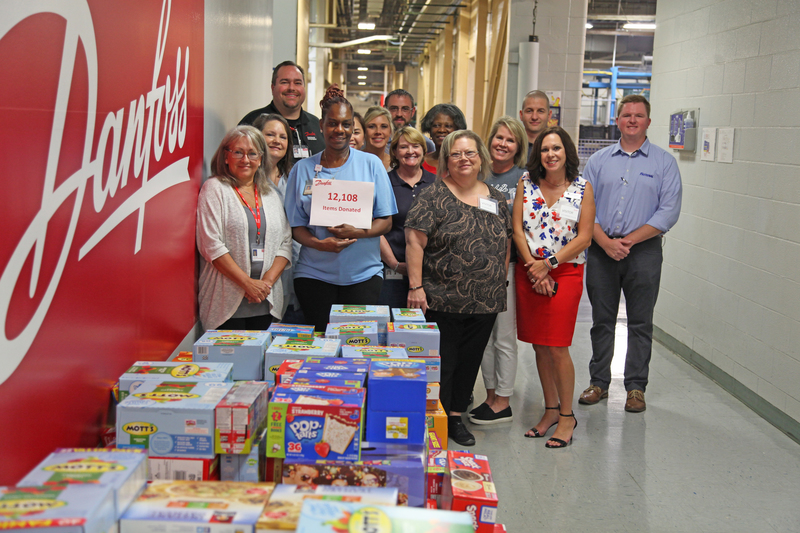 Danfoss employees join Shawn Cowart and Nicole McGough of Patterson Federal Credit Union with APS School counselors in front of some of the over 12,000 items of food donated as part of the Back to School Food Drive. APS Counselors pictures include: Elizabeth Morris (Perritt Primary), Charlotte Dewitt (Central Primary), Paula Whittle (Peake Elementary), Dana Tuggle (Goza Middle School), and Vanilla Hannah (Goza and Arkadelphia High School.)
For the second straight year, Danfoss hosted the Back to School Food Drive in coordination with Patterson Federal Credit Union (PFCU) and the 2018 version brought in over 12,000 food items that will be distributed to APS students through school counselor's offices.
Since 2016, PFCU has worked with various local businesses and entities throughout the year to conduct various food drive for APS campuses to assist families. PFCU has held food drives with Alumacraft, Danfoss, Hitco, Henderson State University students and faculty/staff, Clark County employees and City of Arkadelphia employees. PFCU also works with APS campuses holding contests between classes.
"Our goal is to have a food drive per month throughout the school year so the school counselors don't have to spend their time searching for money or purchasing food when there is so much else they need to get done to help these children," said Nicole McGough with PFCU.
According to McGough, these food drives have brought in over 50,000 individual food items for school counselors to send home with students whose households are considered food insecure, or at risk of hunger. Danfoss has hosted the Back to School Drive each of the last two years, increasing last year's total of 11,074 items to 12,108 in this year's drive.
Clark County Judge Troy Tucker's staff assisted in transporting the food from Danfoss to Goza Middle School where counselors took the food to various campuses for distribution to students.
Danfoss Executive Assistant Patty Yarbrough commented on the company's involvement in the program. "Danfoss employees were glad to be able to do their part in supporting the children of our community and setting a new record," said Yarbrough. "Danfoss would also like to thank Fastenal for their contribution to our drive this year."
Central Primary Counselor Charlotte Dewitt expressed thanks to the community, and Danfoss in particular, for assisting in a cause that meets a specific need in our community with our children.
"The support we have received from Danfoss, PFCU and others in the community has been beyond amazing," said Dewitt. "The donations they bring in make it possible for us to support our students in a huge way. We are able to provide weekly food bags to over 80 food insecure students."
For more information on how your business or group can be involved in a future food drive for APS students and their families, contact McGough at PFCU at 870-246-8005.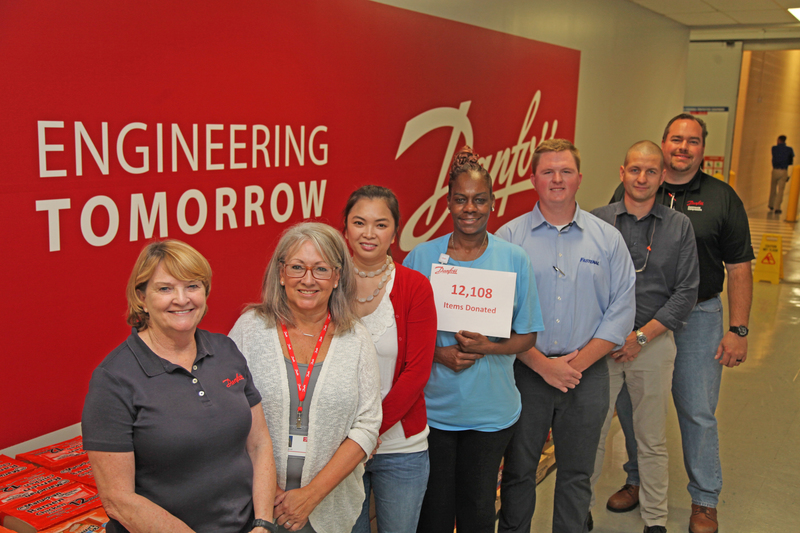 Danfoss employees pictured left to right: Patty Yarbrough, Cathy Garrett, Kim Bui, Sonia Braxton, Mitch Rosnermanz (Fastenal), Karl Lobry, and Dave Fenocchi