16 AHS Students Receive FANUC Robotic Arm Certification
APSD Communications
Thursday, December 20, 2018
Arkadelphia High School is proud to announce that 16 AHS students have obtained FANUC Materials Handling Certification from the FANUC Corporation, which recognizes the students' ability to use a FANUC robots in a factory environment.
FANUC Materials Handling Certification indicates that the FANUC Corporation recognizes the students' competence in programming and operating FANUC robots safely in a factory environment for purposes of assembly, palletizing, pick and place and similar robotic processes. As a part of the certification program, students in AHS's Computer Integrated Manufacturing class under Bud McMillion work on FANUC LR Mate 200iD 4s robotic arms provided by the Department of Workforce Education and the Clark County Re-Use Committee.
This is the first group of AHS students to obtain certification through the program.
The certification means that FANUC believes they are ready to program and operate the robots in a factory setting. Both Danfoss and AllCare Pharmacies -- both located in Arkadelphia -- have used robots from this company in the past.
"I feel this certification gives our students a leg up over those who have no experience with operating factory machines," said McMillion. "Students who work through a challenging curriculum and obtain Industry Certifications like this are better prepared to enter the work force because they understand the expectations of industry and other professional environments."
FANUC Materials Handling Certifications were awarded to the following AHS students:
Colin Phillips
Andrew Webb
Sam Coventry
Alexandria LeGuin
Chase Goodson
Madison Green
Michael Evans
Alex Carter
Patrick Hayes
Aisha Faiq
Lorenzo Lawson
McKinley Green
Tyler Woodson
Yebo Moyo
Staton Whitten
Tucker Freeman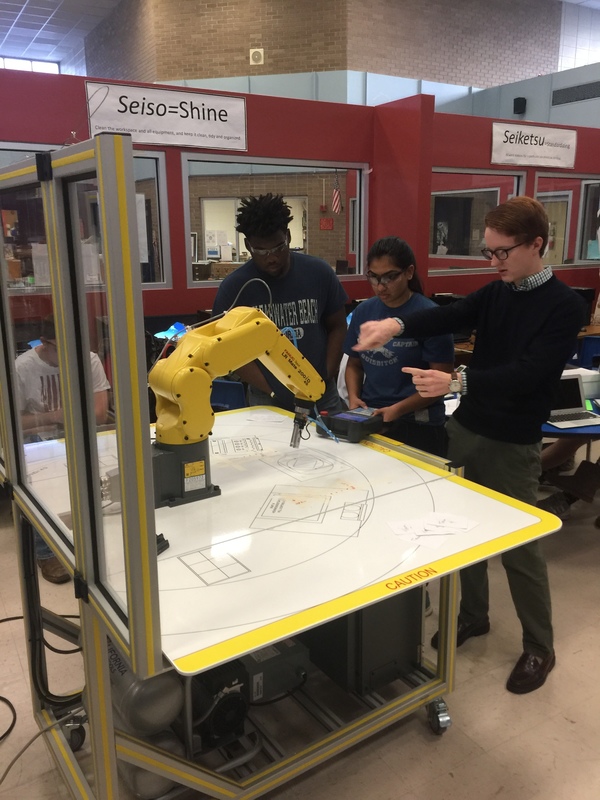 AHS students (left to right) Lorenzo Lawson, Aisha Faiq and Patrick Hayes create a program with the FANUC Robotic Arm as the practical portion of the certification exam.