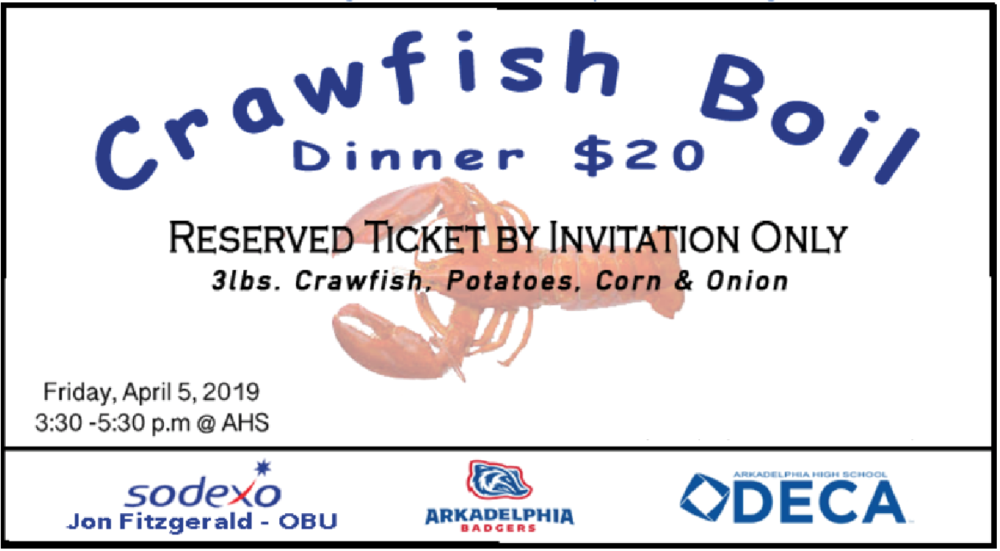 Tickets on Sale for 3rd Annual AHS DECA Crawfish Boil
APSD Communications
Thursday, February 28, 2019
The Arkadelphia High School chapter of DECA is honored to host the 3rd Annual DECA Crawfish Boil sponsored by community partner Sodexo - OBU and Jon Fitzgerald on Friday, April 5.
AHS DECA members are selling tickets for the annual crawfish fundraiser for club members to help defray costs to represent Arkadelphia at the DECAInternational Career Development Conference (ICDC) in Orlando, Florida. While the actual event will be Friday, April 5, tickets must be purchased in advance.
Reserve your three-pound Crawfish Dinner Tray (Crawfish, corn, potatoes, onions & spices) while tickets last. Crawfish will be boiled fresh on location at Arkadelphia High School Friday, April 5th, by AHS principal David Maxwell. Dinners can be picked up at the high school using the drive-thru or those who purchase tickets can check to see if they qualify for the free delivery option.Tickets are available in advance for $20 per tray.
"The Crawfish Dinner Trays make a fun quick meal for the entire family," said AHS DECA sponsor David Gustaveson. "In past years, employers have found these limited tickets are a thoughtful way to express employee appreciation. Delivery is available for orders of four or more to one location."
For more information or to purchase a ticket to reserve your tray, contact Gustaveson at david.gustaveson@arkadelphiaschools.org or by calling Arkadelphia High School at 870-246-7373.