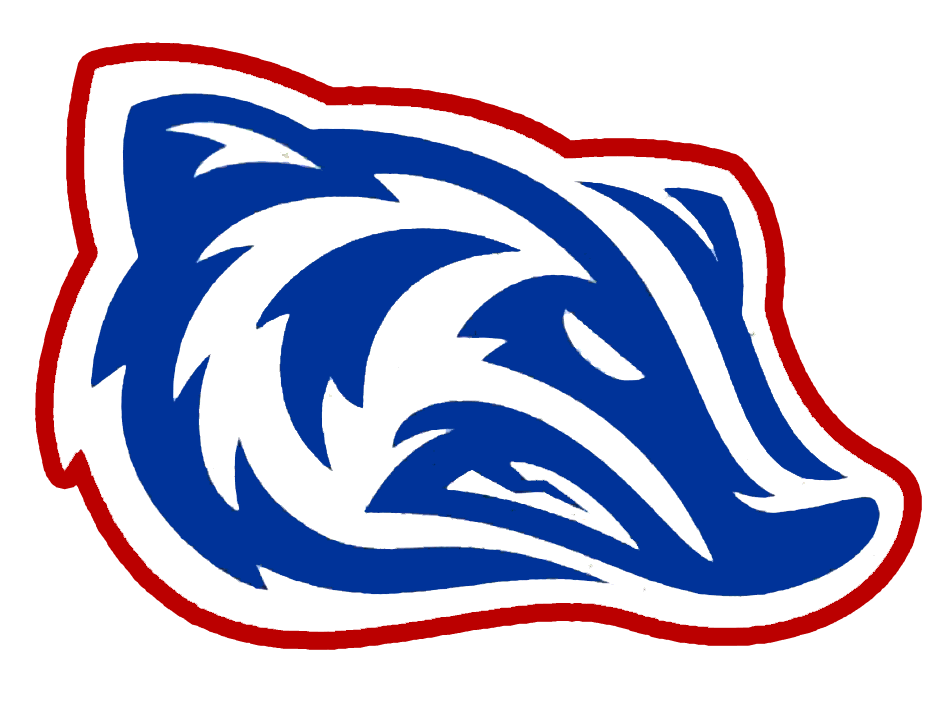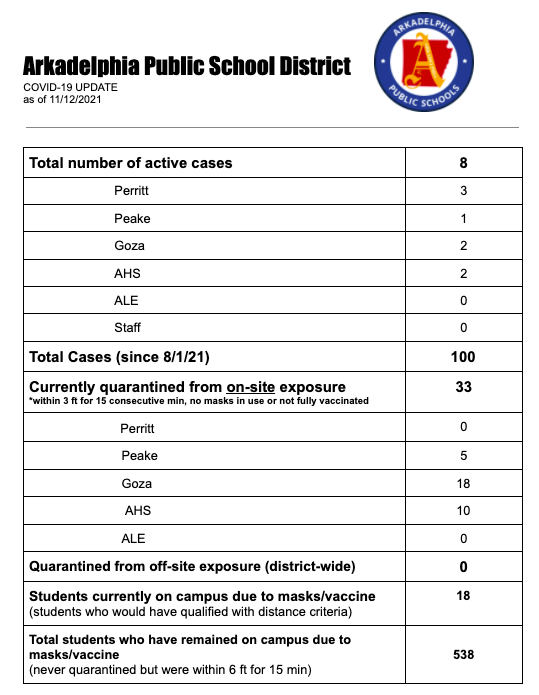 Arkadelphia School District is committed to providing transparent factual information about COVID-19 safety. Names of students and staff members will not be shared with the public. The above data reflects the active positive COVID-19 cases for students and staff (combined) reported to the District Point of Contact by Thursday afternoon for the weekly reporting. Data does include virtual students and staff.
Image
District Point of Contact:
Beth Hasley 870-210-6791

In an effort to prevent the spread of the COVID-19 virus within our schools and community, we are asking all staff and parents/guardians of students who are in attendance onsite for classes or activities to keep your student home and notify our designated Point of Contact immediately when the following occurs:
Your child has any symptoms of illness, regardless of vaccination status or known exposure. Please do not send your child to school with symptoms of COVID-19 without speaking to your school nurse.

Symptoms can include: Cough, body aches, sore throat, congestion, runny nose, nausea, headache, vomiting, diarrhea, fever/chills, and loss of taste or smell.

Your child has a known exposure to COVID-19.

Someone in the household has tested positive for COVID-19.

Someone in the household has been identified as a close contact to a positive case of COVID-19 and is requiring quarantine and/or testing for COVID-19.

Students attending on-site and employees who are being tested for COVID-19.
When notified of a positive case, the POC (Point Of Contact) will work with the Arkansas Department of Health (ADH) to identify probable close contacts. If you or your student have been exposed, we will call to discuss how to proceed based on current quarantine guidelines. Those guidelines are mandated by the Arkansas Department of Health and are subject to change throughout the year.
Please monitor for symptoms daily and keep your child home if he or she has any symptoms of illness. You may call Beth Hasley anytime to discuss your concerns.
We will notify a staff member or parent/guardian of a student identified as a probable close contact. Once identified, we will follow the recommendations in the the Close Contact Determination and Responses Section of the Arkansas Ready For Learning 2021-22 COVID-19 Guidance for Schools for quarantine expectations. We will provide guidance on further steps to take regarding your health and return to work/school dates. We will NOT disclose the name of a positive case on isolation nor those placed on quarantine due to contact.
Tuesday, October 19, 2021, Governor Asa Hutchinson announced a change in quarantine guidance for K-12 Schools. The definition of a close contact in a school setting has changed from 6 feet for 15 minutes to within 3 feet for 15 minutes.

A fully vaccinated individual does not need to stay at home following close contact exposure to a test-confirmed individual unless symptomatic.

Individuals who previously had COVID-19, recovered, and are within three months of their original diagnosis, may not have to quarantine.
On-Campus Ready for Learning Updates For the 2021-22 School Year
During a special called meeting on August 10, 2021 the Arkadelphia School Board voted to implement a mask mandate. All employees, students, and visitors are now required to wear a face mask while in a school district building or on a school bus. This requirement will be reviewed after 30 days. The public was notified of this change through digital communications on the District Website and Social Media accounts.
In the regular October board meeting, the Arkadelphia School Board voted to transition the face covering policy to be optional for K-12 students and staff effective Wednesday, October 20. Thank you to parents, staff, and students for your cooperation. The Arkadelphia Public School Administration and Nursing staff will continue to monitor COVID cases affecting our schools and consider any necessary recommendations in the future.
APSD Virtual Option 2021-22
After receiving feedback from teachers, students, and families, APSD submitted a Digital Learning Plan utilizing the Act 1240 waiver process. Our application went through a rigorous vetting process at the Division of Elementary and Secondary Education (DESE) before being recommended to the State Board of Education (SBE). Approval by the SBE allowed necessary waivers for the district to operate a remote or blended learning programming option for students in addition to their required in-person instructional option. Students enrolled in an approved digital program will be coded and recognized as a virtual student and may have different requirements than traditional students
Information for the online learning option may be viewed on the Arkadelphia Public School 2021-22 Online Learning Information webpage.
Extracurricular Activities
The Arkadelphia School District will be mindful of activities associated with regular school operations that could create a higher risk for COVID-19 transmission and review ADH guidance for specific activity or event protocols.
Various school-related guidelines can be accessed at COVID-19 Arkansas Department of Health:
We appreciate your cooperation in keeping our students and staff healthy. Please feel free to reach out to your school principal or the Statewide Ready to Learn Resource Center at 1-833-353-6050.