AHS Choral Department presents 'Annie Get Your Gun'
APS News
Thursday, November 06, 2014
AHS seniors Kenny Taggard and Abby Root play the lead roles of Frank and Annie.
One of Broadway's most celebrated musicals, "Annie Get Your Gun," will return to the stage in Arkadelphia, presented by the Arkadelphia High School choral department. Full of familiar Irving Berlin tunes, such as "There's No Business Like Show Business" and "Anything You Can Do (I Can Do Better)," the show was one of Broadway's most popular in the 1940s and has delighted audiences in local theaters ever since.
The greatest box-office hit of Berlin's career, the musical comedy still resonates with audiences as Annie Oakley tries to outshoot Frank Butler, star of Buffalo Bill's Wild West Show. The comedy grows with songs such as "You Can't Get a Man With a Gun," but romance also develops with "They Say It's Wonderful" and "Who Do You Love, I Hope?" The show includes larger production numbers, such as "I've Got the Sun in the Morning (and the Moon at Night)."
Seniors Abby Root and Kenny Taggard play Annie and Frank. Both are in their fourth AHS musical. Another veteran performer is senior Rae'Vyn Britt, who plays Charlie Davenport. Senior Shavonica Wilson is a student director and member of the chorus, while senior Rachel Flowers plays Mac. Other key figures are Preston Jones (Buffalo Bill), Jessica Cornelius (Dolly), Seth Daniell (Tommy), Julie Williams (Winnie), Emmanuel Cooper (Chief Sitting Bull) and Katlynn Williams (Wilson). Alexandria Hunter, Cabb Batson and Paige Bateman play key roles as Annie's young siblings. Local pastor Roger Cushwa appears as Pawnee Bill. AHS choir instructor Laura Cornelius directs the performance.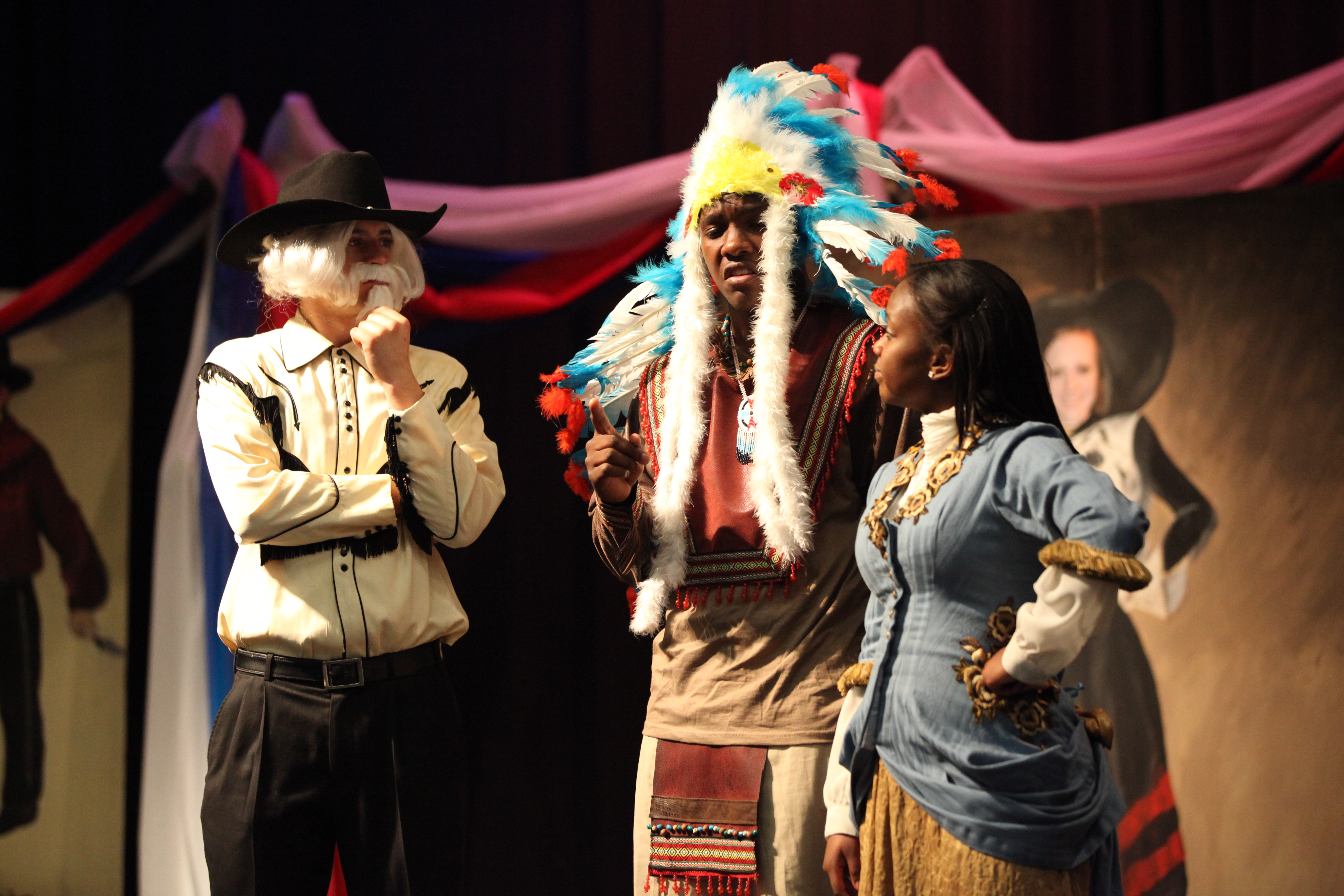 Other students in speaking and singing roles include Makayla Bird, Christia Livsey, Caleb Cornelius, Gabby Hess, Danielle Savage, Camille Tedder, Ashley Prudhome, Mehkia Wilson, Patience Prince, Rebecca Dobbins, Jazimine Arnold, Ashley Brittain, Aswa Khan, Tamera Stevens and Halee Newborn.
Tickets are $5 in advance and $7 at the door. Contact the AHS office at 870-246-7373 for more information.
(originally published May, 2013)