Badgerfest/Meet the Badgers Scheduled for Friday -- Weather Permitting
Arkadelphia Athletics
Thursday, August 18, 2016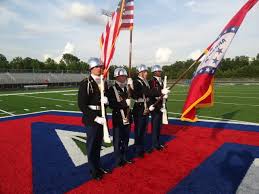 Weather permitting, the unofficial kickoff to the 2016-17 athletic seasons for the Arkadelphia School District will take place when Arkadelphia fans can "Meet the Badgers" this Friday, August 19, at 7:00 p.m. at AllCare Field at Badger Stadium.
Meet the Badgers will follow Badgerfest presented by Southern Bancorp which will take place from 5:30 – 6:30 in the AHS parking lot. Badgerfest will feature local businesses and school groups setting up booths with a variety of items for sale as fundraisers for the individual groups. Bounce houses will be available for all of the future Badgers (children) to play on as well.
With rain still in the forecast, organizers will assess the weather situation and attempt to make an announcement regarding the plans for the events by 12:00 p.m. on Friday. In the event of rain, both Badgerfest presented by Southern Bancorp and Meet the Badgers would be cancelled and not rescheduled.
The Arkadelphia Badger Foundation will have meals of hot dogs, chips and a drink for sale, the AHS Cheer team will feature a dunking booth, and other groups will have other food and drink items for sale. Various local businesses will have booths to showcase their businesses to those in attendance as well. Any businesses interested in a booth can email sechols@banksouthern.com or call Shari Echols at Southern Bancorp in Arkadelphia at 870-246-5811.
Fas can take advantage of a raffle of a Badger paw door hanger from the AHS Dazzler dance team and fans can also purchase tickets for a Target Toss for a $10,000 prize sponsored by Southern Bancorp that will take place before kickoff of the Badger varsity football home opener vs. Stuttgart on September 2.
"We hope fans will come out to support our local businesses and groups at Badgerfest," said APSD Athletic Director Chris Babb. "Fans will be able to purchase All Sports passes as well as sport-specific season passes as well during Badgerfest. We encourage fans to take advantage of season passes as well as our Junior Badger Club to be able to save money on admission throughout the year."
There is no admission charge for the Badgerfest activities in the AHS parking lot. At 6:30, fans are encouraged to make their way into the stadium for Meet the Badgers, which will begin at 7:00 with the Badger Pride Marching Band playing the Star Spangled Banner and the AHS JROTC color guard presenting the colors.
Admission into Meet the Badgers is a minimum $2 donation which goes to the AHS Athletic program. Funds from the event go toward purchases throughout the year including meals for teams on various road trips, equipment, and other expenses incurred throughout the year.
"We hope that our fans will come out and show their support for our students as they prepare to represent our school and our community during the 2016-17 school year," said APSD Athletic Director Chris Babb. "Some years in the past, we've asked for donations of laundry detergent and other tangible items, but this year we're just asking for monetary donations to help offset some of the costs that all of our teams incur over the year."
Meet the Badgers will feature the introduction of fall sports teams and spirit groups from 8th grade all the way through 12th grade. Spirit groups will perform throughout the evening and fans will get a small taste of the sounds of Friday nights in the fall from the award-winning Badger Pride Marching Band."
"Meet the Badgers serves as the unofficial begin to the athletic seasons for our teams, spirit groups and band," said Babb. "All of these groups have been practicing for several weeks and some have already competed, but this is a good way to cap off the first week of school and see who will be representing our schools and community as things really get into full swing over the coming weeks."