Arkadelphia High Robotics Team Kicks Off 2019 Season
APSD Communications
Thursday, January 10, 2019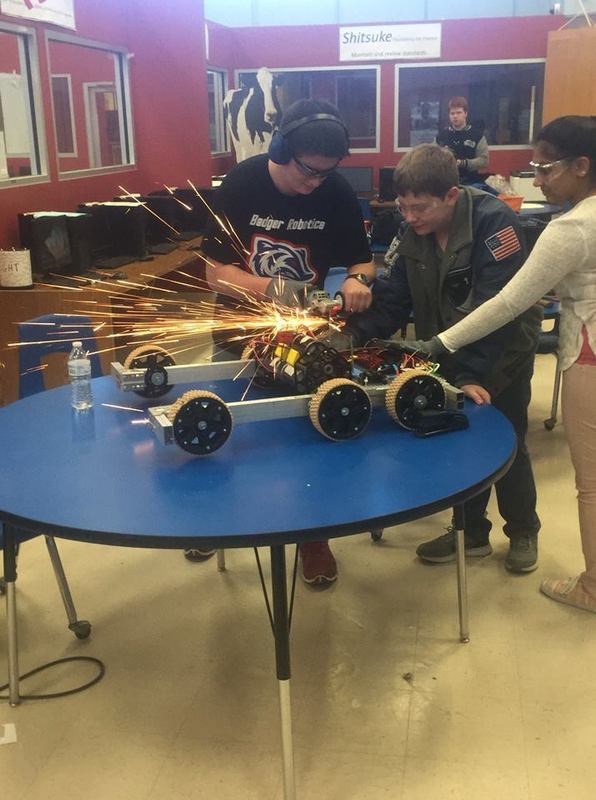 Arkadelphia High School's Badger Robotics team began preparation for the 2019 FIRST Robotics competition season on January 5, 2019 after the unveiling of the theme of this year's competition: "Destination: Deep Space."
FIRST Robotics Competition, presented by Boeing, combines the excitement of sport with the rigors of science and technology. FIRST Robotics Competition teams have a six-week time period compete under strict rules to raise funds, design a team "brand", hone teamwork skills, and build and program industrial-size robots to play a difficult field game against like-minded competitors. The AHS Robotics team is under the direction of AHS Engineering teacher and Instructional Facilitator Bud McMillion.
"FIRST Robotics bills itself as the ultimate sport for the mind," said McMillion. "It's as close to real-world engineering as a student can get."
Teams have until February 19 to prepare for competitions with the ultimate goal of qualifying for the national "FIRST Championship" competition in April.
"There are costs associated with this program and we couldn't do this without the help of many of our local business that have supported us financially," said McMillion. "We are so grateful to these businesses who are supporting our students in this way."
Arkadelphia Robotics thanks the following sponsors for making this year's team possible: Alcoa Foundation, Ross Foundation, Alumacraft, Henderson State University Department of Engineering and Physics, Suddenlink by Altice, Danfoss, Arkadelphia Regional Development Alliance and Area Chamber of Commerce, South Central Electric Cooperative, Fastenal, Patterson Federal Credit Union, Hardman Lumber Company, Henderson State University School of Business, and the Arkansas Small Business and Technology Development Center.
To view a YouTube video from FIRST Robotics describing this year's game, visit this link: https://www.youtube.com/watch?v=Mew6G_og-PI&app=desktop
Those who are interested can follow the progress of the Badger Robotics Team (FIRST Team #6855) at the team's website https://sites.google.com/arkadelphiaschools.org/badger-robotics/home
The AHS Robotics team is also active on Twitter at @ArkadelphiaRobo.