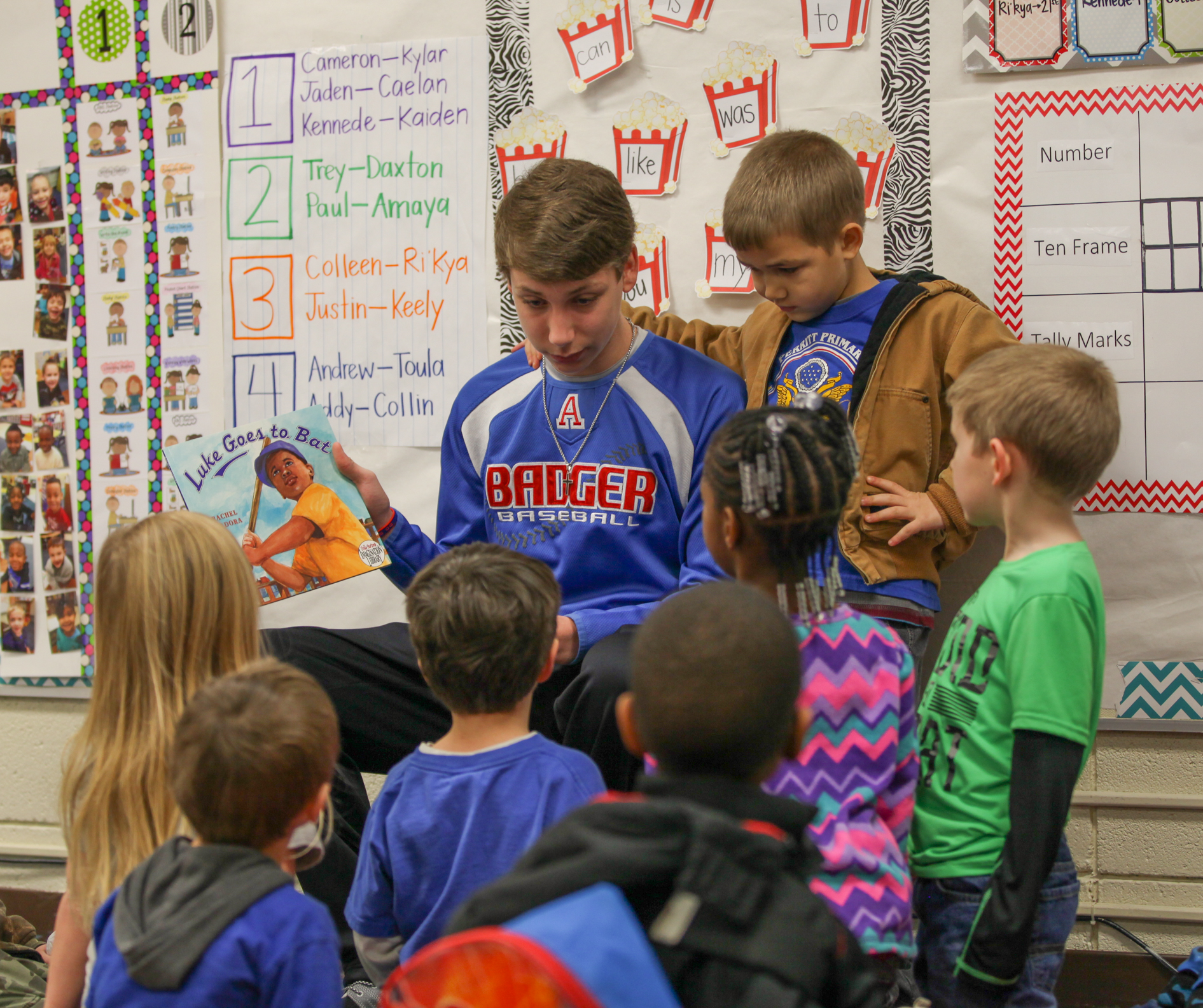 As children, we idolize different people in our world for a variety of reasons. We look up to those around us who we see as being nice, generous, heroic, funny, smart, strong or uniquely talented. Parents, firefighters, teachers and sports stars often top the list of role models that kids aspire to be like when they grow up.
Many times, a hometown hero for a young child can be found in the local high school's student-athletes, especially when it's the back-to-back state champion Badger Baseball team. Children imagine themselves being able to one day throw, catch, or hit home runs like these players, but the connection occurs at a distance and is limited to the playing field.
Badgers with Books, the brainchild of Perritt Primary instructional facilitator Carrie Sharp, puts the Badger and Lady Badger student-athletes, as well as members of the Badger Pride Marching Band and the spirit squads, in Perritt's classrooms to read books to the students while they eat breakfast and prepare for the school day.
"I wanted to create a connection on another level, a more personal level, and one that put these role models in front of the kids in an academic setting."
-Carrie Sharp, Perritt Primary Instructional Facilitator 
"I wanted to create a connection on another level, a more personal level, and one that put these role models in front of the kids in an academic setting," Sharp said. "Literacy is an important area to build that foundation."
The program began during the spring semester last year and is continuing during this term. Every Friday, a different group from the high school visits Perritt before beginning their own day. Doing so requires them to be up earlier and make time in their morning to be with the primary students. Sharp selects grade-appropriate books for them to read in the classes, and also organizes another aspect of the program that becomes a writing lesson for the Perritt students.
"Our kids create thank you notes we send to them thanking them for coming and reading," Sharp said. "I really think this is a positive experience for everyone. The high school students get more out it than they anticipated. I heard them commenting how fun it was, and our students couldn't wait for the next group to come read."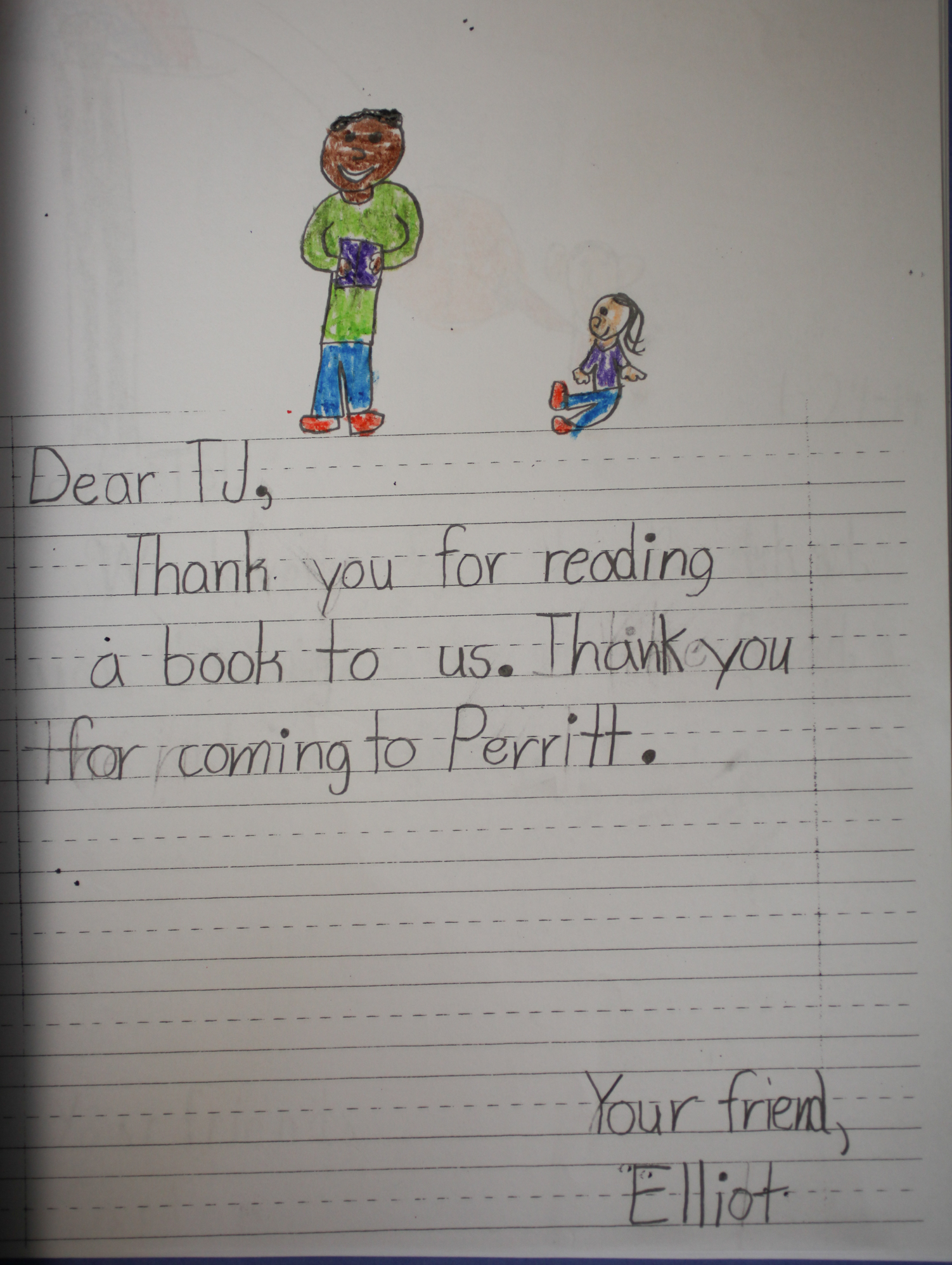 As Sharp mentioned, the experience is mutually beneficial, as the high school students are on the receiving end of several good lessons from their visit to Perritt. According to Arkadelphia Public Schools Athletic Director Chris Babb, the AHS students are often told that they are role models and to think about how their actions are perceived by younger students, but Badgers with Books makes them realize how closely the primary students watch them.
"This is a tangible reminder that younger students are looking up to them," Babb said. "It reinforces what they're told about being role models. They looked up to high schoolers when they were that age, and now they see little eyes looking up to, and watching, them."
Click here for more photos.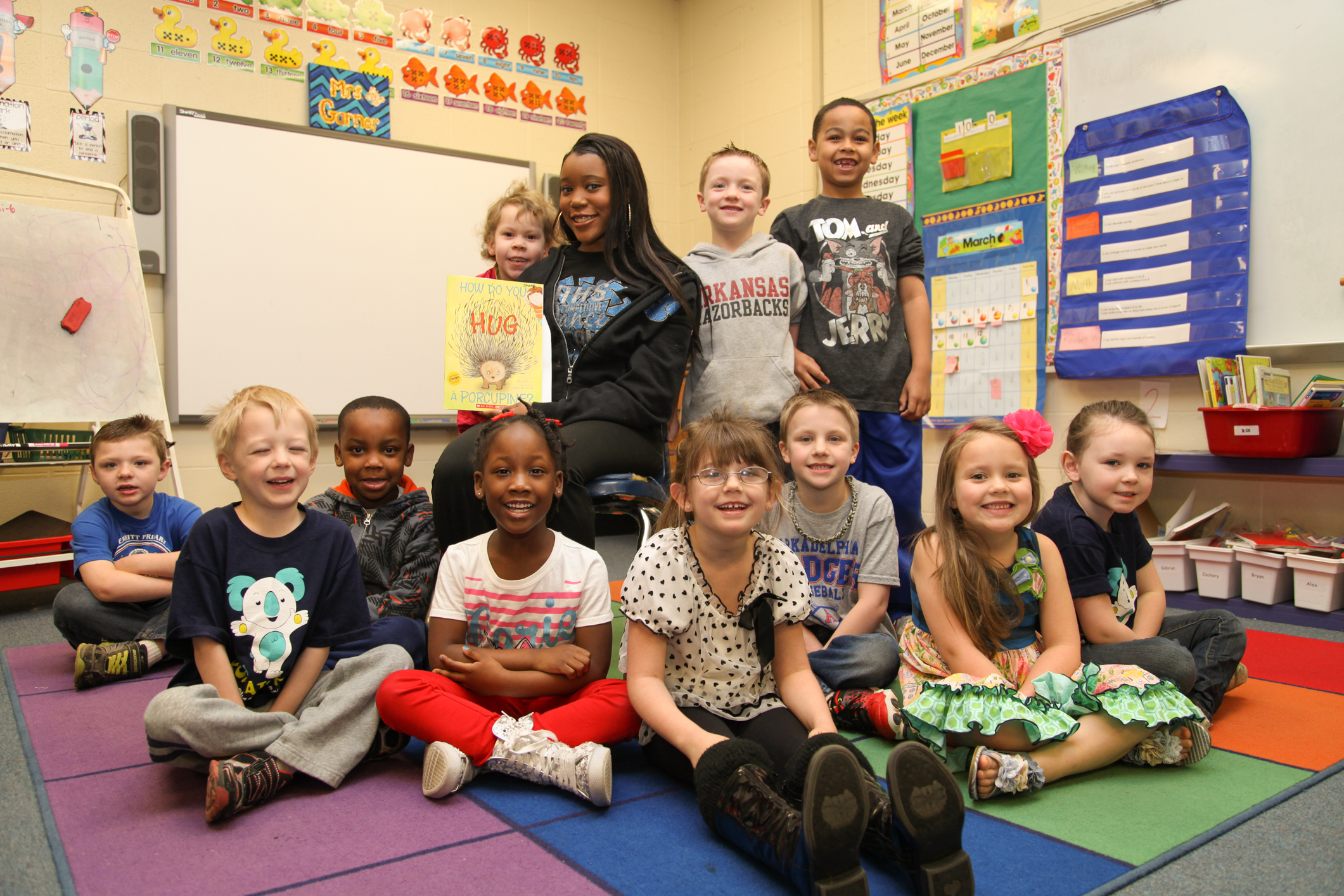 ---
Arkadelphia Public Schools serves more than 2,000 students in Clark County, Arkansas, ranging from 6-weeks-old through college- and career-readiness - and is home of the Arkadelphia Promise.
APS News   sean.ruggles@arkadelphiaschools.org