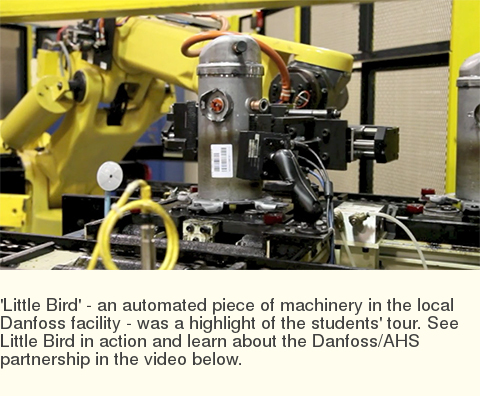 New Tech at AHS - Danfoss partnership from Arkadelphia Public Schools on Vimeo.
Communities grow stronger when people work together. For New Tech at Arkadelphia High School, teamwork is a primary principle reinforced through student-collaboration on certain projects. Students maintain a balance of individual and group work, pulling together as networks of peers to solve real problems that reinforce the concepts of their classroom instruction.
When Danfoss wanted to join the S.T.E.M. (Science, Technology, Engineering, Math) Initiative locally, they looked to AHS, a nationally recognized S.T.E.M. school, and proposed several ideas for exposing high school students to the practical application of engineering concepts being taught in their classes such as the combined GeoDesign, which is a pairing of Freshman Geometry and Introduction to Engineering and Design, and is co-taught by an instructor from each subject.
A partnership between Danfoss and AHS was created with a symbiotic relationship being the goal. Danfoss invited students to tour their facility and made an engineer available in GeoDesign to help guide the students as they worked on their first project for the company. Students were tasked with creating an electronic Manufacturing Communication Change (MCC) form, which is an integral part of the internal manufacturing communications within the Danfoss facility. The project required students to learn how to perform computer coding and understand the logical progression of the MCC process. Arkadelphia Public Schools is very grateful for the investment Danfoss is making in local education in hopes of creating a more qualified workforce through innovative education at all levels, including our high school.
Arkadelphia Public Schools serves more than 2,000 students in Clark County, Arkansas, ranging from 6-weeks-old through college- and career-readiness - and is home of the Arkadelphia Promise.
APS News
sean.ruggles@arkadelphiaschools.org
(originally published Feb, 2013)