Department of Education names APSD's Alternative Education Unit a "model program"
Hanna Dean
Thursday, February 23, 2017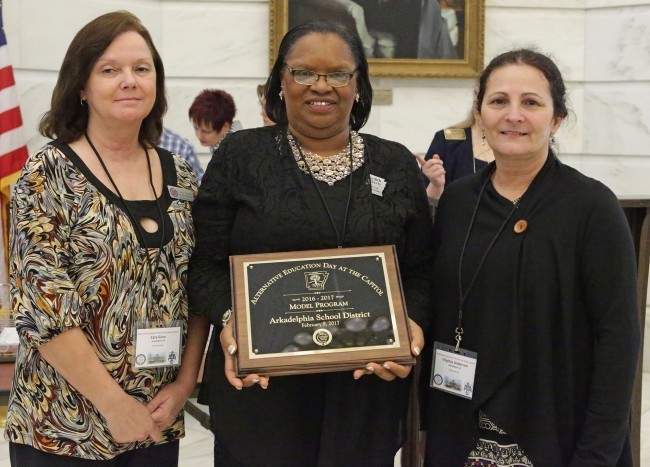 *Photo from Arkansas Department of Education website
---
The Department of Education recently held its annual Leadership Day at the Capitol to celebrate successful Alternative Education programs and students in Arkansas. The Arkadelphia School District was one of two districts recognized as a model program in Arkansas.
The Department of Education presented a plaque during the awards ceremony to three Arkadelphia representatives: Virginia Anderson, Director of Federal Programs and Administrative Services, Judith Davis, Alternative Education Coordinator, and Cary Goza, the alternative education teacher at Goza Middle School.
"I was very excited," Davis said. "The State department came down the previous week and visited with me. I thought they were just doing a routine check to make sure everything was in order, but they were actually confirming."
Prior to being selected, Davis and Anderson worked together to complete four questions given by the Department of Education regarding the program's success and student involvement.
"Our students go to Henderson State University to perform labs and get STEM lessons," Anderson said. "It's those types of things that they are looking at that may be a little bit different from other programs. We also promote the course recovery, our strong counseling component and our community volunteer component."
Arkadelphia's Alternative Education program stresses the importance of getting involved in the community. Students actively volunteer at the local food bank and the Clark County Humane Society. They also recently began a project tracking and monitoring the construction of Arkadelphia's river bridge.
"We are a lot different from traditional schools," Davis said. "We do a lot of hands-on types of things with our kids to get them motivated. No two students learn alike, so we have to find what motivates the one student."
Davis received a call from Lorrie Lamb,Alternative Education Director at the Arkansas Department of Education, on Wednesday night informing her about the award the Arkadelphia School District would receive the next day.
In addition to being named a model program, Kalia Brown, an eighth grade student at Arkadelphia Public Schools, received the Diamond Award during the ceremony. The Diamond Award was presented to twelve students that have demonstrated tremendous success.
"They sent me an email that said 'Congratulations! Kalia Brown has been selected,'" Davis said. "I was so excited. I came to school and told her about it, and she was just as excited as I was."
Brown transitioned into regular classes this year and has shown tremendous success.
"She is a leader," Davis said. "Normally what happens is when they're discharged from ALE, I monitor and check to see how they're doing. Well, Kalia monitors me. She comes by in the morning time to make sure I'm doing okay. She shares with me how well she's doing. When I check with the teachers, she's doing fabulous. She has turned out to be my success story."
For more information about Alternative Education, visit http://www.arkansased.gov/divisions/learning-services/alternative-learning-environment.