The 9th Grade Quiz Bowl Team received Badger Pride Awards for recently placing 2nd in the Junior High Quiz Bowl Tournament and qualifying for the Divisional Junior High Quiz Bowl Tournament! Congratulations! Pictured, representing the team, are Sullivan Jones and teacher/sponsor Adrienne Doles. Sullivan, along with teammates Sawyer Grimm and Rowan Phelps, also qualified as All-State Level players. Other team members receiving this award include Ava Buck, Lydia Benjamin, Lucus Burroughs, Katelyn Flanary, Summersky Molinari, Kate Perrin and Kahlea Wilson.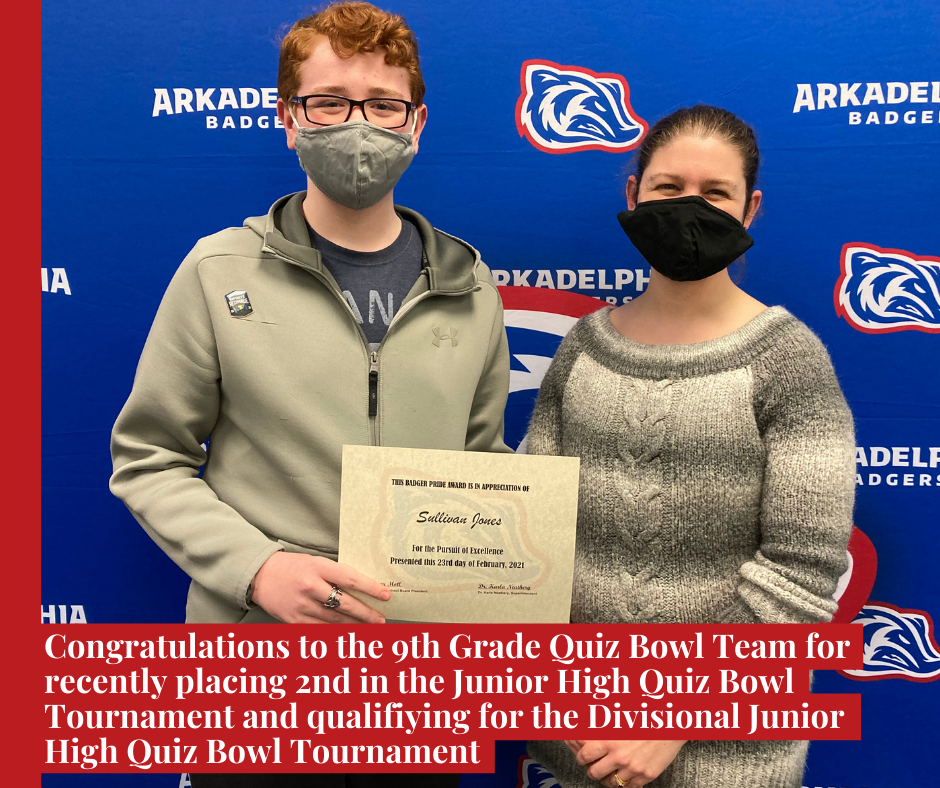 Perritt Primary Paraprofessionals—Toma Anderson, Paula McNeal, Karen Ford, LaSandra Beard, and Jalisa Bowers (not pictured)—received Badger Pride Awards. They were nominated by Principal Shannon Prince, Special Education Director Judy Talley, and all Perritt teaching staff for demonstrating excellence and going beyond expectations this year. We appreciate each of you so much!
Arkadelphia ABC at Peake Rosenwald is accepting applications for the 2021-22 school year. Children must be 3 by August 1, 2021. All applications must be completed on this link:
https://forms.gle/UV2d5Z4rgKrd1zjC9
If you have any questions, please call 870-246-1450.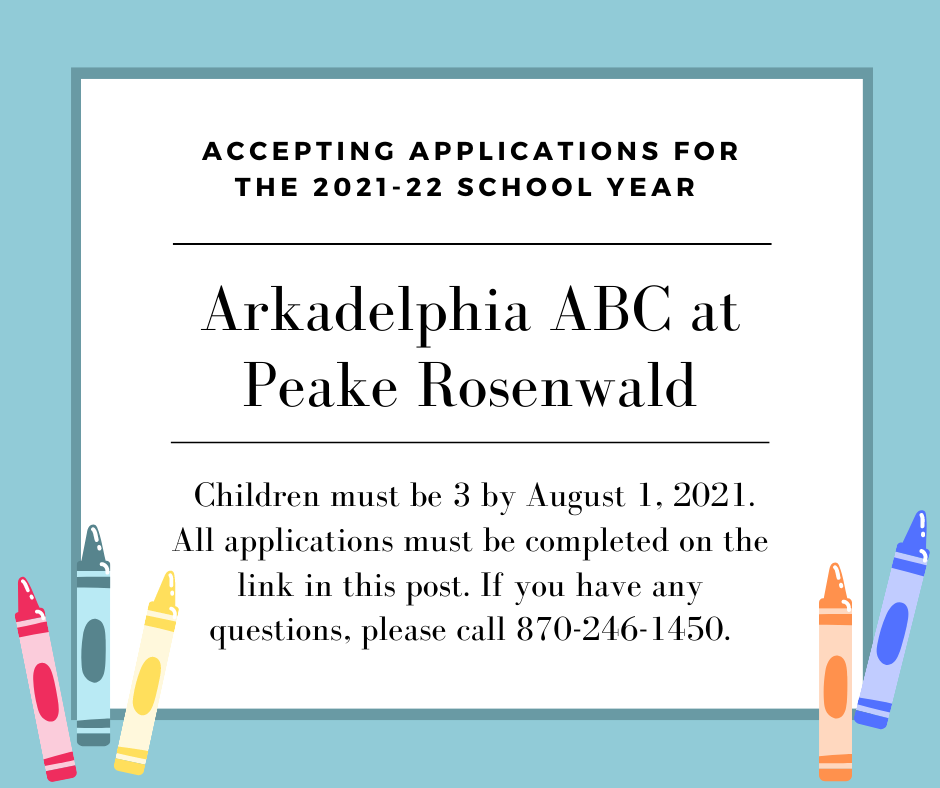 National School Bus Driver Appreciation Day was last week, but we want our bus drivers to remember how much we appreciate them every single day of the year! Thank you all for your diligent work!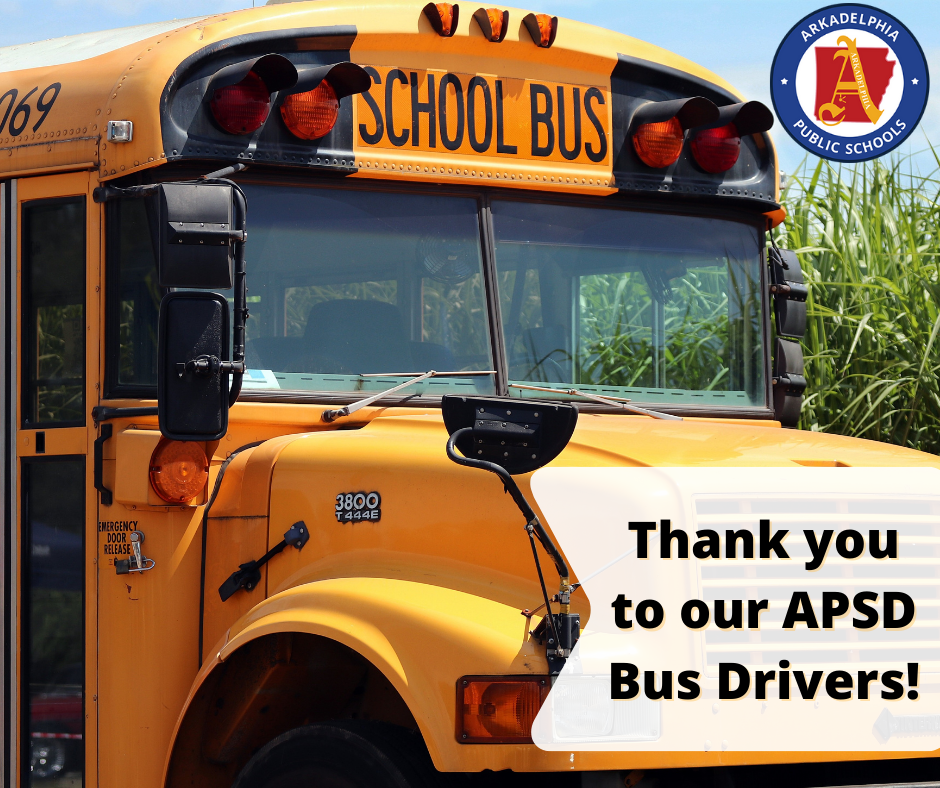 In honor of Black History Month, Ms. Bright's class at Perritt Primary School read about Harriett Tubman and made a Freedom Quilt! #BlackHistoryMonth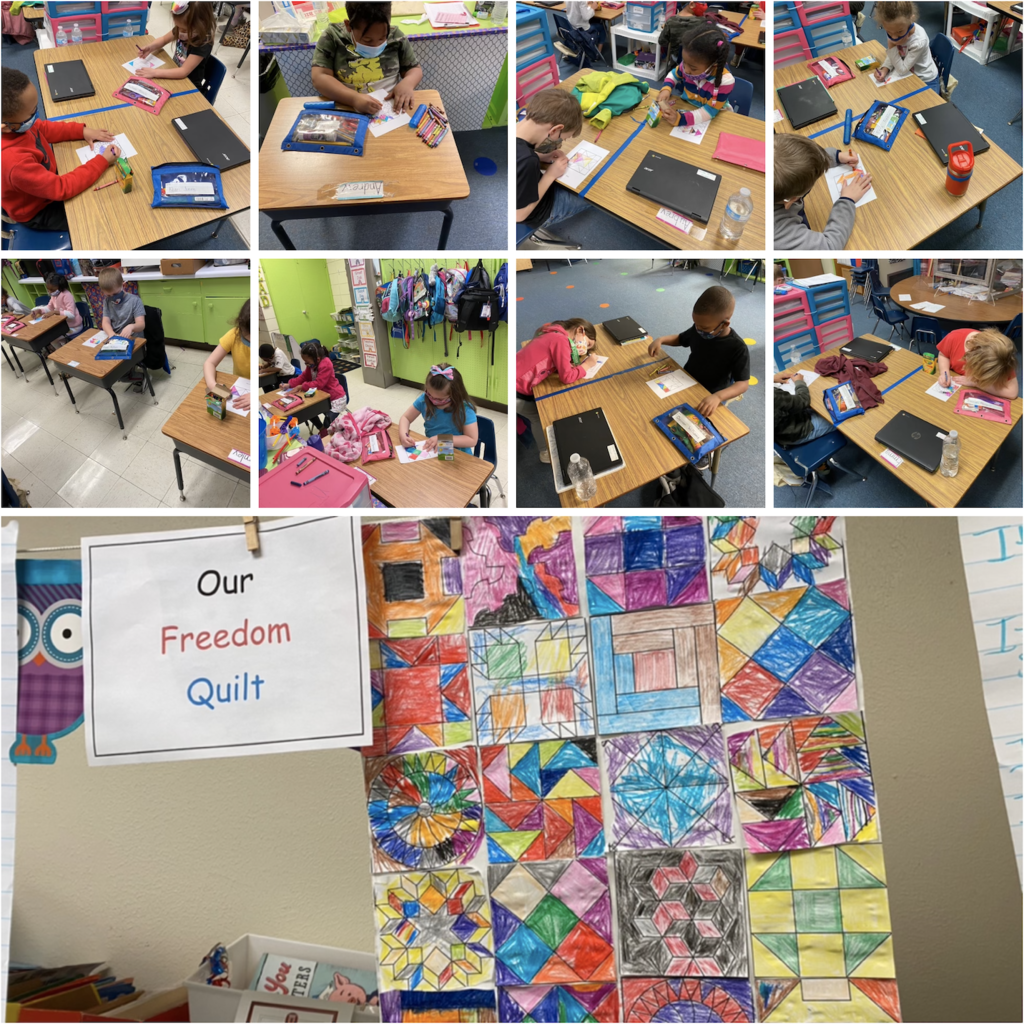 Goza Middle School's Media Center has been celebrating Black History Month by displaying books by famous African American children's authors, and books about diversity throughout the library. A display case in the library's front window spotlights books that feature stories on African American characters and written by African American authors. There are also books, fiction and nonfiction, prominently displayed on the bookcases throughout the library to promote reading of these wonderful works by popular children's authors. Pictured: Students, Riley, Ashton, and Devon, check out books from Mrs. King.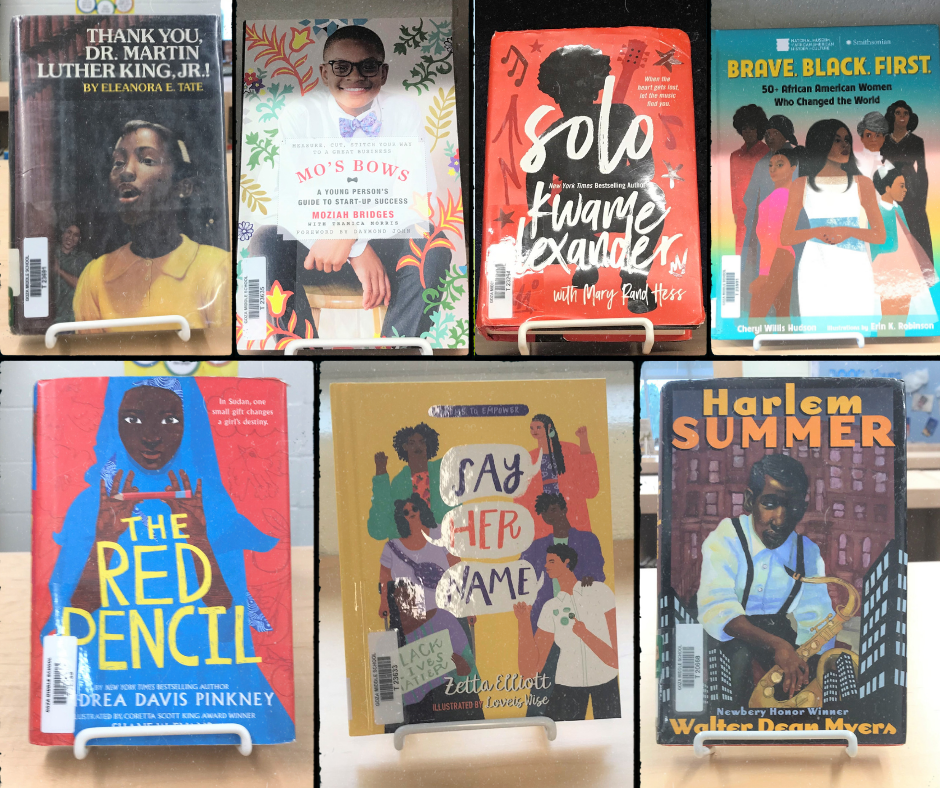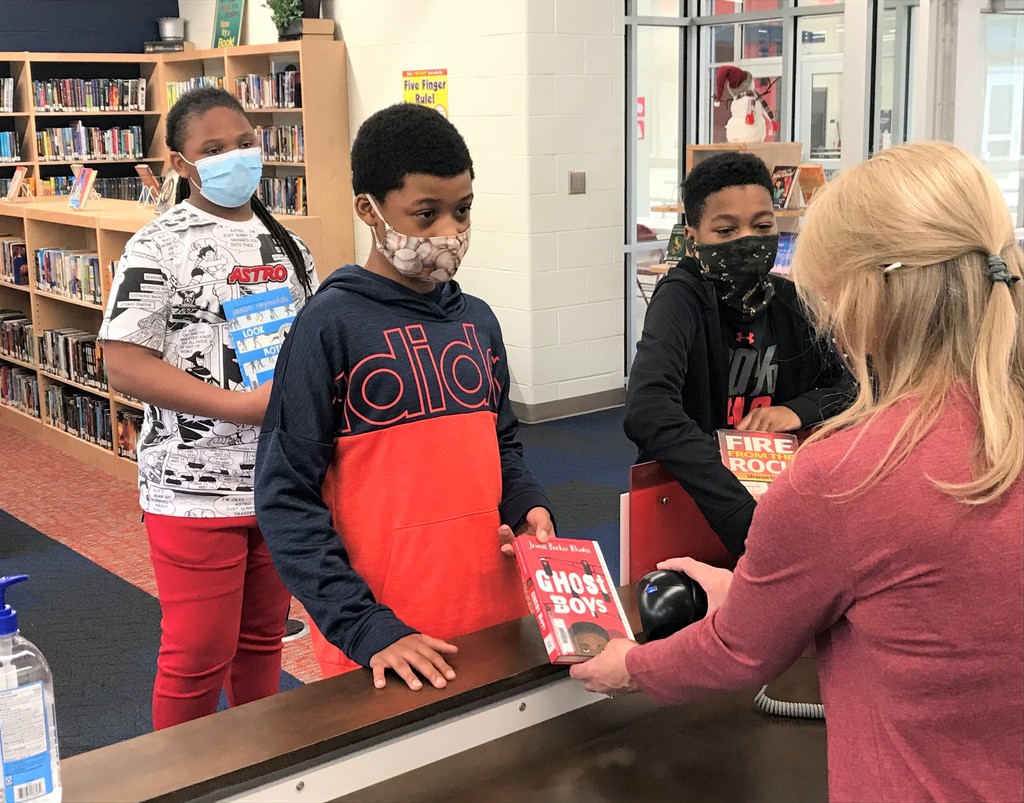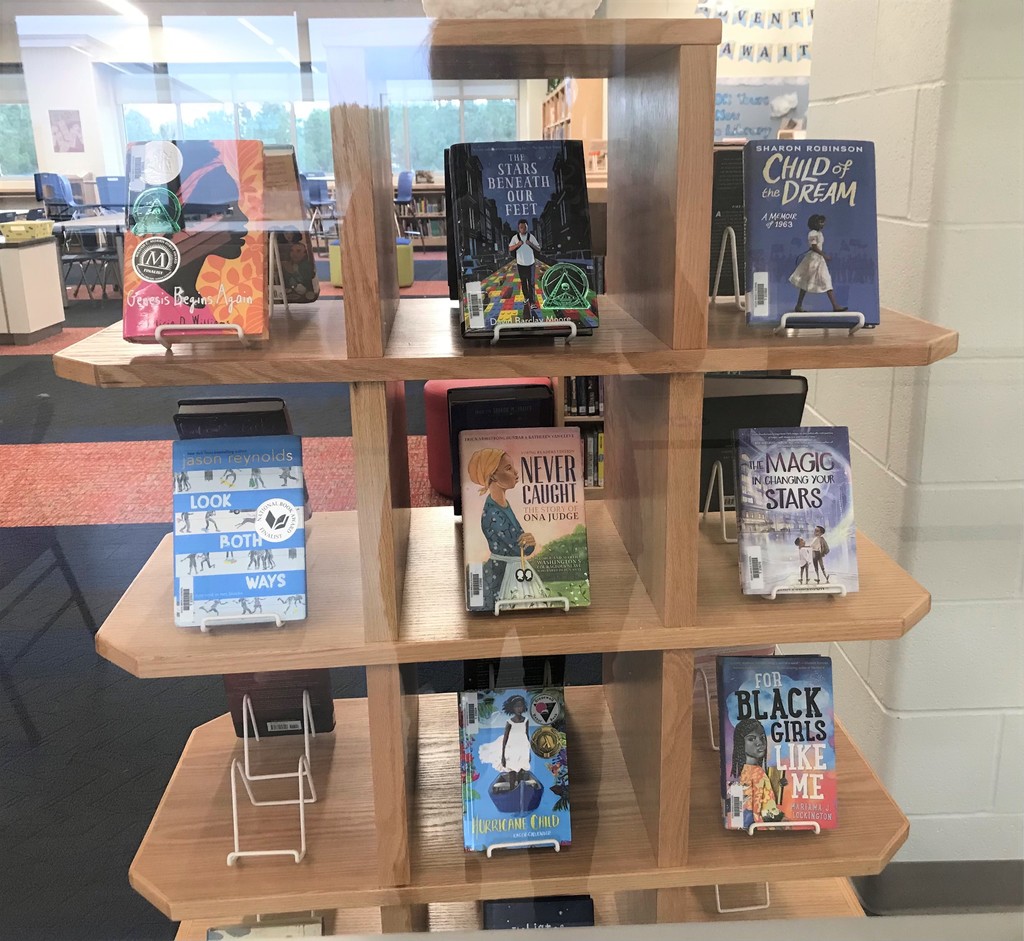 In honor of Black History Month, Ms. Rodger's class at Perritt Primary participated in a Rosa Parks self directed drawing and experienced what Henry "Box" Brown must have felt like being mailed to freedom! #BlackHistoryMonth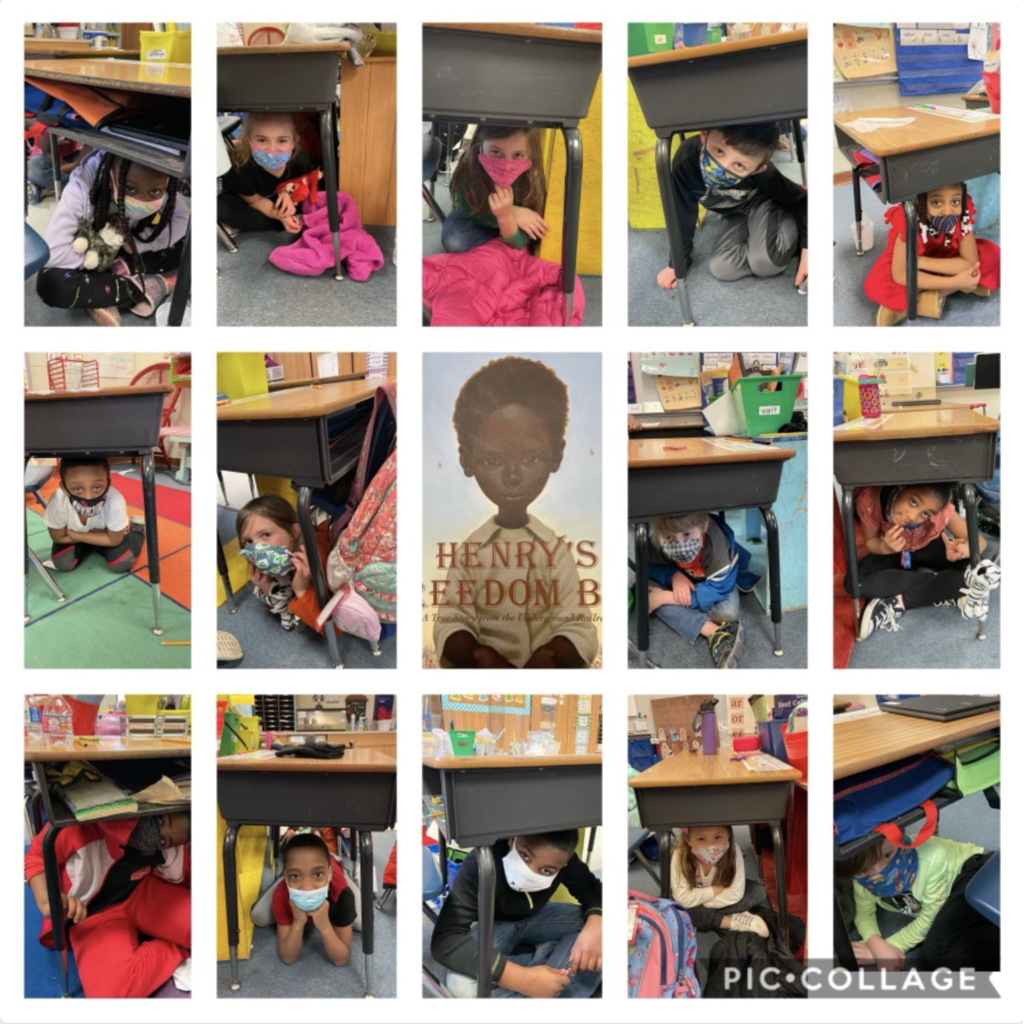 The Arkadelphia School District will hold Onsite Instruction Tuesday, February 23rd. If road conditions are still too hazardous for you to get to school, students may attend virtually and will NOT be counted absent. Buses will run, but will not travel any ice or snow –covered roads. Safety is our top priority for our Badgers!!
February is CTE Month! The Arkadelphia School District offers Arkadelphia students the opportunity to take classes in eleven different Career and Technical Education Pathways. The CTE Teachers at Goza Middle School are Jequetta Berry (Career Development) and Lakesha Berry (Business). The CTE Teachers at Arkadelphia High School are Kedriel Johnson (Marketing/Internship); Robin Jones (Family and Consumer Sciences); Clair Mays (Computer Science); Bud McMillion (Pre-Engineering); Jacob Roberson (Pre-Engineering); Colonel Michael Shepherd (JROTC); Mary Standley (Business); Ashley Wesley (Finance and Education/Training); and Nancy Smith (Virtual Arkansas Facilitator for Aviation and Medical Sciences). Students also have the opportunity to participate in the active Career and Technical Student Organizations at AHS. CTE prepares students for life, college and career while providing hands-on learning experiences to explore future career opportunities.
Due to inclement weather and road conditions, Monday, February 22 will be a virtual day for all APSD students. We will update everyone Monday on the status of Tuesday, February 23. Please stay safe and warm!
The Arkadelphia School Board meeting originally scheduled for Tuesday, February 16, has been moved to next Tuesday, February 23.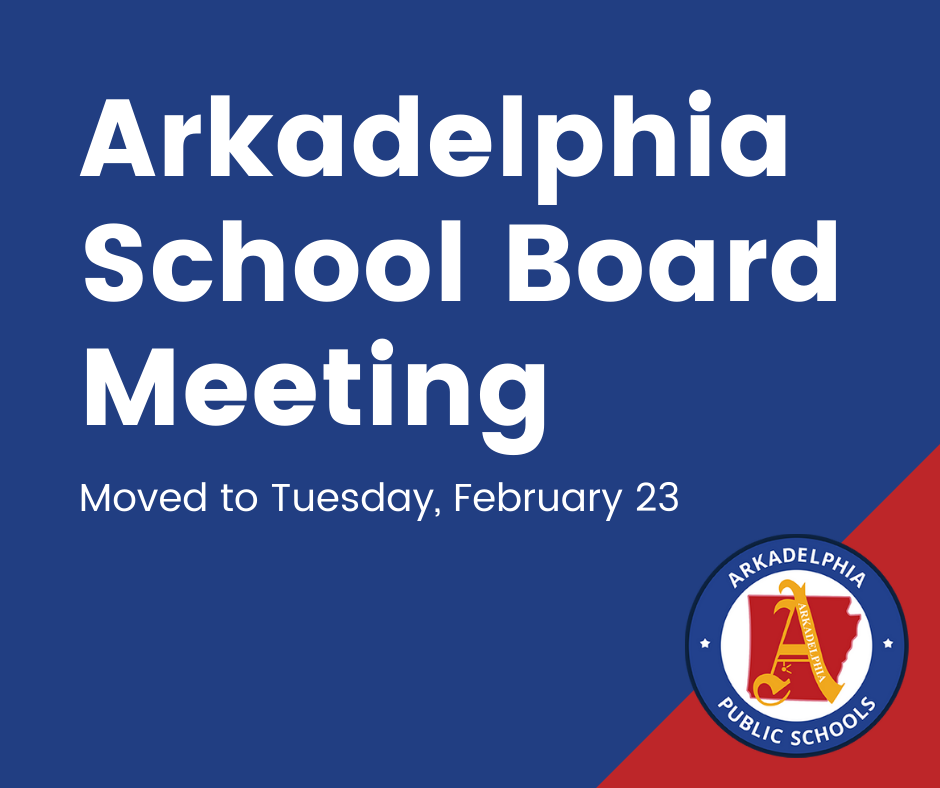 Due to inclement weather, the Arkadelphia School District will pivot to remote learning through Friday, February 19. We hope all our Badgers are staying safe and warm!
Thank you to Baptist Health Medical Center Arkadelphia for the 2nd dose of the Pfizer vaccines for our staff! Pictured are staff members: Sherry French, Amanda McMillion, Cletis Knox, and Christy Smith.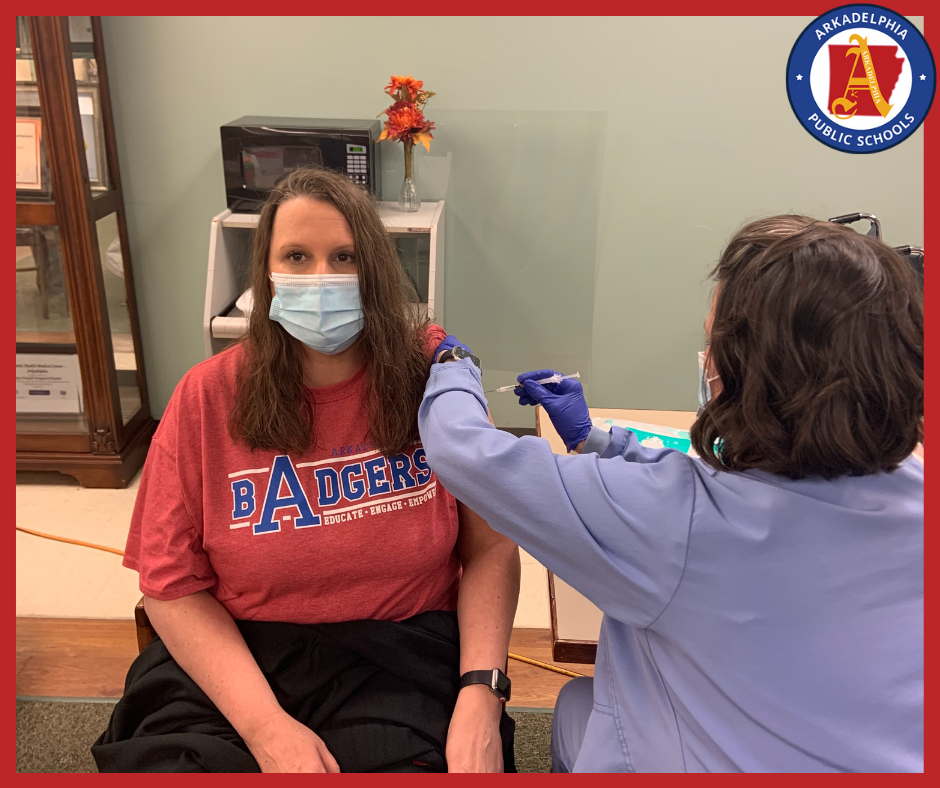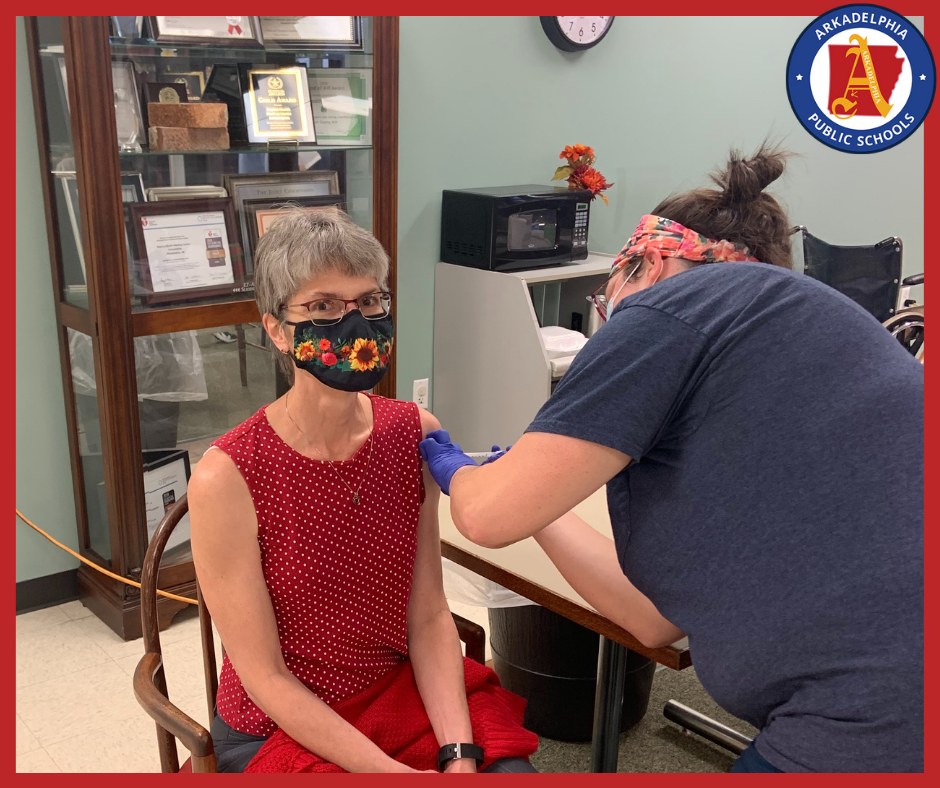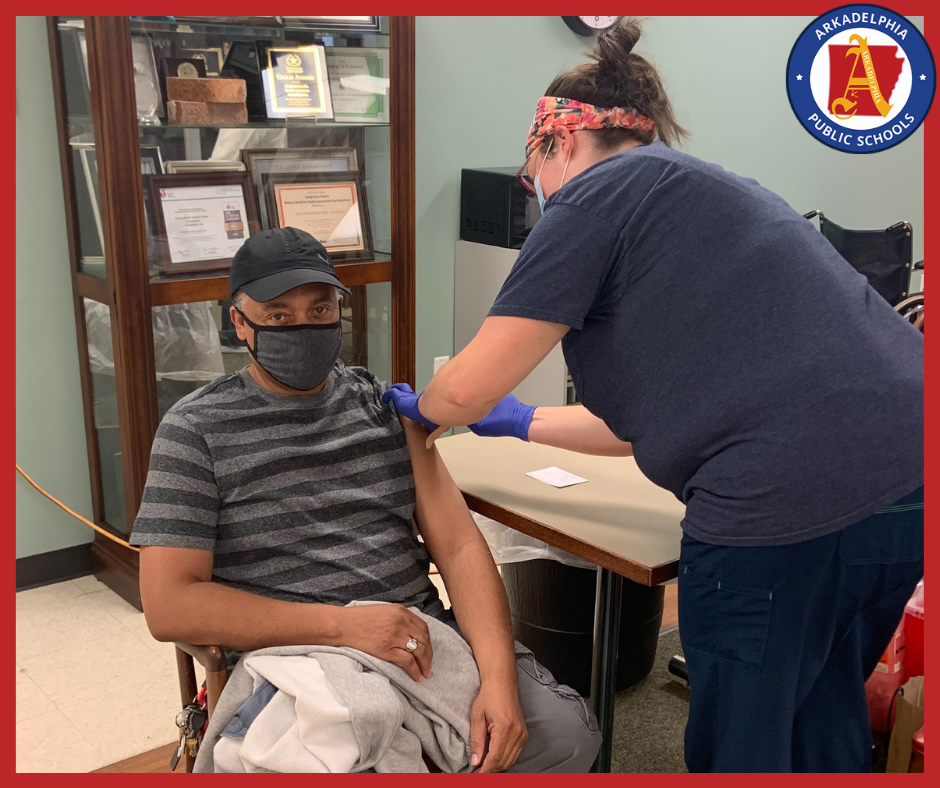 Thank you, Mrs. Regan Morehead, for making Art fun at Goza Middle School!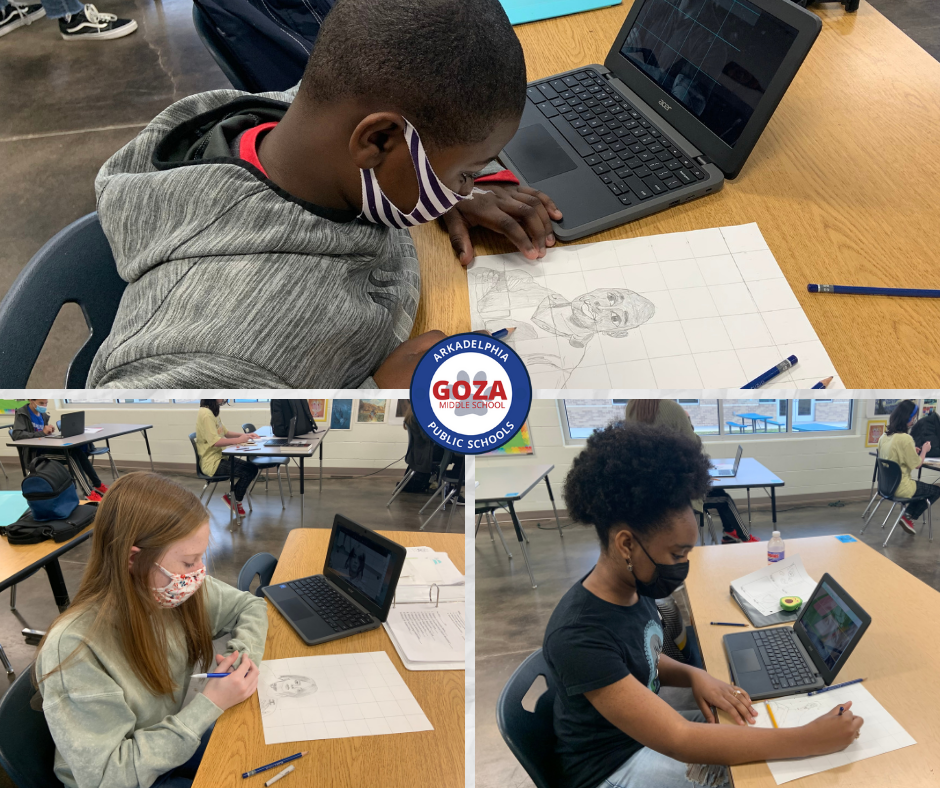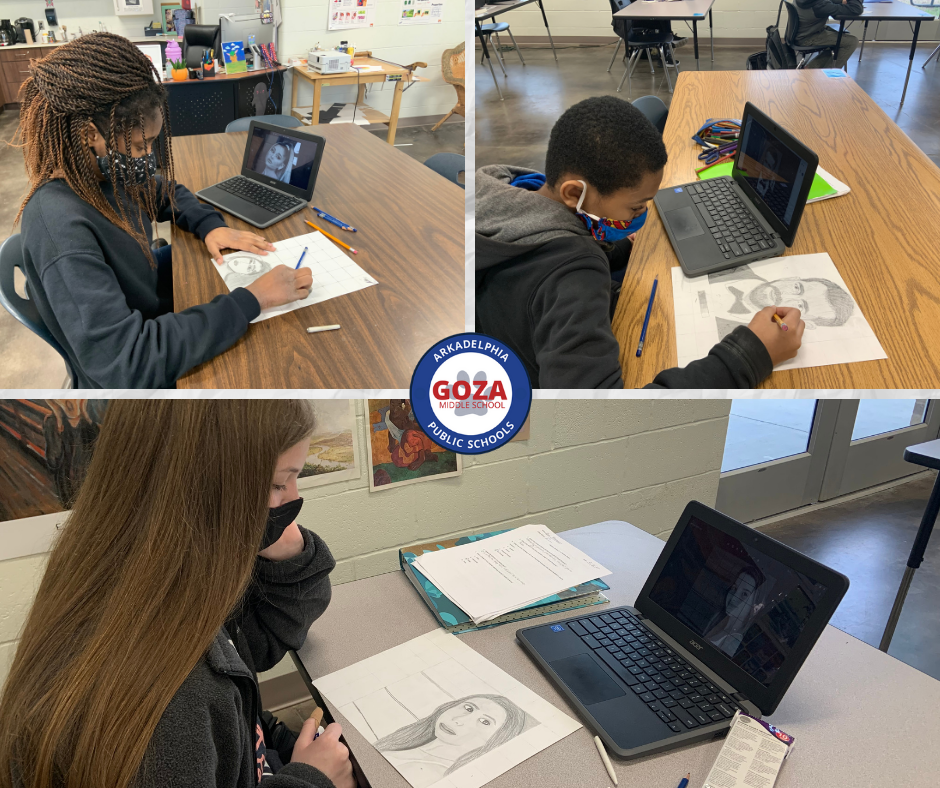 Due to inclement weather, the Arkadelphia School District will pivot to remote learning. There will be no on-site classes in the district Tuesday, 2/16-Thursday 2/18. We will update everyone Wednesday on the status of Friday, February 19. Please stay safe and warm!
As the temps drop, please remember to bundle up and keep your kids warm! If your child is in need of a coat, shoes, or warm weather clothes, please let us know! We are here to help!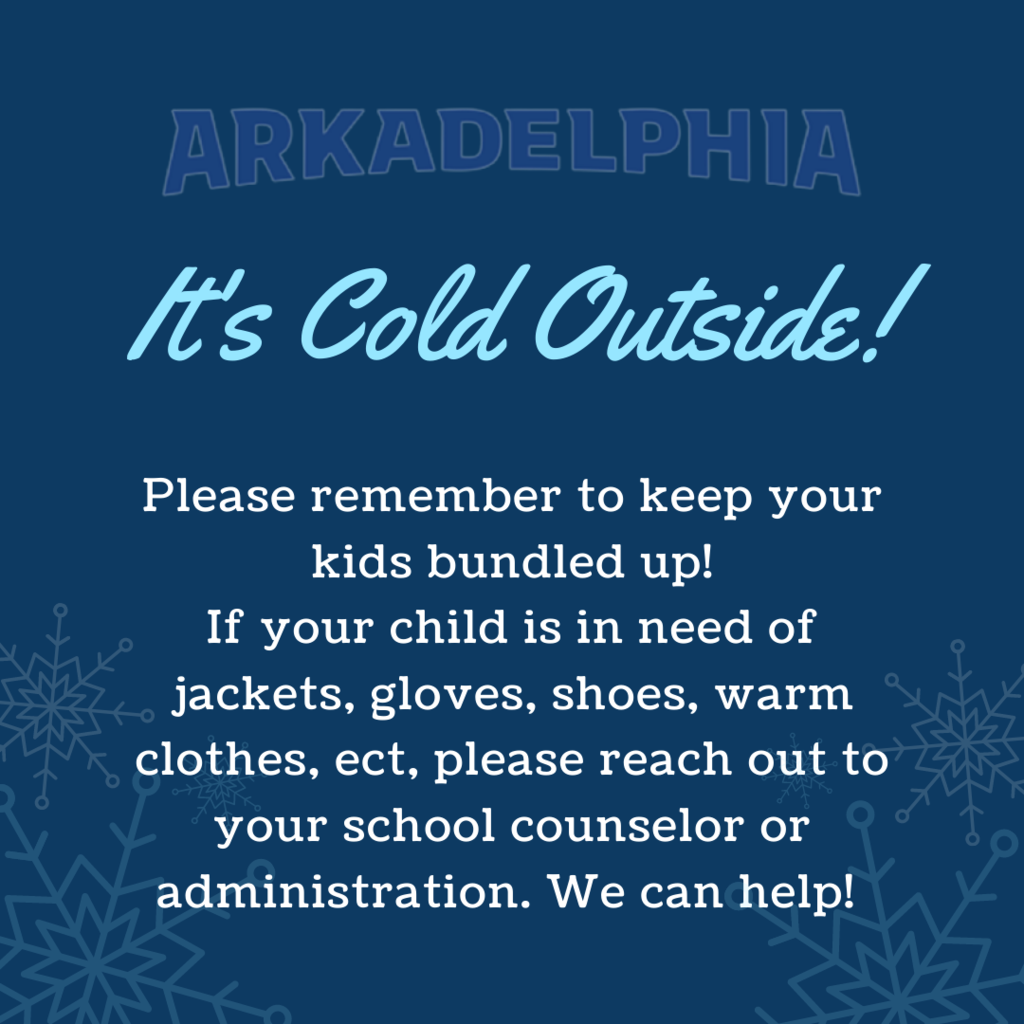 Inspire students and do work that makes a difference.... become a substitute teacher in the Arkadelphia Public School District! Apply at
www.kellyeducationalstaffing.us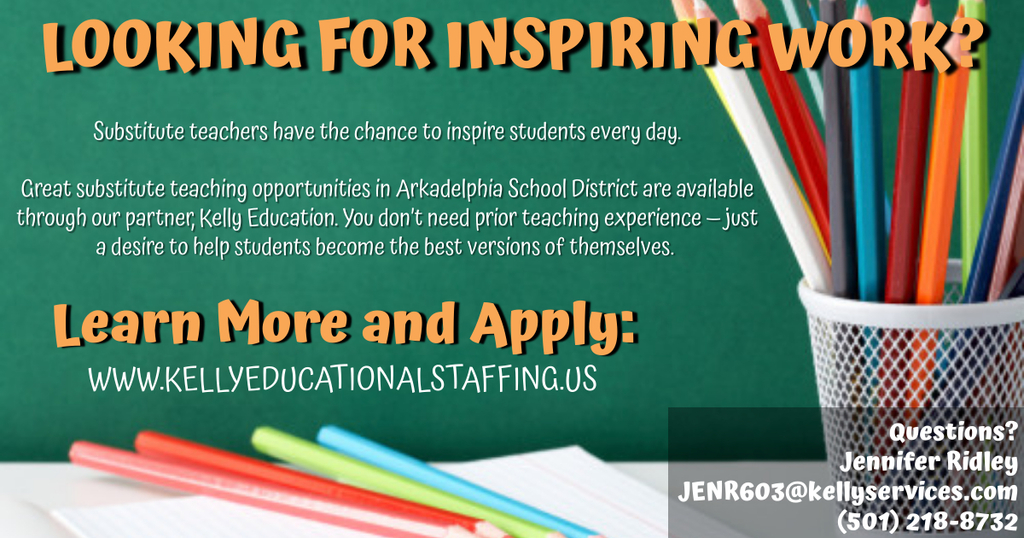 Happy Presidents' Day! There will be NO SCHOOL on Friday, February 12, 2021 or Monday, February 15, 2021.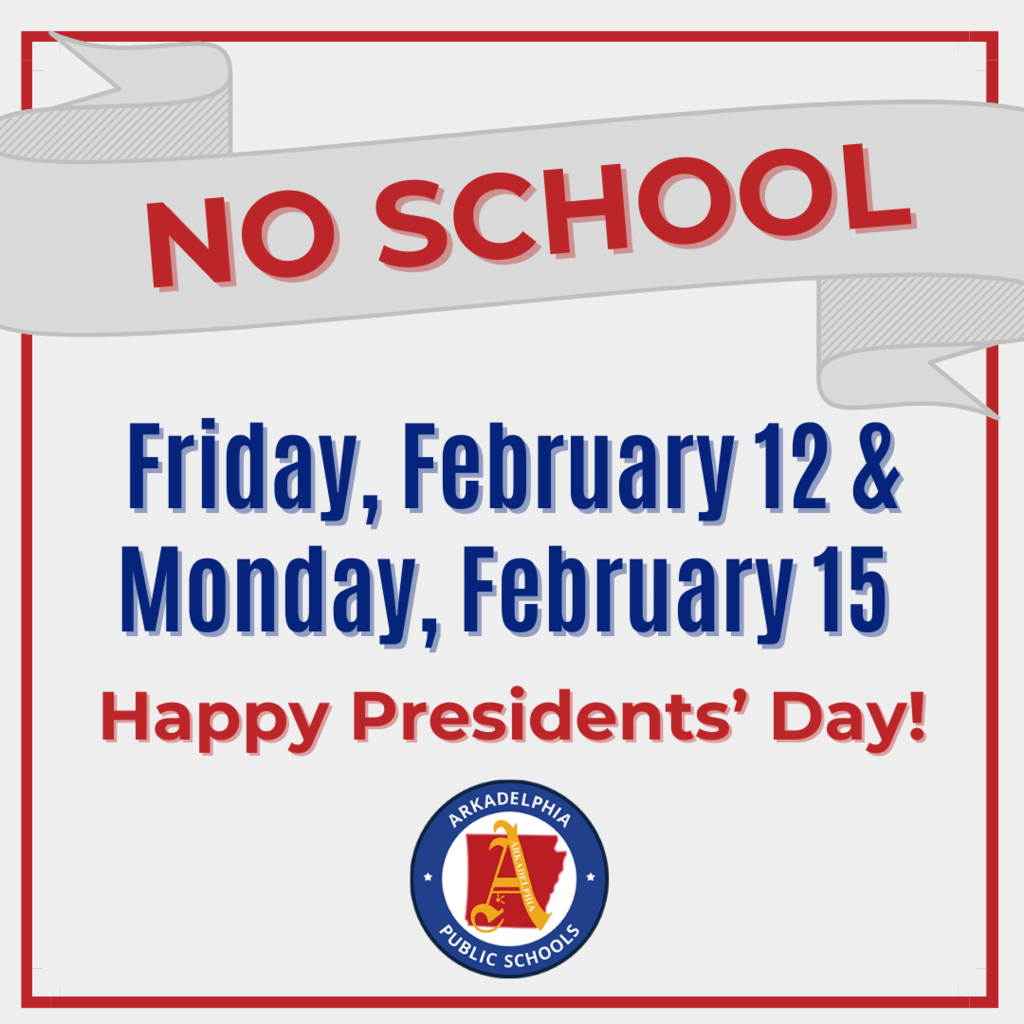 Attention APSD Parents: Due to the threat of inclement weather, Virtual Parent Teacher conferences will be conducted from an off-campus location as scheduled from 2:00pm-7:00pm.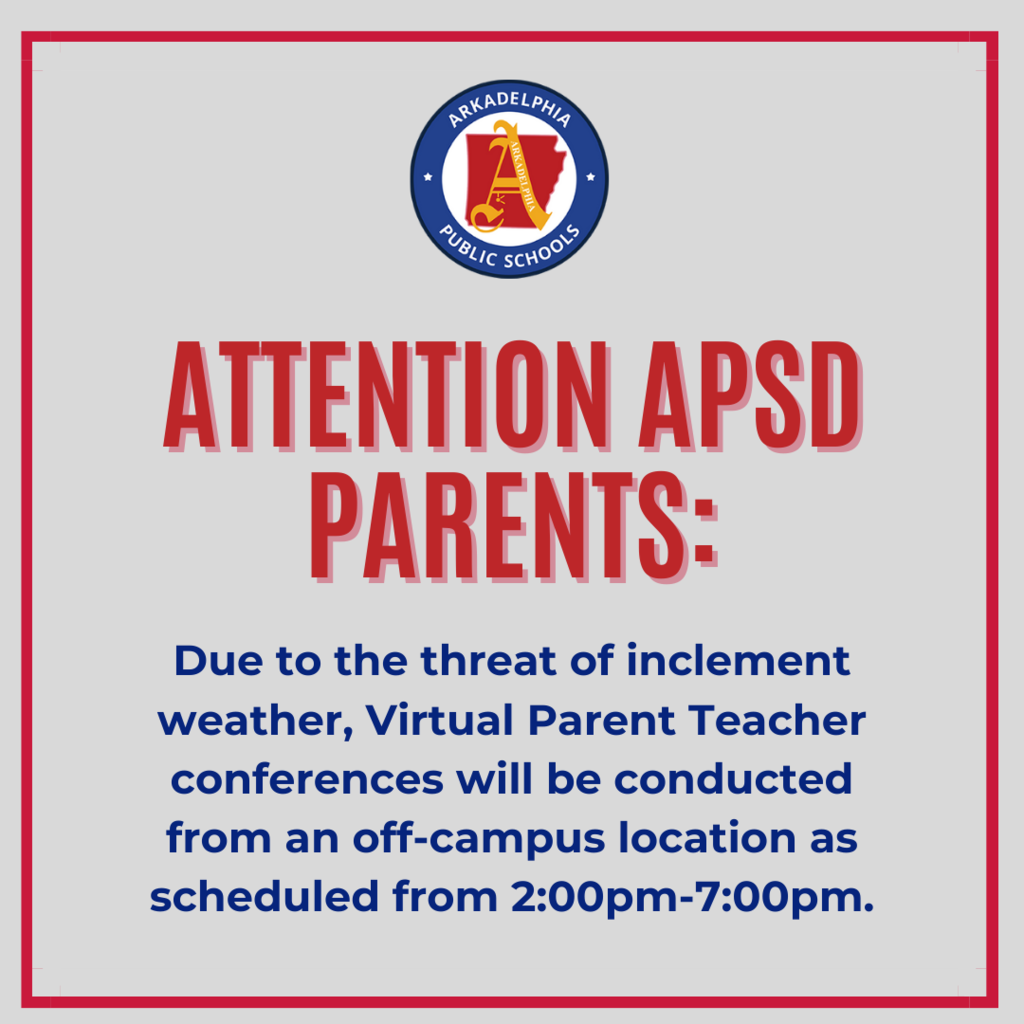 NO SCHOOL on Thursday, February 11, 2021. Virtual Parent-Teachers Conferences will be held from 2:00pm-7:00pm.