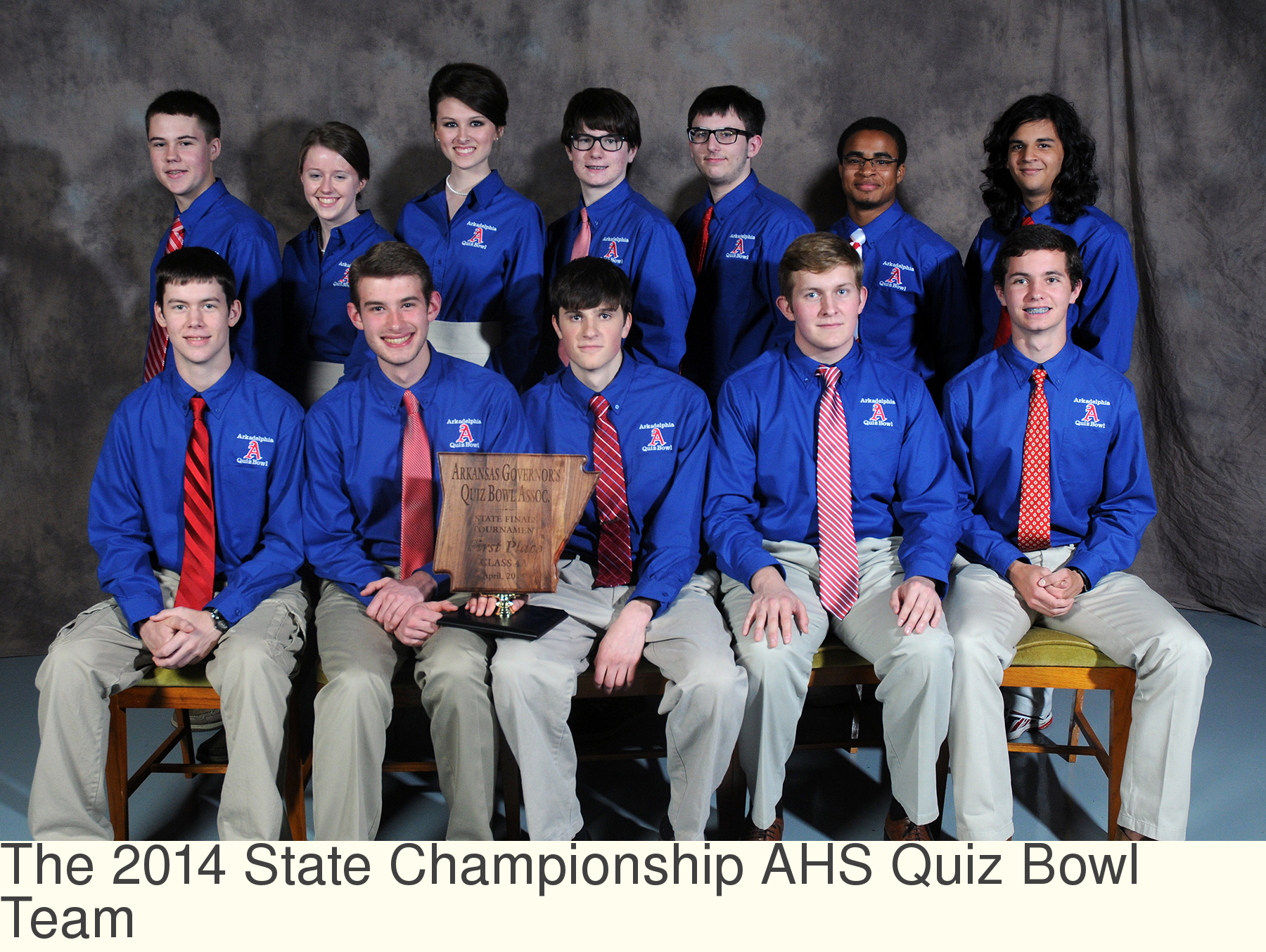 Arkadelphia High School's Quiz Bowl team brought home their third state championship as well as $3,000 in prize money on Saturday, April 26, defeating Maumelle High School 335-185 on live television. The match was broadcast from AETN's studio in Conway.
"This quiz bowl win represents the culmination of successful teaching through our overall 'K' through 12 experience."
-Steve Patterson, Head Quiz Bowl Coach

"This quiz bowl win represents the culmination of successful teaching through our overall 'K' through 12 experience," Head Coach Steve Patterson said. "As a senior high level quiz bowl coach, my job is not to teach the material, but to coach them to compete in quiz bowl and how to be a cohesive team."
AHS jumped to an early lead and carried the momentum through the match.
"We really saw in this match how well our players could anticipate the answer," Patterson said. "A lot of coaching is involved on how to pick up clues early when a question is being asked; narrowing down the answer before the question is completely finished."
AHS excelled at this critical strategy and consistently beat Maumelle High to the buzzer, allowing AHS more opportunities to answer correctly and build their lead.
Although they sailed through the match, senior Dalton Huerkamp said keeping their cool was not as easy as it may have appeared on TV.
"The majority of players went to Conway on Friday ahead of the match," Huerkamp said. "This helped us stay calm, and we were able to preview and tour the AETN set. We answered several warm up questions and were just able to get settled."
"We stayed focused before and hit the ground running as soon as the match started," team captain and senior Noah McMillion said. "And I think the other team had some whiplash from that."
Senior Seth Daniell said the momentum AHS built early in the match helped them stay quick on the buzzer and keep Maumelle High on their heels.
"Being able to recognize phrases that always lead to certain answers were crucial," Daniell said. "Experience allows us to know when to be comfortable answering early or knowing when to wait for more information."
In round one, where 20 toss-up questions are answered by individual team members, McMillion, Daniell, Huerkamp along with Chase Masters developed an early lead by racking up a lot of unanswered points.
AHS maintained their lead in round two. Sierra Westberg joined the match as both teams struggled to provide correct answers to several challenging questions.
"There were some tricky questions at the end of that round over things that are hard to prepare for," Huerkamp said. "And both teams were missing those questions."
Maumelle High made up some ground in round three. With AHS's starting four back at the helm, Maumelle proceeded to answer nine of ten lightening round questions correctly. One more correct answer and they would have tightened the gap significantly.
"We were really relieved when they missed their last one," Daniell said.
Matt Savage, Julie Williams and Devan Moses entered the match to close out the fourth and final round for AHS, who only needed to maintain a comfortable lead in order to take the win.
"About half way through that round we knew we had it won," McMillion said. "Several of the last questions fit subs' strengths, and they were able to answer."
This is such a great senior experience for us," McMillion continued. "We've been playing together since the third grade. We're honored to bring AHS their third state championship."
And while the state championship was perhaps the biggest cause to celebrate, it wasn't the only occasion Daniell was celebrating that day. His birthday was also the same day.
Patterson attributed the team's success to their solid academic backgrounds as well as their dedication and hard work. Over the last two years, four of AHS players attended the Arkansas Governor's Quiz Bowl Association (AGQBA) camp. Patterson said Daniell, McMillion, Savage and Westberg benefitted from their experiences at the camp.
"As their coach, all I can do is direct them during practice, and prepare and inspire them to compete at a higher level," Patterson said. "They've all become stronger players."
We've been working to get back to finals for many years. The stars aligned this year and we had the right talent and the right questions. We are grateful for the support we received from the parents, teachers and administrators," Patterson said.
APS News
sean.ruggles@arkadelphiaschools.org
Arkadelphia High School serves 9th-12th grade students in the Arkadelphia Public Schools, Clark County, Arkansas - Home of the Arkadelphia Promise. AHS is a regional STEM Works leader, and was named by the Washington Post to the top 1 percent of the nation's most challenging high schools.
(originally published May, 2014)