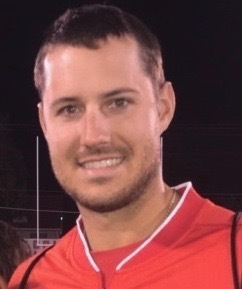 The Arkadelphia Public School District Board of Education voted unanimously Tuesday night to hire current Searcy (AR) High School Offensive Coordinator Trey Schucker as the next head football coach of the Arkadelphia Badger program.
The recommendation to hire Schucker was made by APSD Superintendent Dr. Karla Neathery, capping off a search the began when former head coach J.R. Eldridge resigned after accepting the head coaching position at North Little Rock High School on March 31.
"We are very excited to welcome Coach Schucker to our community, said Neathery. "He possesses all of the qualities that our district was looking for in a leader for the Arkadelphia Badger football program."
Schucker comes to Arkadelphia after helping lead the Searcy Lions to the 6A State Championship in 2019. The championship season was Schucker's fifth year with a Lion program that has seen 31 wins over the past three years.
Schucker's offense helped lead Searcy to a 12-1 record in 2019 in a season that saw the Lion passing attack amass over 4,000 yards passing and over 2,000 yards rushing while setting a school record for points in a season. The last three quarterbacks to play for Schucker have also gone on to play in college.
Schucker hopes that his success at Searcy combined with the success the current Badgers have seen over recent years will mean continued success for the Badger program on the field, but victories off the field as well.
"My goal is to develop young men to be successful contributors to the community when their football career is over," said Schucker. "With regards to football, we hope to develop players to achieve their maximum ability during their time in our program. Offensively, we are going to spread the ball around and get the ball in space to our best players so we can score a lot of points. On defense, we're going to run to the football and be the most physical team on the field. We want to create big plays and turnovers on defense."
It was the reputation of the Badger program and what he's heard about the town of Arkadelphia that attracted Schucker to the position.
"What initially interested me in the job was the tradition that Arkadelphia has and the recent success the program has seen," said Schucker. "Arkadelphia is a well-respected football program in the state of Arkansas and has great community and administration support and they care about the program's success."
Whereas Schucker was attracted to Arkadelphia because of support and tradition, Neathery grew to be more and more impressed with Schucker throughout the search process.
"Coach Schucker comes highly recommended by his previous district and we are very confident that he will continue the excellence of Badger football," said Neathery. "I believe that Coach Schucker is going to earn the trust of our community every day by his actions, by his words and by his deeds and our football players will benefit from his time in the Arkadelphia School District."
Arkadelphia Athletic Director and head boys' basketball coach Donald Williams has also been impressed in the short time that he has gotten to know Schucker during the process.
"I'm excited about the enthusiasm that Coach Schucker has for the job and for getting started," said Williams. "I think he's a great young and upcoming coach who will have a great future and I'm glad he's starting that in Arkadelphia."
In normal circumstances, Schucker would plan on meeting with the team and coaching staff in person and hitting the ground running, but he also knows that this situation is different with regards to COVID-19 and will call for different ways of getting started until restrictions are lifted.
"During this time, we are going to control the things we can control and that is keeping consistent communication with our players," said Schucker. "I want to call every player and have online meetings to begin creating relationships with the team. Eventually we will begin to have team practices, but I don't want that to be the first time I have contact with the team."
Schucker is a graduate of the University of Central Arkansas where he was a member of the Bear football team under head coaches Steve Campbell and Clint Conque. Schucker was in the quarterback room with current UCA head coach Nathan Brown. After graduating from UCA, Schucker served as an intern for the UCA Athletics Strength and Conditioning program.
Schucker comes from a family of educators as both of his parents are employed by the Searcy School District. His mother is an elementary teacher in the district and his father is the Searcy Athletic Director. Schucker lists his parents and his football coaches as his biggest influencers.
"Growing up, my dad was a football coach so I have always been around the game. It's just a part of me, "said Schucker. "I was fortunate enough to get the opportunity to play for (current UCA head coach) Nathan Brown at UCA and coach the past five years with Searcy head coach Mark Kelley. I credit my parents for shaping me into the person I am. They taught me work ethic and how to overcome adversity."
Although Schucker may not be able to hit the ground running to meet people, he is excited for that time to come and to begin working with the program.
"I am very excited to meet the players, staff, students and community," said Schucker. "I'm thrilled to have the opportunity to lead the Badgers every night during football season. The 4A-7 is a highly competitive conference and I love competition."
WHAT THEY'RE SAYING ABOUT ARKADELPHIA BADGER HEAD FOOTBALL COACH TREY SCHUCKER:
"Coach Schucker is an innovative young football coach. He has a bright future and will be successful at Arkadelphia. He will be very involved in the community and his players will be really excited to play for him. I'm excited for him to be able to get this job, but I'm excited for Arkadelphia that Trey will be their head football coach." – El Dorado Head Football Coach Steven Jones
"As a person, Coach Schucker is one of the best. He's a great friend. Coach Schucker relates to kids as well as any coach I've ever been around. On the field, each year he was Offensive Coordinator our team got better and achieved a lot of things that we had never achieved at Searcy. He will make a huge difference in the lives of a lot of kids." – Searcy Head Football Coach Mark Kelley
"Trey is very personable and the kids really like him. He gets along well with parents and the community. He is a teacher-coach. He's had this ambition to become a head coach and I think he will dedicate himself fully to doing a great job." – Diane Barrett, Searcy School District Superintendent
"I have loved watching Trey grow and evolve during his time here. He's definitely a team player. He's extremely helpful around campus and gets involved. He's just all-around great guy who has a lot going for him. We're all supportive of him moving up in the world to a head coaching position and we're excited about this for him, but we hate to lose him. The kids listen to him and he commands a level of respect from the kids and they just love him. He's going to do great things for Arkadelphia and we're going to be supporting him from Searcy." – Carrie Parsley, Principal - Southwest Middle School in Searcy