Happy Labor Day! We hope everyone has a safe and restful Labor Day. #BadgerPride

We are so excited that Ms. Cherrel MaGee has joined the Peake faculty as a third-grade teacher this year. Ms. MaGee was a long-term substitute at Peake last year. Before teaching at Peake she was a pre-k teacher for 3 years. We are so happy to welcome Ms. MaGee to Arkadelphia Public Schools! #BadgerPride

There will be no school on Monday, September 4 in observance of Labor Day. Check out this 2023-24 school calendar edition for all holiday breaks. #BadgerPride

Ms. Rose Easley is the new 10th English Teacher at AHS this year. Ms. Easley is from Louisiana where she graduated from Berwick High School and Nicholls State University. Her love of English and working with people inspired her to be a teacher. Ms. Easley, welcome to Arkadelphia!

We welcome Hailie Unruh to the Goza Sixth Grade team this year. Ms. Unruh is teaching English and Social Studies. She says she has always loved school and knew she wanted to be a teacher. She is a Malvern High School and HSU Graduate. Welcome to Arkadelphia, Ms. Unruh!

APSD would like to recognize AHS Students who scored at least a 3 out of a possible 5 on their 2022-23 College Board Advanced Placement Exam. We also congratulate our AP Scholars with Distinction who scored no lower than a 3 on at least 5 exams and AP Scholars who scored no lower than a 3 on at least 3 exams. Outstanding effort on your achievement! #BadgerPride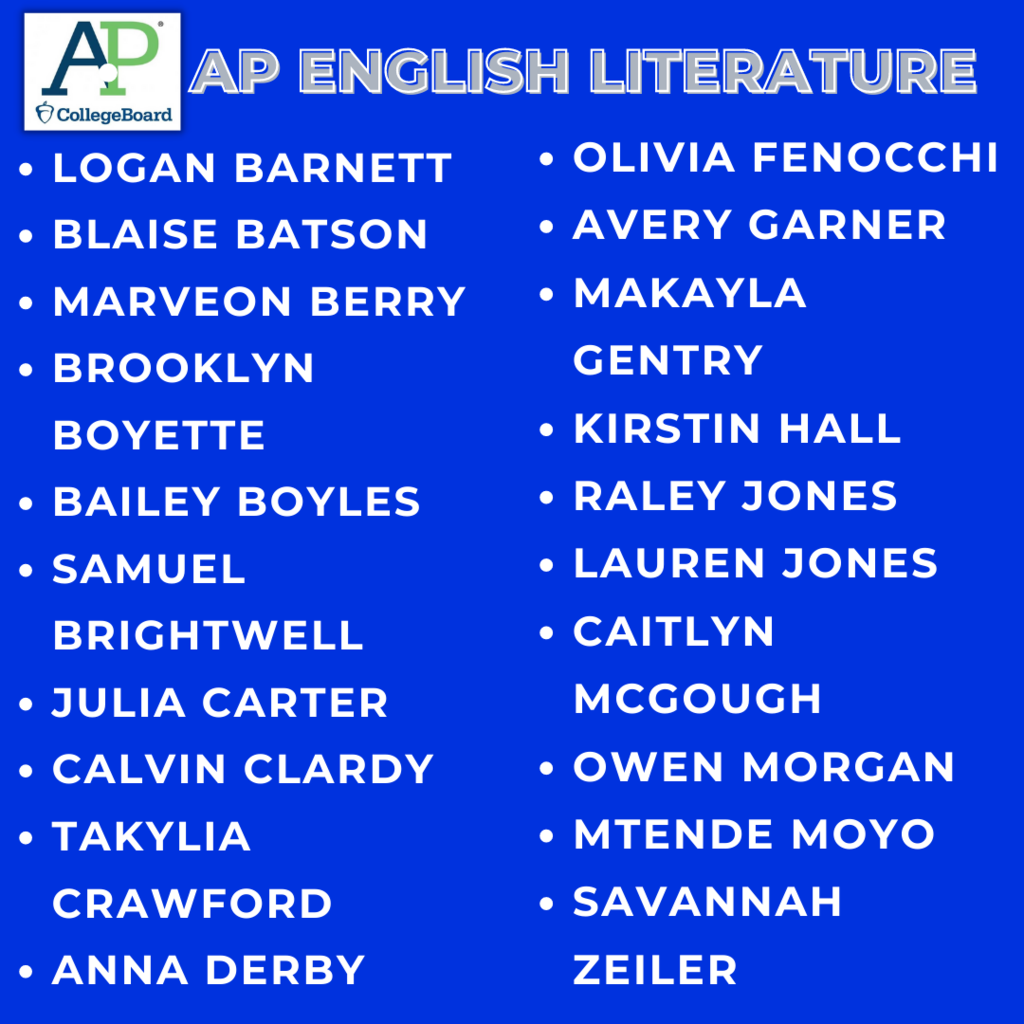 We are glad to have Jayden Colbert at Peake this year as a fourth-grade teacher. Ms. Colbert is a graduate of Gurdon and HSU. She was on the HSU Cheer team and now coaches two all-star teams in Arkadelphia. She is "pumped about teaching and cannot wait to see what's in store!"

We are blessed to welcome Lyndi Greenwich to the AHS Staff. Mrs. Greenwich is a graduate of Gurdon High School and OBU. She is teaching Algebra I students at AHS. She is excited to be a part of our school district and looks forward to pouring into the kids of our community.

Congratulations to the Varsity Volleyball team and Coach Jenny Coon for winning the Silver Bracket this past Saturday at the Little Rock Southwest High School Volleyball Tournament. Great job Lady Badgers! #BadgerPride

We are looking forward to another great week in Arkadelphia! #BadgerPride

Badger Football officially kicks off the season at home tonight at 8:00 p.m. We cannot wait to see all the fans at Badger Stadium. Here are a few reminders about expectations for students at our events. We remind you to please be sure that you come to the game well-hydrated!

We love Friday Game Day! Let's go Badgers! We can't wait to see the band, cheer, Dazzlers, and the team perform tonight at Badger Stadium. Game time is 8:00 p.m. #BadgerPride

Friday is Badger Spirit Day! Arkadelphia, get your Badger gear ready to wear in the morning and show that Badger Pride. It's always a great day to be a Badger! #BadgerPride

Our current athletic event schedule for the rest of this week.

Cheryl Hilser joins the staff at Peake Elementary School this year as their new counselor. Cheryl grew up in California. She is a graduate of HSU and ASU. Ms. Hilser is super excited to be a Badger! Welcome Cheryl Hilser to Arkadelphia! #BadgerPride

We are excited about our Peake staff in 2023-24! We welcomed some new faces and some familiar faces are in new places. It's going to be a great year for Peake Elementary School before moving into our new school next year. It's a great day to be a Badger!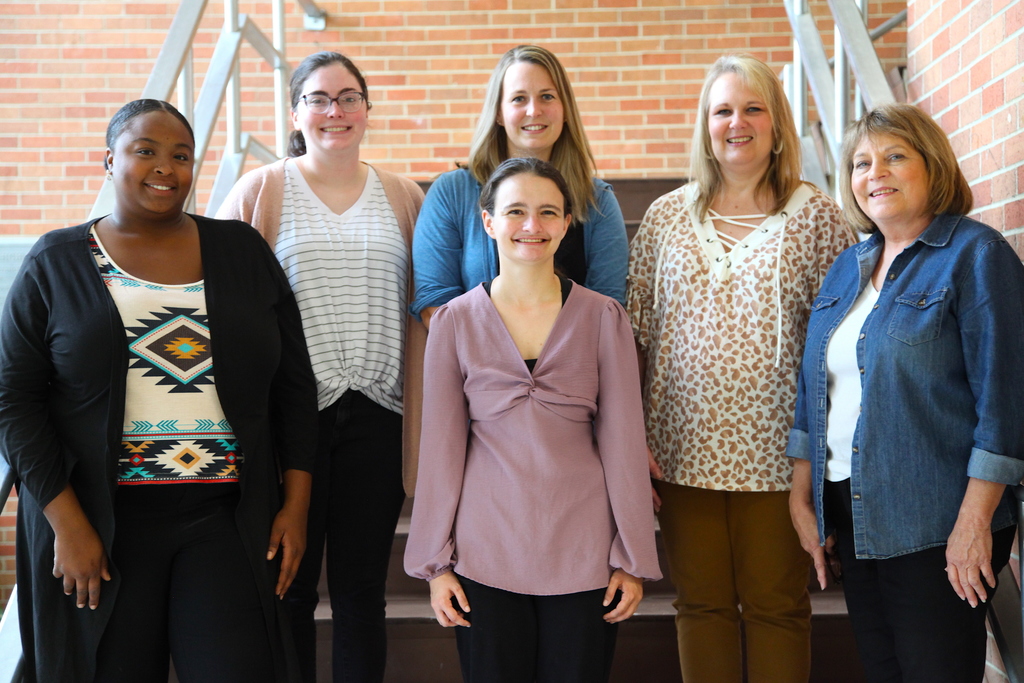 APSD welcomes Paige Purifoy to our staff this year. Paige is a P.E. Teacher at Goza Middle School. She will also be the Assistant Coach for volleyball and softball. Coach Purifoy is a graduate of Farmington High School and Ouachita Baptist University. Welcome to Paige Purifoy!

We are ready for a great week! Our athletic teams have a full schedule including Friday Night Badger Football at home! A reminder to parents to sign and send all the first-day forms back to school with their child by Friday to be eligible to win a $250 gift card. #BadgerPride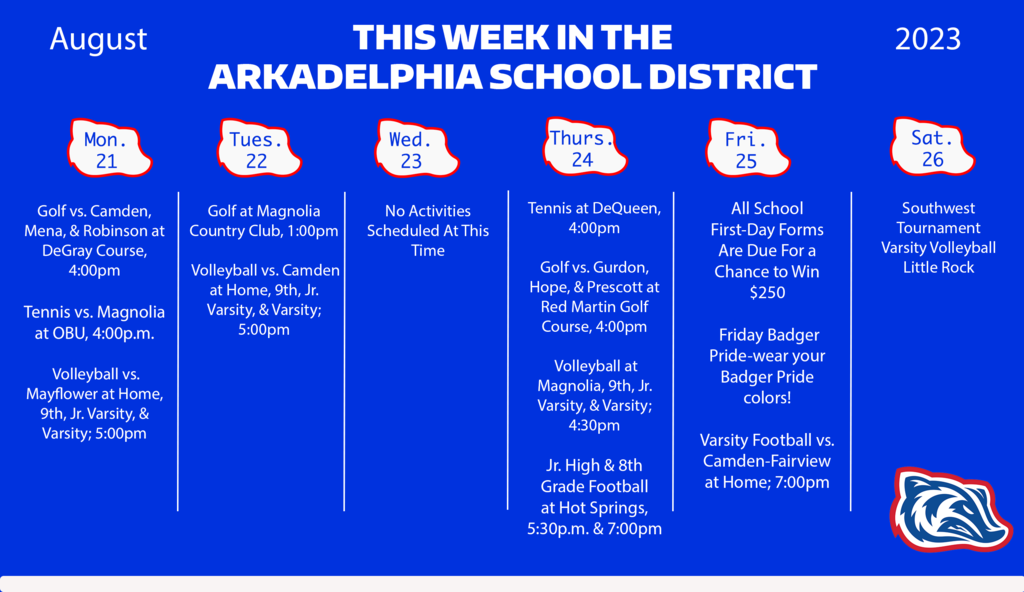 We would like to thank all of the businesses that donated door prizes last week at our Back-to-School Celebration! Our employees won some great gifts! We are grateful for such generous partners that want to support Arkadelphia Public Schools. #BadgerPride